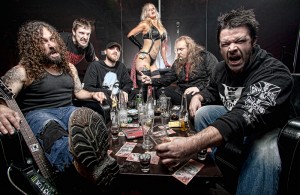 Heaven The Axe will be supporting Crashdiet in Melbourne on their upcoming Aussie tour kicking off on October 20th, 2011 (check tour details below) and we thought it was a perfect time to introduce the band to you, our fine readers!
Official bio: Heaven The Axe is a 5-piece hard rock band originating from rural Australia, who have just released their debut record Sex, Chugs & Rock 'N' Roll!  The band is an unlikely juxtaposition between heartbreaking front woman, Phoebe Pinnock, and four unruly Aussie metal-head blokes who just can't help but play her pop tunes tough!  They are a collection of musicians from pioneering and well-respected Aussie metal groups such as Damaged, Manticore, The Berzerker, Abramelin, The Amenta, and House of Thumbs.  Heaven The Axe has been turning heads, cranking the volume and gathering die hard fans since they debuted live in October 2009.  The music is tough, catchy, hooky and the band has a demonstrated history of smashing live performances – they have just completed a packed out headlining tour of capital cities at this pre-release stage.  Word on the street is Heaven The Axe is the band to hear and see! And you'll soon be hearing them alright – the band has touring booked solid supporting Crashdiet and Rose Tattoo, right up to Summernats Car Festival in January 2012, check out all the tour dates below! Having recently released their blistering debut album "Sex, Chugs and Rock 'N' Roll" on Sept 18th 2011 and already fans can't get enough. Why?  Because Heaven the Axe are what's been missing in Aussie rock culture – an unashamed, unapologetic, wailing blonde front woman powered by the guts and glory of a tough as all hell Aussie metal core cranking catchy and poppy as hell tough tunes and with a massive monster sound, turning heads and blasting holes in speakers worldwide.
Let's start with the basics first – what brought the band together and what is the inspiration behind the band name?
MAT SILCOCK – Guitar: The main element in keeping this juggernaut rolling is Steve Watts. He is the 'glue'. What brought me into the fold was friendship, the ability to play a musical instrument and Steve and Phoebe's passion and dedication to Heaven The Axe, I forgot to mention. The songs KICK ARSE! There have been a few incarnations of Heaven The Axe, but this current line up is definitely the closest, most committed group. A rock'n'roll family if you will. A cross between Charles Manson's 'family' and the Bundy's from Married With Children! Nothing is ever dull in the house of HTA. The house we rehearse in is Steve & Phoebe's and Trav (Bass), Aramis (Drums) stay over every weekend. We have our guitar whisperer 'Uncle Jimi' to spice things up with general debauchery & alcohol, and Kyuss, the kid from Coburg, who really keeps us all in line at 7 years old. I live about 5 minutes away and when I visit it is like stepping into a rock'n amusement park ride. The neighbors dig the music and/or are deaf, so it's perfect.
The name of the band is, in my mind, an esoteric description of the turbines that created this beast, Phoebe HEAVEN, and her partner in crime and riff maestro Steve THE AXE.
ARAMIS SV – Live Drums: Hey, this is Aramis SV, the live drummer for Heaven The Axe. I'll answer these questions as best I can. I apologise for my cursing.  Honestly, what brought the band together for me, were like-minded people. All the band members have very similar tastes in music & philosophy.  The band name came from Satan.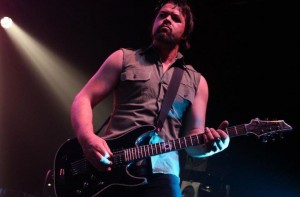 You have twenty seconds in an elevator to try and convince someone to listen to your music, what do you tell them?
MAT: Good question. Hard to answer without sounding like a complete wanker… I would probably start with 'hey doesn't this elevator music suck?' and then say something about 'they should play cool rock'n music in a place like this cos elevator rides are usually so goddamn boring. Then I would ask if they agree that elevator rides are boring and they would definitely say 'Yes'. Then I would say well my band is trying to get the rights to play in every elevator in the WORLD and make elevator rides cool again. And they would say 'That's like bitchin cool man' and I would say "yeah I know" and they would say 'what's your band called?' and I would say' Heaven The Axe, check it out, we're making riding in elevators cool again' and then they would be so intrigued by my bullshit story that they would def check out Heaven The Axe…well I think my 20 seconds is up right??
ARAMIS: I've got a gun…. only joking. I'd ask them what music they were into, & whatever the answer would be, I could say, "Check out 'Heaven The Axe'!" Because HTA fall into a whole bunch of musical genre's that appeal to a wide range of musical tastes!….No but really, I've got a gun.
Can you introduce each member of your band and give us a rock "n" roll fact or myth about each of them?
MAT: Steve Watts – Guitar, Backing Vocals. Fact – this kid is more metal than a 1970's mustang. It is said he is the offspring of that cool Terminator in No.2. Mercury is his blood and titanium is his spine. Tells bad Dad jokes.
Phoebe Pinnock – Vocals, Vocals and Vocals.  The velociraptor. I'm too scared to write anything else cos she might kill me, if it's slightly negative or not to her liking.
Trav Price – Bass.  This guy would step over his own mother to grab his Bass and churn out a few low end runs. Drives a pretty cool car, and likes droppin the clutch apparently.   Is lucky to be with us, after a near death experience on a train line in Perth.
Aramis S.V. – Drums.  Myth – He's an intelligent guy. Fact – drives long distances every week to keep his musical muscle going. Plays in Strict Vincent, one of Melbourne's brutal underground champions.
Mat Silcock – Guitar– Fact – Played bass on 'SEX, CHUGS & ROCK'n'ROLL'. Myth – is guitar no. 2!
ARAMIS:  I'll introduce our current line-up…otherwise I'll get carpel-tunnel from typing our extended family's bios. No lie.
Phoebe – Vocals, fucken kick-arse front woman, black belt in promotion.  Rock 'n' Roll myth – Was booked to do 'backing vocals' for Michael Jackson's 'This Is It' tour.
Steve – Guitar number 2, backing vocals, moshes his head like his hairs on fire (looks fucken sick!), "logistics-nightmare-fixer-upperer".  Rock 'n' Roll fact – has been in numerous extreme brutal metal groups such as Walk The Earth, Terrorust, Insidious Torture & Manticore.
Silky – Guitar number 1, backing vocals, chick's dig his junk, Zoolander handsome, PHD in communication.  Rock 'n' Roll fact – played in Damaged. That is all.
Trav ST – Bass-guitar number 1, Jason Newstead stance, CEO of Facebook promotions, old school.  Rock 'n' Roll fact – played for Western Australian based Mutiny, his first gig with HTA was his first gig in about 15 years.
Aramis SV – Drummer number 1 😉 plays with a smile on his face, wears a hat, double-kicks-shit; otherwise known as a 'double-shit-kicker' – Rock 'n' Roll fact – has played in the same band, Strict Vincent for 10 years, & still does.
You have released your album "Sex, Chugs & Rock N Roll", how would you describe both the experience of recording and musically what people can expect to hear on the album?
MAT:  The recording was probably the best and most relaxed I've been involved with. With Ren Parisi of Melbourne Records producing, engineering, mixing, he has a style that is challenging but very inspiring to be around. He is very honest about your performance and the song, so you wanna be prepared when you go in to track your instrument. He is also encouraging when he digs something you're doing. I think when it comes down to it, everyone involved including Ren, just wanted it to excel, so we didn't leave any stone unturned. We had heaps of guitar and vocal ideas that were canned, but we tried em! It was creative and I reckon you can hear the fun we were having in the end result. If I was to describe the end result it would be a heavy, aggressive, complex pop songs, that are on the edge and challenge what you think a band with a female singer should sound like, but on the same hand you could say there is a familiarity to the sound that just sucks you in.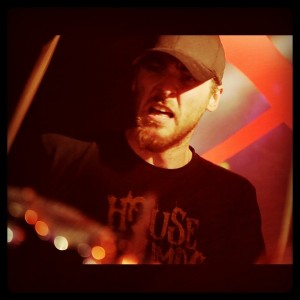 ARAMIS:  I didn't play drums on the recording. I have the honour of playing drums written by Matt 'Skitz' Sanders & Tom 'Thumb' Rossell.  Musically people can expect to hear a whole bunch of musical genres that appeal to a wide range of musical tastes! There's even a ballad on there!
In terms of your songwriting, what do you consider to be the most important ingredients that make up a Heaven The Axe song?
MAT:  Oh…Phoebe.
ARAMIS:  Musical & lyrical hooks by the fuckload, lotsa chugs, oh…& Phoebe.
Both lyrically and musically, what or who inspires/influences your music the most?
MAT:  First thing is we gotta love playing it.  The music has to move you as a performer, make you feel something, whether it be aggression, love, pride, exultation, horny, whatever.  I personally take inspiration from wanting to express that emotion in a musical form. Of course I want to push the boundaries and create something that is unique or that you can hear elements of your personality coming through your music. At the end of the day music is a primal thing that should be fun to play, and when you can do it with great friends and high five each other and end and say 'That was Killer', I reckon that's inspiring. I don't write lyrics to HTA so that is a question for Phoebe, but we are all interested in the state of the world, the agenda's of the people in power, and what could be done to make our communities a better place. All of it has the central theme of 'Human-ness' to it. Whether it be your relationships with the people in your life or the relationship and connection you have with the world around you.
ARAMIS:  For me, new & old school metal. Particularly polyrhythm metal.
What kind of movie do you think your music would be best suited to and why?
MAT:  It has to be action! Fast paced, loud, rude. A bit wrong and inappropriate. In your face and telling you a good story. We are all left of center people. No topic is taboo in the HTA band room or on tour. Phoebe is out there with her image, likes to show a bit of flesh and be the rock'n'roll front women. You got the rest of the band, metal blokes supercharged pulling stupid faces and throwing the \m/ sign anywhere we can. This movie would have outlaws and leather, cleavage and chains. It sounds like a good movie to me. Maybe Basic Instinct vs Mad Max?
ARAMIS:  Probably 'Mad Max – Beyond the thunder-dome'. Lots of action, slightly violent, & boobs!
For those that haven't yet seen you perform live, what can people expect from one of your live shows? 
MAT:  Tight, cheeky, punch you in the chops Heavy Rock. 5 people doing their best to entertain you with heavy sounds and tasty tunes. A front women that will capture your attention and leave an indelible mark left on you psyche. It will make you wanna go home and write cool songs or take your fella home and tie him up to the bed and have your way with him. You might also feel like a kebab on the way home.  Just go easy on the onions.
ARAMIS:  An audible & visual delight. There's so much going-on on stage that you don't know where to look!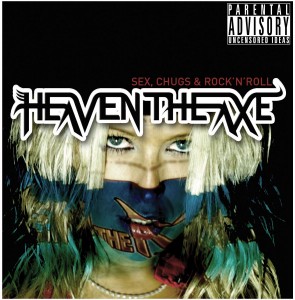 In a few weeks you will be supporting Crashdiet from Sweden, what kind of influence does Crashdiet or their style of sleaze rock have on your band?
MAT:  Well I reckon they have a wild, dangerous edge about them, and so do we. Of course they're BITCHIN' muso's like us :). Phoebe uses some glam/sleaze imagery in her costumes and stage clothes. . We are a different style to Crashdiet, but I think Heaven The Axe fits in well because we put on a show for the audience, and it's High Octane Rock, which we all love and would gladly die for. Yeah??
ARAMIS:  Probably Phoebe's dress sense.
Here's a chance to gaze into your crystal ball.  In the next 6 months, Heaven The Axe will have:
MAT:
1. A slightly bigger but sexier beer gut.
2. Overseas touring ready to roll
3. Almost finished writing their follow up to 'SEX, CHUGS & ROCK'N'ROLL' and signing to a cool record label that has integrity and loooves us!
ARAMIS:
1. A solid tour schedule in Australia.
2. Then a solid tour schedule in Europe.
3. A communal house that every band member lives in, so we can create the best hard-rock songs the world has ever heard!
Essential Information
From: Melbourne, Australia
Sounds like: "LIKE A HOT CHICK DRIVING A MACK TRUCK!!! HEAVEN THE AXE IS THE SOUND OF "SEX, CHUGS & ROCK 'N' ROLL!!"
Band members (Live): Phoebe Pinnock, Steve Watts, Mat Silcock, Aramis SV, Trav Price
Website: www.heaventheaxe.com
Latest release: Sex, Chugs & Rock N Roll (18 Sept, 2011)
Tour dates:
SATURDAY OCTOBER 22 – SUPPORTING CRASHDIET FROM SWEDEN – THE ESPY, MELBOURNE
FRIDAY OCTOBER 28 – MAIN SUPPORT ROSE TATTOO, FRANKSTON RSL, MELBOURNE
SATURDAY OCT 29 – MAIN SUPPORT ROSE TATTOO, WONTHAGGI WORKERS, MELBOURNE
SUNDAY OCTOBER 30 – MAIN SUPPORT ROSE TATTOO, WILLIAMSTOWN RSL, MELBOURNE
SUNDAY OCTOBER 31 – MAIN SUPPORT ROSE TATTOO, DANDENONG WORKERS, MELBOURNE
FRIDAY NOVEMBER 11 – MAIN SUPPORT ROSE TATTOO MACS HOTEL, MELTON
SATURDAY NOVEMBER 12 – MAIN SUPPORT ROSE TATTOO BURVALE HOTEL BURWOOD VIC
THURSDAY NOVEMBER 17 – ALCATRAZ @ THE GH, ST KILDA
FRIDAY NOVEMBER 25 – CD LAUNCH, THE ANNANDALE, SYDNEY
FRIDAY DECEMBER 2 – MAIN SUPPORT ROSE TATTOO EAST BRUNSWICK CLUB VIC
SATURDAY DECEMBER 3 – MAIN SUPPORT ROSE TATTOO EAST BRUNSWICK CLUB VIC
STREET MACHINES SUMMERNATS FESTIVAL JAN 2011 & 2012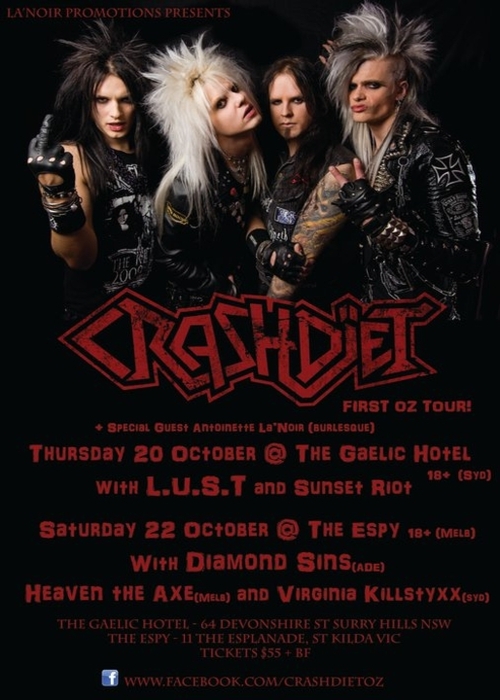 Comments
comments