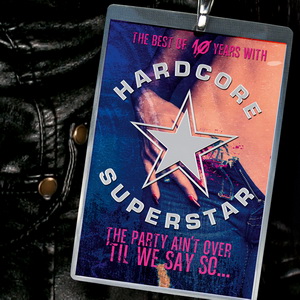 Official press release: After seven records and seven world tours Hardcore Superstar are celebrating 10 years with a best of album The Party Ain't Over 'Till We Say So". It will be released on October 26.
The album contains songs from all the records that the band has released between the years 2000 – 2010 and the newly written song "WE DON'T NEED A CURE."
Pre-order a signed copy right now via the links below!
Order a signed CD:
https://www.bengans.se/popup/hardcore_the/se.aspx
Order a signed double vinyl:
https://www.bengans.se/popup/hardcore_the_lp/se.aspx
There will only be 500 signed vinyl copies so make sure to order your copy with world wide delivery today!
The tracklist for 'The Party Ain't Over 'Til We Say So' is as follows:
01. We Don't Need A Cure (new song)
02. We Don't Celebrate Sundays
03. Moonshine
04. My Good Reputation
05. Wild Boys
06. Someone Special
07. Dreamin' In A Casket
08. Into Debauchery
09. Here Comes That Sick Bitch
10. Last Call For Alcohol
11. Beg For It
12. Liberation
13. Bastards
14. Medicate Me
15. Standin' On The Verge
16. Still I'm Glad
17. Have You Been Around
18. Shame
19. Honey Tongue
20. Run To Your Mama