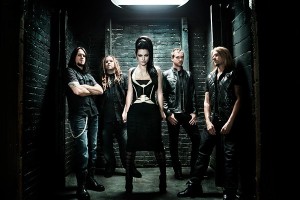 Following a three-year sabbatical after the multi-platinum, worldwide success of their sophomore effort, The Open Door, Grammy Award winning band Evanescence, are set to release their third self titled studio album on October 7th. Produced by Nick Raskulinecz, (Foo Fighters, RUSH, Stone Sour, Alice in Chains, Deftones), it was recorded in Nashville's famous Black Bird Studios earlier this year. The album will be released via Wind Up Records on CD and as a digital download. There will also be deluxe CD and digital editions featuring additional content.
The album is out now!
According to Evanescence front woman Amy Lee, "We can't wait to show everyone what we've been working on! We've been finding ourselves, reinventing our sound, experimenting with things we've never done before and at the same time embracing the things we love most about Evanescence. This journey has made us the strongest we've ever been as a band, and I am in love with the music. Nick Rasculinecz is the perfect fit for this record."
The inherent drama in Evanescence's music – a kind of audio odyssey that can turn on a dime from piano-led introspection to hammering guitar – has resonated with listeners everywhere. The music's core, which ranges from beautiful to subtle to aggressive, finds a counterpart in Lee's passionate vocals, lyrics that forge a connection with audiences searching for identity or struggling with feelings of desire, hope love and loss. Sales of the band's first two albums are more than 24 million worldwide with over 600 thousand in Australia alone.
With what some call a meteoric rise to the top, Evanescence's first album Fallen brought the band to global success, selling more than 17 million copies. It spawned two Top 10 singles, "My Immortal" and "Bring Me To Life," and two Grammy® Awards in 2003 (Best New Artist and Best Hard Rock Performance for "Bring Me To Life").
Album Track-listing:
1. What You Want
2. Made of Stone
3. The Change
4. My Heart is Broken
5. The Other Side
6. Erase This
7. Lost In Paradise
8. Sick
9. End of the Dream
10. Oceans
11. Never Go Back
12. Swimming Home
Bonus tracks on the Deluxe version are:
1. New Way To Bleed
2. Say You Will
3. Disappear
4. Secret Door
Evanescence is: Amy Lee (vocals, piano), Terry Balsamo (guitar) Tim McCord (bass), Will Hunt (drums) and Troy McLawhorn (guitar).
EVANESCENCE | EVANESCENCE | AVAILABLE OCTOBER 7