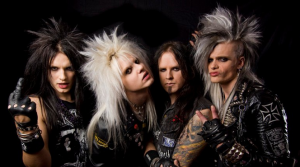 "It's going to be awesome coming down there and seeing how many of you guys turn up and we will have 2 great nights and see you at the bar after the show!…"
A leading force in the Swedish "sleaze rock" scene of the 2000's and now slowly conquering the world, Crashdiet in October will be heading to Australia for the first time.  Their last albumGeneration Wild delivered a collection of songs that in my opinion if released in 1989 would be spoken about today in the same breath as Skid Row's debut album or the likes of Motley Crue's Dr Feelgood.  It's just that damn good…and how about that video clip for the title track itself!
Having just played some of the biggest rock and metal festivals in Europe such as Sweden Rock Festival and Wacken in Germany, you can be sure Crashdiet will be delivering one hell of a show when they hit Australia.  Trust me, I saw them personally at Sweden Rock this year.
I chatted with Crashdiet drummer Eric Young yesterday about the bands upcoming tour and progress on the follow up album to Generation Wild.
Hey Eric thanks for taking the time to do this interview.  So you are finally headed out to Australia, it  must be pretty exciting to be travelling so far from home and playing some shows on the other side of the world?
Yes it is definitely.  We have hit South America a couple of times now so we are starting to get used to flying long distances to go and play some shows.  We're really looking forward to coming to Australia.
So what have you heard about the rock scene down here in Australia?
I haven't heard a lot at all actually.  Of course I know of bands like AC/DC and Airborne, but thats pretty much all I know about the Australian rock scene.  I have a friend that is from Melbourne and he said there is a good rock scene going on, but it's a long time since I spoke to him.
And how about the level of interest in Australia for Crashdiet, what are your expectations of your fan base down under?
Well I've only heard rumours' and I guess it's the same thing as South America for example we had heard about people really liking us there and the only thing you can really use as a guide are things like Facebook and people chatting on our sites and stuff like that and so far we have had a lot of people commenting and chatting about our upcoming Australian shows.  It sounds like we have a good following down there so hopefully it should be 2 good shows!  It looks like there are people down there who have heard of us at least.
Well thats definitely true!  Some fans are even so keen that  I know for a fact there were about 6 or 7 of us who travelled to see you at Sweden Rock Festival this year and then found out a few weeks later that you were coming to Australia for some shows, so I guess the bonus is we will see you 3 times in 2011 haha!
Well, that's very cool!
What are you looking forward to most about being in Australia?
Well you have some beautiful beaches down there in Australia and I am trying to get to see if I can get some surfing done whilst I am there.  Our promoter has put together a list of things to do and we will decide what to do, based on what we have time to do of course!  I'm going to try to do as much as I can down there and will also try and have a traditional Australian BBQ, which has to be done!
You have had a very busy year of touring….how do you guys handle life on the road as a band, anything you do to keep yourselves sane if boredom strikes haha?
It usually never gets too boring actually, that's the life we always look forward to.  When we do an album we usually can't wait to get back out on the road.  If by chance there is ever a dull moment in the tour bus, which there hardly ever is, as we always have a great time together, we will just watch some movies or whatever.  Mostly when we travel between shows its during the night when we sleep and then the next day we roll into a new town and do it all again.  So there's ever really any dull moments, it's either sleep or have fun!
I personally had the opportunity to see you guys at Sweden Rock festival this year, a show with pyro and chainsaws and motorbikes, obviously you can't bring that out here and do it at a club type show, but what can we expect from your set?
We will probably do some research and find out what Crashdiet stuff you guys like best down under and go from there.  When we usually do shows like this and flying long distances to special places where people like us a bit more, we do a longer set and as many songs as we can, but not too many so people don't get bored haha!  We will try and do as much as we can at those shows, obviously we can't do pyro or anything like that, so we will do as much as we can, but I am promising the Australian fans they won't be disappointed!
I know you have been collecting a lot of footage from your recent festival experiences for a DVD release, how is that coming along?
I will say it come out in the beginning of next year.  We have a lot of footage and it's supposed to be based on the first tour with Simon and obviously we have shows coming up in Australia and USA in November and there's a tour with Wednesday 13 and Michael Monroe, so it would be a shame to finish off the DVD before any of that happens.  So I think we will collect more footage from those tours and work to get it out in the beginning of next year I would say.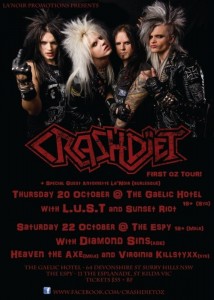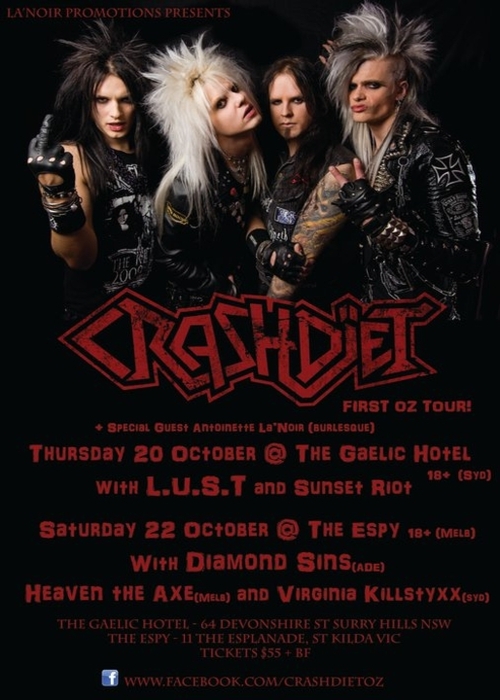 Given you have been so busy touring this year, I was surprised to read the other day that you guys have started on your follow up to Generation Wild.  Being your 2nd album now with Simon, it must be a good feeling going into an album with a settled lineup?
Yes definitely.  Martin and I have started writing material a couple of months to go.  The other day we had a session where we wrote a song and recorded a demo and it feels good as you said.  The first time around with Simon during Generation Wild we were a bit unsure at the beginning how this all works, but that's like any relations in the beginning.  But this time around it's going to be a lot easier, the arrows are pointing towards the same goal and we have an interesting and fun time in the studio ahead.  I think it's going to be a great album.
In my opinion if it was released in 1989, Generation Wild would have had the same impact as the likes of albums from Skid Row and Motley Crue.  What are you guys planning musically as far as the 4th record goes?
Well it's going to be similar.  The Crashdiet fans are going to recognise the Crashdiet sound, definitely.  You always get worried when you start writing material for a new album and wonder how much do you struggle to stay true to your regular sound.  You have your guidelines to work with, so it always comes out sounding like a Crashdiet song, even if we try not to you know haha!
I know you wrote around 50 tracks for Generation Wild, are any of those ideas and songs ones you might head back to?
We might head back, but the main goal is to write new tracks.  We've written around 20 new songs already and it's always fun to work on writing new material.  Those other songs we didn't put onGeneration Wild for a reason, for instance we had ballads back then and we couldn't use them as there was no more room for ballads.  In that sense we might bring out some of the older songs, but in general we are concentrating on writing new songs and taking it from there.
For the single Generation Wild, you made a video so awesome, that MTV even banned the edited version, but who watches MTV these days anyway!  Did you ever consider releasing a 2nd video from the album?
We had some plans and unfortunately our record label wasn't too interested in doing that.  We came to a decision whether we should do one ourselves and invest in it, or whatever.  We were supposed to do one, but it just didn't happen.  Next time we are going to try and do that side of things a bit more structured.  If you ask me, I would like to do at least 2 or 3 videos per album.
Touring the world as you have been doing a bit of recently…have you got a picture of the types of people that seem to dig the music of Crashdiet?  For example here in Australia there seems to be a definite element of young rock fans getting into the band and the whole sleaze rock movement…
Definitely, our main audience I would say is between 15 and 20.  It's always been like that for us, I think we have music that is perfect for the teenage kids that want to rebel against their parents  who control them.  I guess Crashdiet music gives them the fuel to do that.  I remember when I was that age it's a really cool period and really uncertain and you need something and I guess for Crashdiet fans, we provide that.
Sitting over here in Australia, it seems that there is just an endless supply of awesome metal and rock bands that come from Sweden and that these bands must rule the radio etc over there.  However having been over to Sweden myself, I know this isn't the case….how would you describe the level of popularity and recognition Crashdiet gets in your home country?
I would say musicians definitely know who we are.  Its often Hardcore Superstar who are carrying the flag for sleaze music over here. I guess we tend to have one foot in the underground, which is what we wanted to do all along.  Not to go too mainstream and I think we have succeeded with that and still people know who we are here.  When we do shows over here, lots of people do turn up and it's moving steadily upwards.  The Swedes are a tougher crowd to please I would say as they don't take lightly on stuff like changing singers 3 times and stuff like that. So it's tough over here in that sense, but we are definitely a well recognised band here.
So any last messages for the Aussie fans in the lead up to your shows in October?
It's going to be awesome coming down there and seeing how many of you guys turn up and we will have 2 great nights and see you at the bar after the show!
Well definitely, I personally will be at both Melbourne and Sydney shows, so at the bar it shall be!  Thanks for your time and see you here in October!
Definitely, definitely, thanks for having me!
* Be sure to catch Crashdiet at either of their Australian shows in October in Sydney on Thursday October 20th and in Melbourne on October 22nd.
Essential Information
From: Sweden
Band Members: Simon Cruz – Lead Vox, Guitar, Martin Sweet – Guitar, Peter London – Bass, Eric Young – Drums
Websites: www.crashdiet.org
Latest Release: Generation Wild (2010, Frontiers Records, Riot! Entertainment)