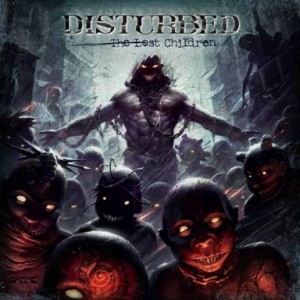 Multi-Platinum-selling hard rock band Disturbed will release its first ever B-sides collection, entitled The Lost Children, on November 11th on Reprise Records. The set includes a previously unreleased track, "Mine," and "3," which was released exclusively on the band's website in April with all proceeds donated to the Damien Echols Defense Fund benefiting the West Memphis Three. A single from The Lost Children, "Hell," which appeared as a bonus track on the UK tour edition of the 2005 album Ten Thousand Fists, goes to radio on October 31.
Other tracks on this B-side collection include "God of the Mind" and "A Welcome Burden," which appeared on the 2010 reissue of the band's 2000 debut album The Sickness; "Monster," "Two Worlds," and "Sickened," which were included as bonus tracks on the UK tour edition of Ten Thousand Fists; "Run," which was featured on a limited-edition version of 2008's Indestructible; and "Parasite," which appeared on the Japanese edition of Indestructible.
Disturbed spent the summer headlining the fourth annual Rockstar Energy Drink Mayhem Festival and recently performed it's first-ever shows in South America. The band's current album Asylum has been certified gold by the R.I.A.A in the U.S., and is also gold certified in Australia. Disturbed have sold 12 million albums and over six million digital tracks worldwide. Asylum is Disturbed's fourth consecutive studio album to debut at No. 1 in the U.S, a feat achieved by only two other rock groups in history: Metallica and the Dave Matthews Band.
The track-listing for The Lost Children is as follows:
1 – "Hell"
2 – "A Welcome Burden"
3 – "This Moment"
4 – "Old Friend"
5 – "Monster"
6 – "Run"
7 – "Leave It Alone"
8 – "Two Worlds"
9 – "God of The Mind"
10 – "Sickened"
11 – "Mine"
12 – "Parasite"
13 – "Dehumanized"
14 – "3"
15 – "Midlife Crisis"
16 – "Living After Midnight"