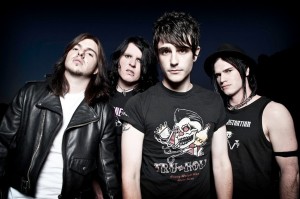 Diamond Sins will be supporting Crashdiet in Melbourne on their upcoming Aussie tour kicking off on October 20th, 2011 (check tour details below) and we thought it was a perfect time to introduce the band to you, our fine readers!
Official bio: Diamond Sins are a deathpunk quartet hailing from Adelaide, Australia.  The band formed as a rock band that drew influences from 70's punk and the over the top hair bands of the 80's.  In mid 2009 Diamond Sins recorded their debut EP Welcome to The Freakshow which was well received and picked up distributed by Green Distribution internationally. It was around this point Diamond Sins scored their first international act support tour with Glam rock superstars Pretty Boy Floyd on their Pretty Boyz with Electric Toyz 25th Anniversary Tour.
Late 2009 saw the release of the band's first music video for the track Freakshow.  2010 the band were chosen as the main support for Wednesday 13's "Valentine's Massacre Down Under Tour" as well as the release of their second music video Still Beating which was very well received due to the over the top production value.  The band also returned to the studio late 2010 to record the single Maniac which was commissioned by the Australian pro wrestler Wayne Mattei.
2011 the band has continued strong touring around Australia as well as scoring a main support slot as a part of the first Australian tour for Crashdiet.  Currently the band wait the release of the debut Album Death Punk Baby which is touted for release later this year.
What is the inspiration behind the band name?
I (Davy Damaged) answered an ad looking for a singer, Diamond Sins had already been around for a while and had played one or two local shows. I tried out for the band and according to Taylor "was the least shit" of the auditions.  As for the name it was in the band when I joined and we could never be bothered changing it and no one will take responsibility for it, so lets make something up?  Davey – let's just say it's my favourite pornstar from the 70's. Taylor "lets also say it's a guy pornstar"
You have twenty seconds in an elevator to try and convince someone to listen to your music, what do you tell them?
In that situation I'd most likely start getting naked and threaten to shit in the elevator if they didn't listen to our music.  I'm not really sure what I'd do if they refused though?  I guess I'll cross that bridge if I ever get it.
Can you introduce each member of your band and give us a rock "n" roll fact or myth about each of them?
Terradaktyl is our guitarist, he is irresistible to alt models and one of the top 4 guitarists in the entire band.
Matt Riddiford is the drummer, newest to the band he has the ability to get jokes in slow motion.
Taylor Chains is the bassist, he writes our best songs and can grow a beard in two hours.
I'm Davey Damaged the singer and I was once on the cover of the white pages. True story.
You have released an EP/album, how would you describe both the experience of recording and musically what people can expect to hear on the album?
A few years ago we recorded our Welcome to The Freakshow EP which was a huge learning experience for us; it played a huge part in shaping our sound.  Also we've just finished recording a full album called Death Punk Baby, which we took a much slower approach to recording wise.  It's definitely a lot different from our earlier stuff, we like to think that we wrote to our strengths musically and we're fucking proud of the end result.
In terms of your song writing, what do you consider to be the most important ingredients that make up a Diamond Sins song?
When we write a song it's usually one person will come up with a decent chunk of a song and show the rest of it and we jam on it, all adding our individual parts. If we don't nail it pretty quickly we usually don't keep forcing it and just let it then die.  A key ingredient in our songs is also stealing ideas from a huge range of places so as to not get caught.
Both lyrically and musically, what or who inspires/influences your music the most?
Lyrically our music is aggressive, that was one thing that we steered away from, from our early glam stage.  A lot of the rock stuff we started out trying was all "party party" but we kind of got sick of that and just decided to bring more of our own personality to the songs, which highlighted what dicks we are.  As for who inspires us, it changes from member to member:  Terradaktyl is inspired by bands like Backyard Babies and Johnny Thunders, Taylor's into angry shit like Cancer Bats and Gallows.  Matt Brings a Murderdolls feel to our music and I change my mind daily as to what inspires me, today it's Turbonegro.
What kind of movie do you think your music would be best suited to and why?
Something violent and fast paced, with gang fights and greasers and Edward Norton.  The reason I say that is because our sound has a real violent feel to it, very abrasive and I'd throw in Edward Norton because he's movies are usually fucking awesome.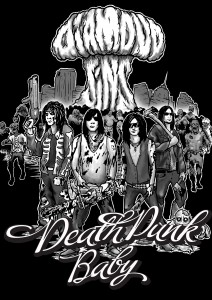 For those that haven't yet seen you perform live, what can people expect from one of your live shows?
Taylor and Terra thrashing around the stage like madmen, Matt flicking his hair and making faces.  Me screaming at you with heaps of eyeliner and no eyebrows. Just good loud raw fun.
In a few weeks you will be supporting Crashdiet from Sweden, what kind of influence does Crashdiet or their style of sleaze rock have on your band?
Scandinavian bands do everything better.  We got into Crashdiet through other sleaze acts like Hardcore Superstar and The 69Eyes.  When we started the band, they were the bands that drove us to do what we do, we've diversified our influences since then but the sleaze element is still very strong in what we do.  We can't wait to share the stage with a band that isn't just rehashing an old idea, more so starting with it and bringing their own element to it and making it stand up along with current music.
Here's a chance to gaze into your crystal ball.  In the next 6 months, Diamond Sins will have:
1. New music videos
2. Death Punk Baby album will be released
3. Zombie apocalypse?
Essential Information
From: Adelaide, Australia
Sounds like: Deathpunk
Band members: Taylor Chains – Bass, Matty "Bullet Time" Riddiford – Drums, Davey Damaged – Vocals, Terradaktyl – Guitar
Website: www.diamondsins.com
Latest release: Death Punk Baby (2011 – still to be released)