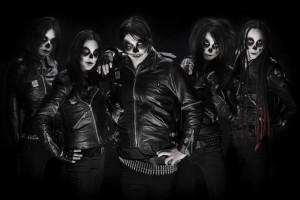 Official press release:  The leatherswept members of DEATHSTARS are getting ready for the release of their new video "METAL" and their The Greatest Hits on Earth collection (released on November 4).
They are also proud to present their new drummer Vice (aka Oscar Leander/CRESCENDOLLS). Vice replaces Bone W. Machine who split ways with DEATHSTARS in 2010.  "I'm really excited to be a part of Deathstars and I really feel that my drumming complements Deathstars music in a perfect way", says Vice.  Nightmare Industries adds: "With this addition to our band our recordings and live shows will deliver more energy than ever before. We are really pumped up about the future!
METAL is one of two new songs which will be featured on the bands upcoming best of compilation The Greatest Hits On Earth which will be released physically and digitally on November 4, 2011 via Nuclear Blast and Riot! Entertainment in Australia.  Both new songs showcase the future musical direction of the next DEATHSTARS release.
The tracklist reads as follows:
DEATHSTARS – The Greatest Hits On Earth
01. Death Is Wasted On The Dead (previously unreleased)
02. METAL (previously unreleased)
03. Death Dies Hard
04. Blitzkrieg
05. Motherzone
06. Synthetic Generation
07. Tongues
08. Blood Stains Blondes
09. Cyanide
10. New Dead Nation
11. The Mark Of The Gun
12. Chertograd
13. Semi-Automatic
14. Syndrome
15. Play God
16. Opium
DEATHSTARS are also confirmed as direct support to German industrial heavyweights RAMMSTEIN in November/December 2011:
RAMMSTEIN + DEATHSTARS 
06.11. SK – Bratislava – Zimmy Stadion Ondreja Nepelu
08.11. CRO Zagreb – Arena
10.11. H Budapest – Sportarena
12.11. CZ Prag – O2 Arena
14.11. PL Danzig – Ergo Arena
15.11. PL Danzig – Ergo Arena
17.11. D Leipzig – Arena
18.11. D Leipzig – Arena
20.11. D München – Olympiahalle
21.11. D Friedrichshafen – Rothaus Halle
23.11. A Wien – Stadthalle
25.11. D Berlin – O2 World
26.11. D Berlin – O2 World
28.11. D Hamburg – O2 World
29.11. D Bremen – Arena
01.12. F Straßburg – Zénith
02.12. LUX Luxemburg – Rockhal
04.12. D Düsseldorf – ISS Dome
05.12. D Düsseldorf – ISS Dome
06.12. D Düsseldorf – ISS Dome
08.12. D Frankfurt – Festhalle
09.12. D Frankfurt – Festhalle
10.12. D Stuttgart – Schleyer-Halle
12.12. CH Zürich – Hallenstadion
14.12. D Berlin – O2 World
15.12. D Berlin – O2 World