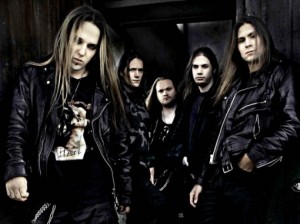 On the back of their latest release Relentless Reckless Forever, Children of Bodom have further solidified their standing as one of the leading new generation metal bands, but in saying that, the band formed in 1993, so they aren't exactly that new!  On their seventh album the band once again effortlessly blend crushing metal riffs, haunting melodies, stadium sized metal anthems, keyboards and slashing fret work, that has seen front man Alexi Laiho establish himself as one of the leading metal guitarists in the world today.
Escaping the onset of their native Finnish winter, Children of Bodom will be heading to Australia in November for a bunch of shows on what will be their third tour down under.
We chatted with Alexi about their upcoming tour, the making of their latest album Relentless Reckless Forever, and give Alexi a minute or 2 for some free advertising!
Hey Alexi, thanks for taking the time to chat, so where in the world do we find you today?
I'm calling in from Helsinki at the Spinefarm office.
And is it starting to get cold over there now?
Oh dude it sucks, it's cold and rainy and just down right depressing!
In November you are headed out to Australia as part of The Ugly World tour, you have been out to Australia a few times now, what are you looking forward to about being back here?
Pretty much everything, I've always liked the country.  We've done like two tours there and have had good crowds.  You guys are really cool people in general and I have nothing but good memories about Australia so we are definitely really psyched about coming back.
This year you either have, or will be, touring places such as Russia, Israel, Indonesia, Japan, Mexico and of course Australia, you sure have been getting around the world!
Well coming up we actually have dates in Indonesia, Singapore and Philippines and then South Africa.  There are a couple of dates in South America as well so it's definitely exciting to hit new places and not always do the same shit.
Have you found that with this album in particular, it has opened doors in these other markets?
Well given we have covered Europe and USA pretty well and we did a tour In Japan, basically those markets are the most important for us, but now it's the perfect moment for us to do the rest of the world.  We've actually done a lot of dates in the UK this time around.  The shows were a little bit bigger than before, so that was really cool too with things finally picking up there as well.
Speaking of the UK, this year you played at Download festival and then also Wacken in Germany, how do you like playing on those big festival lineups as opposed to doing your own headline tours?
It's such a different vibe and you can't really compare the two.  If I had to choose I would go for a really insane, sweaty club show as opposed to an outdoor thing.  Then again there are the positives of doing festivals, obviously the crowds are bigger and just in general it's a lot of fun doing festivals, as there are so many bands and some you don't get to see that often.
Travelling the world as you do, have you got a sense of the type of people that Children of Bodom fans generally seem to be?
Well it's funny, our fan base is just so diverse.  We have a bunch of 50 something biker dudes and then there are kids that are under 10 years old who come to the shows with their parents!  Which I think is really cool, it's not just a certain age going to these shows.  What I have noticed on the tours we have done this year, there's a lot of younger kids now in the audience than there used to be.  Which I think is a good thing, at least that means a bunch of todays youth are into metal.
So what can we expect as far as the set list goes here in Australia, will that be pretty similar to what you have been touring with so far this year?
Well basically we always try and play stuff from each album, but we need to play some stuff from the new album as well, maybe four or five songs.  We haven't really decided what the set list will be just yet, but we are going to start rehearsing soon.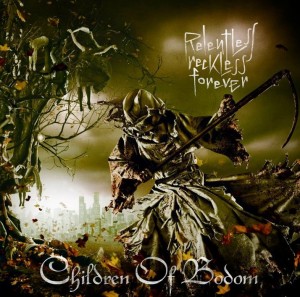 What have been some of your personal favourites to play from the new album?
Well as far as the crowd response Shovel Knockout is when the crowd usually get really fucking wild and also Roundtrip To Hell And Back, these songs come in a row and it's a good contrast as it's a slower tempo but still heavy.
Relentless Reckless Forever has been out now for about 6 months, have you generally been happy with the way the way the fans have responded to the album?
It's been really great, like for real.  I've only heard good feedback but it's not like people are going to come up to you and tell to your face, dude the album sucks!  I mean they do that on the Internet, but I don't even usually go to our website or check any online stuff as I'm not into that stuff.  But all the stuff I have seen, it's pretty much been positive!
As far as the whole process of recording and writing that album, would you say that was probably your most enjoyable or difficult, what is the feeling now when you look back on it?
It was both, it was definitely tough as we had less time in the studio than what you are normally used to.  We took a bit more time on the song writing and we worked with a producer this time, which was new for us.  He was a good dude, Matt Hyde, he made sure the wheels were in motion and cracking the whip, something was always happening and people were not slacking off or anything.  It was kind if tough but I did enjoy it a lot, working so hard.  Usually we will spend about 6 weeks in the studio just to record usually everything except for the vocals.  Recording for us, whilst we take it very seriously, it's also been a big party for us.  I'm actually really proud of this one as it was pretty much recorded in three weeks and it's better played than anything we have done before.
Some bands will start working on songs for their new album practically as soon as the current one has been completed, are you one of those bands, or do you only write when the time comes to start thinking about a new album?
We are definitely not one of those bands!  When an album is done, we just concentrate on the touring.  Like you said, I know a lot of people can actually do writing whilst touring, but for me it doesn't work out man.  Just the tour environment, it's so wrong for writing, at least for me anyway.  So we just want up concentrate on the touring and when that's over, it's all about the song writing, that's how it works for us.
You have a number of signature model ESP guitars on the market, is there anything new happening in that space at the moment such as new guitar releases on the horizon?
Well actually I have been working on one new guitar, but I can't really tell you the specifics yet.  But it's going to be pretty much the same, but there are a few details that will be different.
Now while we are on the subject of plugging things, how is the Wild Child Industries clothing line going?
It's going, you know, slow but steady.  We are still working on new designs and stuff and so far it's still worth doing.  We enjoy doing it and it's so fucking hard to find cool t-shirts these days and it's easier to make your own!
Ok, here's a question that will probably put you on the spot, If you could put together your ideal G3 line-up, who would you choose?
Wow….haha!  Well Paul Gilbert, Steve Vai and…..lets fucking throw Zakk Wylde in there.
I saw Paul Gilbert with Mr.Big at Sweden Rock Festival in June, he was amazing, it was great to finally see him perform live.
Yes, he definitely is an amazing guitar player.
Children of Bodom has been in existence for over 15 years, how has the metal scene in Finland changed in that time, is that very different to when you first started out?
It's definitely different, as much as I've been able to follow the metal scene around here it just seems now it's the whole kind of Folk metal stuff with people dressed up wearing bear skins and stuff like that.  That really seems to be the flavour of the month right now and there's a couple of decent bands that play that who I can listen to.  Back in the day it was different there was either really underground extreme death metal bands or more like 80's Helloween type bands like Stratovarius.  Then just the fact of how big and popular metal has become over those 15 years.  Metal music here in Finland is seriously considered mainstream and it's kind of like a double edged sword.  It's a good thing with albums and sales, but the one thing that appealed about metal to me was the whole rebellious nature, like it was our thing, not like the family fun thing!  But what are you going to do, I can't complain!
Essential Information
From: Finland
Band members: Alexi Laiho – Guitars & Vocals, Jaska Raatikainen – Drums, Henkka Blacksmith – Bass, Janne Warman – Keyboards, Roope Latvala  – Guitars
Website: www.cobhc.com
Latest release: Relentless, Reckless, Forever (2011, Spinefarm Records)
Tour dates:
CHILDREN OF BODOM with Voyager performing at:
Sunday Nov 6th – Capitol, Perth
Monday Nov 7th – HQ, Adelaide
Thursday Nov 10th – The Palace, Melbourne
Saturday Nov 12th – The Big Top, Sydney
Sunday Nov 13th – The Arena, Brisbane
TICKETS ON SALE NOW at the following outlets:
Perth – www.moshtix.com , 78 Records
Adelaide – www.venuetix.com.au
Melbourne – www.ticketmaster.com.au
Sydney – www.bigtopsydney.com/box_office , www.ticketek.com.au
Brisbane – www.oztix.com.au
More info:
www.cobhc.com
www.myspace.com/voyageraustralia
www.continental-concerts.de
www.soundworkstouring.com