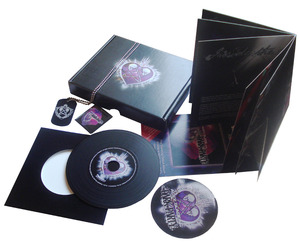 Back in 2010, Acey Slade, formerly of Murderdolls, Dope & Trashlight Vision fame and now current Joan Jett bass player, unleashed upon the world The Dark Party.  Cleverly bringing together and stretching the boundaries between both the rock and electronic genres, Acey himself described the release as 'a non-hard rock album, for hard rock people'.  For me personally, The Dark Party was one of 2010's most addictive, compelling and rewarding albums.  Well now in 2011, we have Inside The Reptile House, a highly collectible live album release that is so collectible that the 200 limited copies are probably even no longer available!  So for all intents and purposes this review is probably just rubbing salt into the wounds of those who missed out, but not me, as I have number 17 of 200.
Recorded at Arlene's Grocery in New York City, the 8 song live set documents the very first live show for the band.  Opening track Reptile House sets the scene for what is a raw and distinctly live recording which just oozes the energy for which Acey is associated.  The set also includes Acey's cover of The Cult classic She Sells Sanctuary which appears on the studio album, whilst also included are some bonus remix tracks of Reptile House, She Brings DOwn The Moon and Nothing's Gonna Change.
Aside from the CD itself, which is actually a vinyl replica, the "box set" is certainly hella cool, with a  mini tour programme featuring photo's and liner notes,  there's a square button badge, a dog tag, sticker and a box style CD packaging.  If the live CD wasn't essential enough, then this just tops it off.  I mean how easy in this day and age could it have been to merely have released this as a digital only release?
For those of us in galaxies far, far, away from New York City, this release may be as close as we get to set foot "Inside The Reptile House" so above all, massive thanks to Trashpit and Acey Slade for making this release possible!
Essential information
Check it out if you like: Acey Slade & The Dark Party
Release date: Out now
Label: Trashpit Records
Website: http://www.facebook.com/aceysladeandthedarkparty?ref=mf
Order the CD right here:  http://www.000trashpit.bigcartel.com/product/inside-the-reptile-house-live-from-nyc