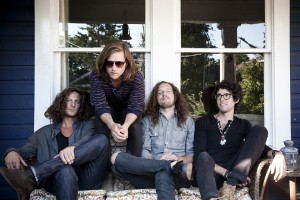 Yukon Blonde are one of Canada's best kept secrets. Until now….
Vancouver's acclaimed contribution to the world of enigmatic folk/country/indie-rock have amassed a loyal fan base in their home country, but their sun-drenched melodies (reminiscent of a far sunnier climate than from whence they sprung!) and lush harmonies have recently captured the attention of a much broader audience.
Most recently referenced on How I Met Your Mother as a quintessentially Canadian band (watch the clip here), Yukon Blonde have clocked up monster tour mileage in the past year and a half, including festivals such as SXSW, CMJ, NXNE, CMW & Popkomm in Berlin.
It is only fitting then, that Yukon Blonde finally make their way to Australia for their debut tour this summer. The Kelowna quartet will play at Peats Ridge Festival in NSW, see in the New Year with Brissie crowds at No Years Festival, and then head down to Melbourne and Sydney for some intimate sideshows.
The anticipation preceding Yukon Blonde's newest EP Fire//Water is considerable in the wake of their previous long player receiving nominations for both the WCMA and Polaris music prizes. Produced by Colin Stewart (Black Mountain, Ladyhawk), the EP is now available internationally via iTunes.
Yukon Blonde will soon be putting the finishing touches on a fresh new album set for release in early 2012. Don't miss your opportunity to catch Yukon Blonde this summer before the masses catch on!
YUKON BLONDE AUSTRALIAN TOUR
Dec 29-30 – Peats Ridge Festival
www.peatsridgefestival.com.au
Dec 31 – No Years festival – Brisbane
www.noyears.com
Jan 3 – Northcote Social Club – Melbourne
www.northcotesocialclub.com.au
Jan 5 – FBi social – Sydney
www.fbisocial.com