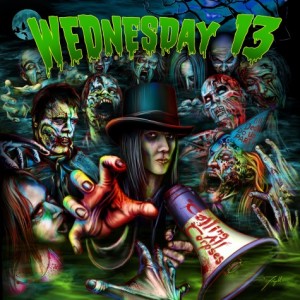 MURDERDOLLS frontman WEDNESDAY 13 is back with his first solo album ''Calling All Corpses'' since 2008's ''Skeletons''. The album see's W13 return to the fun of his first band Frankenstein Drag Queens with catchy verses, tongue in cheek lyrics and strong memorable choruses and is aimed and was written with his long-term fans in mind. The amazing cover artwork was created by D.A. Frizell (Avenged Sevenfold, Sevendust etc..)
WEDNESDAY 13 play an incredible mix of Glam, Death Rock and punk with the reoccurring them of horror movie based song themes.
The artwork for the CD was created by D.A. Frizell, who has worked on Sevendust's Cold Day Memory as well as Avenged Sevenfold's Nightmare, Book Of Nightmare andDiamonds In The Rough/ Live In The LBC and the  video A Little Piece Of Heaven.
Calling All Corpses was mastered by Tom Baker at Precision Mastering who has previously worked with Nine Inch Nails, Rob Zombie, Marilyn Manson and Ministry, among others.
Australian Tour is planned for early 2012. First single ''Something Wicked This Way Comes'' is getting plenty of radio attention and there will be plenty of promo in place for the release.
Essential Information
Release date: October 14, 2011
Label: Riot! Entertainment (Australia)
Website: http://wednesday-13.com
Track listing:
1. Blood Fades To Black
2. I Wanna Be Cremated
3. Ghoul Of My Dreams
4. One Knife Stand
5. Calling All Corpses
6. Miss Morgue
7. Silver Bullets
8. Bad At Being Human
9. London After Midnight
10. Candle For The Devil
11. We All Die
12. Something Wicked This Way Comes
13. Blood Fades To Black (Reprise)