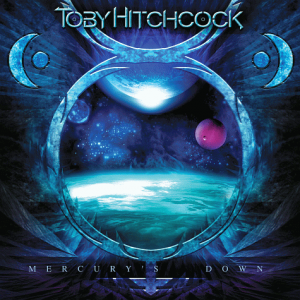 In 25 words or less: 12 songs of thunderous, intense and uplifting melodic rock.
Toby Hitchchcock – now not exactly a household name to you, our fine readers, but to some of our more learned faithfull, you will be aware of Toby's work fronting Pride of Lions, the band assembled by Survivor founding member, Jim Peterik.  Possessing a truly killer voice, it's now Toby's turn to release his debut solo album and what a debut it is!  12 songs of thunderous, intense and uplifting melodic rock.
With the relentless energy of anthemic opening track This Is The Moment, the album maintains a high level of intensity right till the very end, whether it be musical or emotional intensity.  If it's not blazing guitars, thunderous drums or a wall of backing vocals leading the charge on some of the most massive choruses you are ever likely to hear, it's the emotion drenched vocals of Hitchcock on a track like the epic ballad One Day I'll Stop Loving You.
Erik Martensson who is surely one of the most identifiable men in melodic rock, lends his prodigious songwriting, instrumental and production talents to the album and if you are already a fan of Erik's previous work with Eclipse and W.E.T, then this is another essential release to add to the trilogy.  This album possesses all the Martensson trademarks and on a song like Tear Down The Barricades if I didn't know it was Toby Hitchcock, I would have told you it was Eclipse.
Clocking in at nearly 1 hour and ending with the heaviest track on the album, Mercury's Down, you too may feel like your head is going to explode by the end, as there certainly is a lot to digest.  Perhaps this isn't the album you will be choosing at 11am on a Sunday morning after a night out seeing your favourite local band!  But ignoring that, this is one incredible album of melodic rock!
Essential Information
Release date: August 26, 2011
For fans of: Pride Of Lions, W.E.T, Eclipse, melodic rock
Record label: Frontiers Records/Riot! Entertainment
Producer: Erik Martensson
Track listing:
This Is The Moment
Strong Enough
How To Stop
Let Go
One Day I'll Stop Loving You
I Should Have Said
If It's To Be (It's Up To Me)
Just Say Goodbye
Summer Nights In Cabo
Tear Down The Barricades
A Different Drum
Mercury's Down