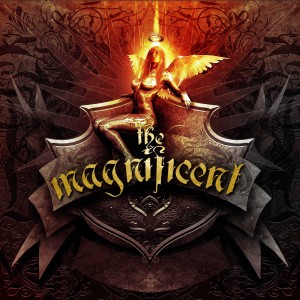 Frontiers Records is pleased to announce the release of the self-titled debut album from THE MAGNIFICENT on November 4th in Europe and November 1st in North America.
With Scandinavia becoming more and more the promised land for quality Melodic Rock bands, it was just natural that Frontiers would dig deep in the scene to find and expose the best new talents around. Then imagine if two of the most gifted guys from the Prog Metal scene in two different Scandinavian countries decided to join forces in a monumental new band project. The result should be nothing but stunning right? Then get this: Circus Maximus singer extraordinaire Michael Eriksen from Norway and Finnish producer/guitarist Torsti Spoof (of Leverage fame) have decided to join forces together in a new Melodic Rock band aptly called The Magnificent.
With the help of musicians including Rolf Pilve on drums, Sami Norbacka on bass and Jukka Karinen on keyboards, The Magnificent offer a monster Melodic Rock album, a record melting the contemporary sound of Brother Firetribe and classic Europe, with obvious hints to the fathers of the genre: Journey and Foreigner.
Songwriting contributions also come from Pekka Heino (Brother Firetribe, Leverage), Tomppa Nikulainen (Brother Firetribe), Tuomas Heikkinen (Leverage), Mats Haugen (Circus Maximus), Kimmo Blom (Urban Tale) and others.
Torsti Spoof said: "A lot of my musical influences come from the 80`s and I always wanted to make an album in that spirit. Now the dream has came true! This one was truly a joyride. Great musicians, songwriters and an AMAZING Michael Eriksen! I think together we`ve made a perfect blend of the old school songwriting with a big up to date sound" Michael Eriksen added "I grew up in the 80`s and with this album the 80`s are BACK ! Working together with Torsti has been a privilege and I believe together we have created a rock album that will apply to all fans of rock music out there. So turn up the volume and enjoy!"
The resulting debut album oozes class, stunning melodies and fabulous arrangements. Eriksen's powerful vocals perfectly complement the spectacular musical landscape created by Spoof and his cohorts. "The Magnificent" is an album that screams for the attention of all Melodic Rock fans.
"The Magnificent" includes the following tracks:Holding On To Your Love, Cheated By Love, Memories; Angel; Satin & Lace; Love`s On The Line; Bullets; Smoke & Fire; Tired Of Dreaming; If It Takes All Night; Lost; Harvest Moon.
"Cheated By Love" can be listened in full on the Frontiers webradio onwww.frontiers.it/webradio 
THE MAGNIFICENT
Lead and Background Vocals: Michael Eriksen
Lead Guitars, Keyboards and Background Vocals: Torsti Spoof
With
Drums: Rolf Pilve
Bass: Sami Norbacka
Keyboards: Jukka Karinen
Backing vocals: Antony Parviainen
Except on:
Memories: Guitar, Bass, Keyboards : Mats Haugen / Drums : Tommy Jacksonville
Satin & Lace, Bullets, Harvest Moon: Guitars: Tuomas Heikkinen
Tired of Dreaming: Bass: Torsti Spoof