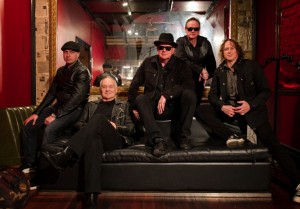 August 18th, 2011 (Sydney, Australia).  Mid 2011 saw Rick Brewster's Angels fronted by Dave Gleeson of The Screaming Jets perform two mind-blowing sell out shows in Sydney and Adelaide. They showcased the band's new single "Waiting For The Sun" as well as performing all the classics, leaving fans screaming for more and excited at the prospect of a new revitalized Angels.
Following that wave of enthusiasm, what had started out as a bit of fun between Gleeson and the Brewsters has created a new chapter for the Angels.
"The crowd was awesome, the Annandale Hotel was packed front to back. I was loving every minute of it." – Dave Gleeson
"We had one rehearsal the day before and it felt like we'd been playing together for years. The audience was as pumped as we were and it just got better and better the more they gave it back to us. I just can't wait to finish the EP and first album with this band and play more shows!" – Rick Brewster
With the single "Waiting For The Sun" having already been played nationally on Triple M, fans have had a taste of what to expect on the upcoming EP.
In August, Politically Incorrect launched their comedy CD to media and the entertainment industry at their HQ's in Crows Nest.  The Angels closed the show with Am I Ever Gonna See Your Face Again, We Gotta Get Out Of This Place and Take A Long Line.  In a tough room the band blew the crowd away. Post show there were many comments on how amazing they sounded with Dave up front.
September will see the new look Angels head to Japan to play a benefit concert with Jimmy Barnes to help build a future for the locals whose lives were adversely impacted by the devastating earthquake and tsunami.
November/December 2011 will see The Angels embark on the "Waiting For The Sun" tour, which will be their first of many with Dave Gleeson up front. If the shows at The Annandale and Norwood were any indication, fans new and old are set for an Angels experience reminiscent of gigs in the early years at the Bondi Lifesaver in 1979.
"I thought it was quite interesting, it took you back to the grunt they had in the early 70's and 80's and seemed more focused." Paul Christie – Party Boys
In launching the tour, The Angels have yet another surprise for their fans, releasing their first video since 'Caught In The Night" in 1997. Stay tuned and watch out for the official "Waiting For The Sun" clip coming soon.
www.facebook.com/angelsofficial | www.twitter.com/theangelsband
TOUR DATES:
NOVEMBER
10th            FLY BY NIGHT                                                      Fremantle                        WA
11th            CHARLES HOTEL                                                 Perth                                 WA
12th            ENDEAVOUR TAVERN                                      Lancelin                          WA
13th            RAVENSWOOD HOTEL                                     Ravenswood                  WA
19th            GOVERNOR HINDMARSH                               Adelaide                           SA
23rd            THE JUNIORS – KINGSFORD                         Kingsford                        NSW
24th            DAVISTOWN RSL                                                Davistown                       NSW
25th            CANBERRA STHN CROSS CLUB                     Canberra                         ACT
26th            BELMONT 16FT SAILING CLUB                     Newcastle                        NSW
DECEMBER
1st            COMMERCIAL HOTEL                                         South Morang                 VIC
2nd            FERNTREE GULLY HOTEL                                Ferntree Gully                VIC
3rd            CHELSEA HEIGHTS HOTEL                             Chelsea Heights             VIC
4th            MACS HOTEL                                                          Melton                             VIC
8th            MARLIN HOTEL                                                    Ulladulla                        NSW
9th            PENRITH PANTHERS                                          Penrith                           NSW
10th          DEE WHY RSL                                                         Dee Why                        NSW
15th          REDLAND MULTI SPORTS CLUB                    Brisbane                         QLD
16th           NORTHS LEAGUES CLUB                                 Brisbane                          QLD
17th           TWIN TOWNS SERVICES CLUB                     Gold Coast                       QLD
Tickets on sale Friday 12th August. Available online and at the venues.