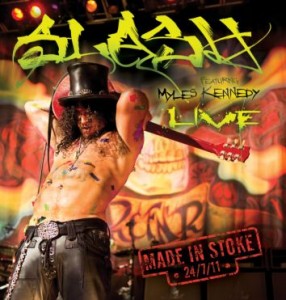 Eagle Rock Entertainment are proud to announce the UK release of Slash's first ever live solo album "Made In Stoke 24/7/11".  The double-disc CD, DVD and Blu-ray format releases hit stores on 18 November 2011
The iconic, Grammy-winning rock guitarist and songwriter Slash has perfected the science of the six-string for over 20 years as an integral component of Guns 'N' Roses and Velvet Revolver and as a hugely successful solo artist.  On 24 July 2011, he made a very special visit to Stoke On Trent, where he was raised, at the end of the 2010-2011 tour in support of his globally chart-topping and critically acclaimed self-titled solo debut.
Captured at Victoria Hall as part of an intensive world tour, this 21-song set is a celebration of a legendary career.  Joined by Myles Kennedy of Alter Bridge on vocals, Slash ripped through cuts culled from his G'N'R days, Velvet Revolver, Slash's Snake Pit, and his solo album, (including the single 'By The Sword').  His band line-up included bassist Todd Kerns, drummer Brent Fitz and guitarist Bobby Schneck.
With favourites like 'Back From Cali', 'Slither', 'Sweet Child 'O Mine', and many more, this proved to be one rockin' homecoming.
The tracklisting for the 2CD, DVD and Blu-ray is:
1. Been There Lately   2. Night Train   3. Ghost   4. Mean Bone   5. Back From Cali   6. Rocket Queen   7. Civil War   8. Nothing To Say   9. Starlight   10. Promise   11. Doctor Alibi   12. Speed Parade   13. Watch This   14. Beggars & Hangers On   15. Patience   16. Godfather Solo   17. Sweet Child O' Mine   18. Slither   19. By The Sword   20. Mr Brownstone   21. Paradise City