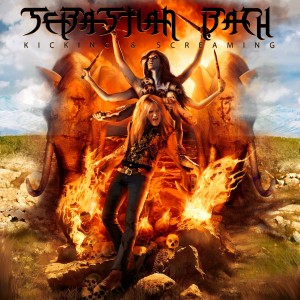 "If everybody didn't like 'Kicking & Screaming' I would still love it, I mean I honestly love the record and if I put my name on something that's because I believe in it 100% and I totally believe in every song on this record.  From the production and the sound and the performances, everything about it I absolutely love 100%"
This man needs no introduction but you'll get one anyway, Sebastian Bach who is of course best known as the voice for Skid Row back in the day has done probably a lot more than you would ever think.  Broadway shows, TV shows, so many music reality shows that you'd need more hands to count them on as well as of course his main love, his solo material, the man has been a savage animal throughout it all.
He is one of the most passionate rockers we've spoken to, Sebastian just loves what he does and that's evident on his killer new album Kicking & Screaming which is out at the end of September.  We got the opportunity to talk to Sebastian about the record that he is so excited to share with everyone as well as his adoration for Australia, what he thinks of the new breed of bands out there and his 'love' of playing club shows… We give you the now avid reader of maytherockbewithyou.com,  Sebastian Bach…
Hi Sebastian, this is Troy from May the Rock be with You
OK man, right on, oh I love your site, thank you for that great review, that was fuckin' amazing.  Thank you very much.
Thank you for checking it out!
Yeah I loved it, I love it ha ha ha
Firstly, congratulations on Kicking & Screaming, we reviewed the album and loved it, thanks for posting our review up by the way, now besides our glowing review, what has the general reaction been to the album so far?
I'm happy to say that so far this is the best reviewed record I've ever had in my career and I can say that without exaggeration, everybody loves the album so far and I got great reviews on 'Angel Down' but a lot of the reviews are saying that they like this record better than that record so I'm very happy and as long as people like the record I'm very very happy with that.
Do you get nervous around album release time?
Yes I do, of course you do.  You always want to top what you've done before and make everyone happy and but the thing is that if you make yourself happy and you're happy with what you've made deep down in your own heart that that really is the ultimate accomplishment. If everybody didn't like 'Kicking & Screaming' I would still love it, I mean I honestly love the record and if I put my name on something that's because I believe in it 100% and I totally believe in every song on this record.  From the production and the sound and the performances, everything about it I absolutely love 100%
This is your first with new label Frontiers Records, how did this marriage come about?
Well I have a big time Rock and Roll manager named Rick Sales, he manages Slayer and Bullet For My Valentine and if you've noticed that I've been more in the forefront in the industry in the last couple of years, a lot of it has to do with Rick, my manager, he's a great manager, he got me the record deal with Frontiers, and Frontiers have pulled out all the stops to give me a great shot at getting to my fans.
We're not only doing a CD, we're doing a DVD in a deluxe version that is an incredible DVD that has an hour long movie called 'As Long As I Got The Music' with like at least an hours worth of live concert footage from around the world from Santiago Chile, San Sebastian Spain, Bogota Columbia and Halifax Nova Scotia and London England at the O2 Arena, it's got amazing footage on the Guns N' Roses tour.  It's all pro shot, pro tools on the board and five camera angles from Axl's camera crew and it came out amazing, it's also got the three brand new videos on it and an Easter Egg which is the 'Battle With The Bottle' video from Gone Country which is, I don't know how to access it but it's on there somewhere ha ha.  The DVD is almost as exciting as the CD, if you like 'Oh Say Can You Scream' and 'Road Kill' and the home movies that we made, you're gonna really like this DVD and it's not only the DVD but we're also doing a record, a vinyl album with a gatefold sleeve which is really cool, I think it's the first vinyl record I've designed since 1990 or something like that ha ha, so yeah, Frontiers is really pulling out all the stops and I could not be happier with them.
It's been 4 years since Angel Down, in terms of preparation for this new album, how did it come together over this period of time?
Well I look at records, really the way I look at them is like an essay I'm writing in school or something and I know I'm done when I have 13 songs that I want everybody to hear, like if I wanna run up to you and grab you by the shirt collar and say "Listen to my CD" like if I have that feeling then that way I know I'm done, and I definitely love these 13 songs, so that's the way I approach things.  So that's pretty much the way I look at it.
Were the songs ones you'd had kicking around or was it all new material written specifically for this?
Well the very first song we got going was 'Tunnel Vision' with John 5 who is a really big fan and he came in with that music and I wrote all the words and the melodies to and then Nick Sterling  joined the band when he was 19 and he had a tonne of music, you know they say you have your whole life to write your first album well Nick came at me with like 30 songs or 25 songs or something and I liked a lot of them, well most of them, so he brought in a tonne of material.  Then I sat down with Nick and wrote two songs at my house, 'One Good Reason' and 'Lost In The Light' and then we went out to LA and we wrote two songs with Bob Marlette the producer 'Dirty Power' and the title track 'Kicking & Screaming' and Bob helped us refine a lot of the other songs so that's basically how it came to be.  If I hear music that I can emotionally relate to then that's what I want to sing to and I totally feel all this music in my heart, so I don't really care who likes what as long as the end result is this CD, you know I'm not one of these guys who wants to get paid all the money so I have to write all the songs, I just want to make a great CD.  I don't care who writes it, if the next door neighbour comes in with a good song I'll sing it.  Good songs are rare, good songs are special and precious so me as the vocalist I'm always looking for some sort of music that I can emotionally relate  to so I can put my emotion into the vocal.
You mentioned that you worked with Bob Marlette on this record, why was he the right choice for this record?
Basically because he was available right when we wanted to work, and he's a great producer and he was right ready to go in February when we were ready, and he has had a lot of success with Tony Iommi and Glenn Hughes and Shinedown and Black Sabbath, the reason I really liked working with him, number 1, he's a great songwriter, we sat down and wrote some great stuff together but he also has a great bottom end to all his productions and when I'm singing  really high, I have a high singing voice a lot of the time, so when I was singing the high screams and stuff, it's good on the production side to have a big bottom end to even everything out with my high vocals and Bob's bottom end is just monstrous, it's really big and powerful and would love to work with him again, definitely.  Great, great producer.
You talk about being able to sing high but I must say, you still have a killer set of pipes where many others are clones of their former selves, what's your secret?
Well my secret is definitely these Italian opera scales called Bel Canto which is a style of singing that originates back in the 1600's in Italy and these scales that everybody from Tony Bennett to Lady GaGa use and Jon Bon Jovi sent me to this vocal instructor in Manhattan back in 1987 and this guy taught me how to warm up my voice and I do these scales all the time and before I sing every time and they really make my voice very strong.  I also sing along to like Journey and Judas Priest and songs like that, so yeah, it's a style of singing that's been around for 100's of years and it really works ha ha ha
What are your touring plans for this album and when can we expect you back in Australia?
Well we played Australia like three times in the last five years and Australia has always been one of my biggest markets as far as tonnes of rock fans going back to the very first Skid Row tour in 1990 in Australia, we've always had a great big fan base in Australia and Australia loved Angel Down and we had a great headline tour and then we opened up for Guns N Roses and I love Australia ha ha ha what more can I say. We're playing in a America before December, before Christmas and then we're supposed to headline Europe in January and February and then I would assume that we'd be going to Australia.
Well I've been to all your tours here, so that will be great and one not to miss.
That's awesome.  I saw a YouTube clip of The Enmore Theatre just a couple of years ago and we opened up with 'Back In The Saddle' and it was one of the heaviest video clips I've ever seen ha ha ha it was like on fire, it was really really good, so I can't wait to get back there to Australia, definitely.
I was also at the show where you walked off stage when someone threw something at you, and all respect to you for walking off after the warnings you gave the guy…
Well yeah that was a little club show and if you see me playing a club, like I'm certainly not going to get physically injured so I can play in front of a couple of hundred people, when I can play the Sydney Entertainment Centre in front of 15,000 you know a couple of months later.  I'm not here to get physically injured you know, that's not part of the deal with me ha ha ha.  Yeah I read some stuff on line that people were mad at me for that and I'm like, I'm here to sing music, I'm not here for you to throw shit at me or whatever, I'll just leave you know?  Especially at a club, like I don't play clubs too much anymore, that's like a rare thing, I'm usually in an Arena, so if I'm going to be playing to a couple of hundred people in a club I'm not going to get injured to do it.  I don't even want to play clubs, I wanna play the fuckin' Burswood Dome in Perth, I want to play the Sydney Entertainment Centre, I don't want to play clubs, so it doesn't take much to get me off the stage ha ha ha ha ha ha.  You know it's like if you got me at a club, be nice to me because I really don't want to play the fuckin' club ha ha ha.
Now, we spoke to Stix from Steel Panther a couple of months back and he named you as one of the best singers they've ever had get up with them and they had a ball, then I miss you by 2 weeks when you got up again recently, how much fun did you have with those guys?
I have fun with them, when they first came out I thought they were making fun of Metal and I didn't really like that but then I went and seen them and hung out with them and they were very funny, they're extremely hilarious, it's just all about fun and having a good time and they put on a great show, you know Ralph and all those Steel Panther guys they're good guys, they're very funny and they do what they do very well so I have a good time with them.  Yeah I do.
Obviously you still enjoy singing all the old songs, but if you could do without singing one song ever again what would it be?
I don't wanna say that Sir, because when I like a band and I'm reading an interview and they put themselves down in any way, I don't like that, like I don't like when Paul Stanley does interviews telling everybody how KISS meets The Phantom sucked because that was one of the greatest memories of my childhood was KISS meets The Phantom ha ha ha I feel like guilty liking it so I like alllllll the songs I do ha ha ha .  Well I mean I have a brand new record out 'Kicking & Screaming' that I love, so when I go on tour and I can play brand new songs with the old songs then that makes it very interesting to me.  You know what I mean?  So that's one of my inspirations to keep on putting out new music because that keeps me very interested.
With Broadway, acting, too many TV shows to count and of course singing on your resume, what's next for Mr Bach?
Well next I've got to find myself a really nice house to replace the one that got washed away in the hurricane. But I would really like to establish myself all over the world as just a solo artist in the touring aspect, because a lot of these promoters are so into the nostalgia, the reunion tours that they can't fathom that I could be good without Skid Row.  Skid Row ended in '96 so it's like that's a long time ago so I think I'd just like to prove myself like Ozzy Osbourne or Robert Plant or Neil Young or guys that just go on tour.  You know what you're going to get with me, that's why the name on the band is Sebastian Bach and you know what I'm going to do, it's going to be high energy, kick ass Rock & Roll and that's all I want to do.  I'm a simple dude, that's good enough for me.
Sorry about the house too by the way…
Yeah… yeah…
What about a book?
Yeah that's coming definitely some time down the way, but Rock & Roll has definitely taken over now.
What are your thoughts on the style of music / performance / image of the younger generation of bands coming through like Black Veil Brides and Asking Alexandria that you've been publicly associating yourself with?
Well I love those two bands, those guys are real rock stars and all those guys in those two bands are really carrying the torch from old Skid Row and Guns N' Roses and stuff like that.  Black Veil Brides is visually reminiscent of early Motley Crue  without Vince Neil, it's all black hair ha ha but their album is incredible, I love their record.  Asking Alexandria does two Skid Row songs on their EP and what better compliment could you ever receive from a younger band than have them cover your music?  So that's great, you know, I'm a rock fan so I don't just like old bands or new bands or this band or that band, anything I like that catches my ear is what I'm going to listen to.  Black Veil Brides, I listen to that album all the time, it's the best record out there next to 'Kicking & Screaming' ha ha ha
Sebastian, thank you for being a part of my growing up and I can't wait to see what's next…
Thank you dude, I appreciate it.

Essential Information
From: USA
Website: www.sebastianbach.com
Latest release: Kicking & Screaming (released 27 September 2011 – Frontiers Records / Riot! Entertainment)
Read our review of Kicking & Screaming here…