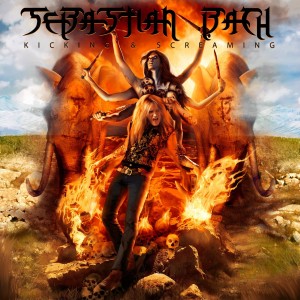 I heard on the TV or a movie or something that if you don't have anything nice to say you shouldn't say it at all. Well considering all I've got to say is nice things then you're safe Mr Bach.
It's been 4 long years since we've had an album from Sebastian and this new one is his first on his new home at Frontiers Records.  What I love about Sebastian is while many of his colleagues from the 80's & 90's are still making albums and still touring, none of them hold a candle to Bach's vocals. They were, still are and will hopefully always remain pristine. In other words I could listen to Sebastian sing any day over say 98% of his counter parts and his pipes definitely don't need cleaning unlike others I won't name.
'Kicking & Screaming' is of course the name of the album and also lead single and you pretty much know what you've got yourself in for as soon as it begins. This album is going to kick ass. It's heavy, it's loud, it's obvious that Sebastian is passionate about these songs. 'My Own Worst Enemy' is not a Lit cover, but a song that should and hopefully will be a single, with a great catchy chorus and driving force, 'Tunnel Vision' which features guitarist John 5 is a riff driven monster and is an early tip for best on ground.  'Dance On Your Grave' hits a groove that has you not only banging your head but also tapping your foot, now I know that's hard to do at the same time but trust me, once you master it, it's not that hard. What I'm loving about this is that Sebastian isn't scared to make an album that has some fuckin' balls.  Will it get radio play?  Probably not.  Does he care?  Probably not.  It's just refreshing to hear an album from an 80's icon (for lack of a better word) with some grunt.
Uh oh, I think we maybe have a new favourite… 'I'm Alive' is about to hit power ballad status, anyone that knows me knows that I'm a sucker for a good power ballad and bam… thanks Sebastian! Big fan of this one indeed.  As I put down my lighter, well actually it was blown out by the massive guitars that just started 'Dirty Power' we are well back in rockin' territory, that continues yet again with 'Live The Life' and I'm actually finding hard to fault this album at this point. I wasn't looking to at all, in fact I've been pumped for this album for months and to hear that it's this good, I'm stoked. Another big rock ballad in 'Dream Forever' in my opinion not as good as the last one but still kicked ass.  'One Good Reason' brings out Sebastian's best scream as well as some bitchin' harmony vocals in the chorus, 'Lost In The Light' has a riff as chunky as a winter soup and the album rounds out with actually the least heaviest song of the album in 'Wishin'.'  Would I have finished it with this one?  Nope, I do like it but this sounds like it should be on a soundtrack of a movie rolling over the credits, so in essence maybe it was a perfect end if I've just coined this a song for the credits ha ha.
In closing, there's no need or reason to compare this to whatever he has done before, in fact forget the past, well, enjoy the past but look to the future and enjoy the fact that one of the greatest rock voices of my (our, dependant on who you are) generation is still making records!  This album is killer and I hope people will give it the chance it deserves, if I still had a CD stacker this wouldn't come out of it, BUT it's not 1992 anymore.  Remember that…
Tracks:
1. Kicking & Screaming
2. My Own Worst Enemy
3. TunnelVision (Featuring John 5)
4. Dance On Your Grave
5. Caught In A Dream
6. As Long As I Got The Music
7. I'm Alive
8. Dirty Power
9. Live The Life
10. Dream Forever
11. One Good Reason
12. Lost In The Light
13. Wishin'
Essential Information
Released: September 27
Label: Frontiers Records / Riot! Entertainment
Produced By: Bob Marlette
Website: www.sebastianbach.com
Check it out if you like: The one and only Sebastian Bach