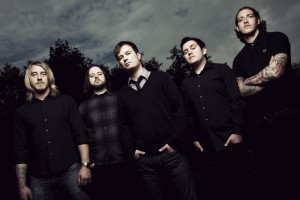 "It's the tightest we've ever been and that in itself is quite special, so anyone that's seen us before that comes out to one our shows will see us at our best and the best we've ever been."
Almost ten years in the business, countless tours, five albums with their newest being the amazing Welcome Home Armageddon released earlier this year where Funeral For A Friend seem to have taken the best parts of all their albums and given us the killer end result.  At one point Funeral For A Friend were headed down to Australia for a Revolution, that changed, thankfully they still are coming but this time for a Counter Revolution and they are pumped for it!
We had the chance to chat to FFAF drummer and screamer Ryan Richards about the new record, their upcoming shows here in Australia for Counter Revolution, the plans for their next record, yes already, why social media is important for them and his best memory of Australia, bet you can't guess what that is…
Scream for us Ryan!!!
You're thankfully heading back here for Counter Revolution, for those that haven't seen you guys before, what can people expect from a Funeral For A Friend set?
Great songs, good energy, fun, sweat, blood, beer, all of the above…
Were you at any time worried that you may not be heading out here this year?
Yeah we really were actually, I remember waking up one morning a couple of weeks ago and looking on my phone and seeing the announcement that Soundwave had been cancelled and being pretty distraught really because we were all really looking forward to that but as you said, luckily we were able to get it together and get the Counter Revolution together and it's great that we're actually now coming back otherwise we wouldn't have had any time for the rest of the year at all, so that would've been awful.
You've been to Australia a number of times, how do your fans from here compare to those around the world?
Probably better looking, and they're tanned and have nicer hair but definitely pretty wild, definitely dedicated, we've found a lot of the time we've come over there's been fans that have come to all of our Australian shows and obviously we know it's a big country and there's a lot of travelling to do to get to every show that we do in the country so there's a lot of them, definitely a dedicated bunch.
Do you have a favourite memory of being here in Australia?
Yeah I do. Visiting the set of Neighbours, that was a particular fond memory, wearing Harold Bishop's apron from his little café, that was a fond memory of mine and something captured on camera and I've got up on my wall, so yeah that was the best one.
That is so Rock and Roll that it hurts man!
And meeting Dr Karl Kennedy as well, that was a good one, he was quite Rock and Roll, probably the most Rock and Roll doctor that I've ever met, even though he's not a real doctor.
So after a night of doing the screaming vocals on stage every night, how do you warm down?  A nice cup of tea?
No, I'm allergic to caffeine ha ha no tea, no coffee, no Red Bull, no Monster, any of that.  I just lay there in my underwear for about 30 minutes ha ha and that usually seems to do the job and yeah…  I do punish myself ha ha.
The new album seems to have taken elements from every album you've released and combined it into one monster of an album, was this something that was conscious during the writing / recording of the album?
Yeah I think it was to be honest.  Obviously when Gavin and Richard joined the band it was a time of reflection and having a look at what our strengths are and what our best attributes were I guess and maybe some of that, myself, Kris and Matt not realising what those attributes were because we'd been so heavily involved in the band and sort of in that little bubble, so having Richard and Gav come into the band and give their point of view of what the strongest elements of the band were was a real eye opener for us and really allowed us to concentrate on those particular elements and bring them out and enhance them even.
How did the concept for the album come together?
The way most things always come together, by total accident, it just started from one song, we did the song 'Welcome Home Armageddon' we liked the title and thought that should be the album and that came through the artwork that further inspired us then to go along that path and write songs like 'Front Row Seats To The End Of The World' and things like that, and it just started to tie in and it felt good and it felt right and just followed that really and it just came naturally from there, we never intended to have much of a theme on the record it just turned out that way.
Just on the cover art, I think it's amazing, who came up with that idea?
Yeah, it's an artist from South Wales called Rianne Rowlands, a great artist and a friend of ours, it basically came from the fact that a few of us, well it's actually well know for us to get tattooed in the same studio and one of the artists there Chris Harrison, his girlfriend is Rianne and she came in one day and had some drawings while one of the guys was getting tattooed, they saw the drawings and thought they were great and we asked if she wanted to do artwork for the record and it came from there really.  It was something really different for us, that more cartoon based imagery we felt worked really well against the more dark and apocalyptic side of things, it was definitely a double sided thing that worked really well yeah.
This album is a killer start to finish, would you ever consider a show where you played it in its entirety?
Yeah definitely, we've done that with other albums before, we've done it with our first album 'Casually Dressed & Deep In Conversation' and not with any other album, not for any particular reason but I think, yeah this one it works, when we wrote the songs we wanted to write songs that would work really well live and we could play them all and they'd come across well in that live environment.  I definitely think it could be a record that would really work live doing it like that and it's actually something that we've thought about and will probably end up doing at some point.
You've been in the band now for the best part of 10 years, is there a defining moment that stands out for you over the last decade?  Besides Neighbours?
Yeah ha ha besides Harold Bishop.  Yeah I think just the first time we ever got on a plane to travel somewhere and it felt like this is really happening and when we got to… well the first time we came to Australia on the Taste Of Chaos tour back in 2005 and just after we'd released our second record and we'd never been across before so we didn't know what to expect and to have everyone know all the words to all our songs the first time we ever came over was incredible and that was definitely a big moment for us, maybe even bigger than the Neighbours thing if I'm being honest.
Can we expect anything special from you guys for the 10th Anniversary of the band?
Yeah, always something special.  The set that we're doing at the moment, it's definitely a celebration of those ten years I think and definitely something for everyone I guess.  The best of what we've done, well the best of what we think we've done over the past ten years, it's the tightest we've ever been and that in itself is quite special, so anyone that's seen us before that comes out to one our shows will see us at our best and the best we've ever been.
You recently played Download Festival, and it was your first time headlining one of the stages.  How do you prepare yourself for a show like that and how was that experience?
I personally prepare myself by watching the other bands on the bill, I love doing that, that's why we always try and take out as many great bands as we can when we go on tour as support because I find there's no better way to get in the zone and psych yourself up than going out and see the support bands do their thing and it really gets you motivated and gets you in to the zone for playing. And with the Download festival, obviously so many great bands on all the stages, I got to watch a lot of those on the day and it really put me in a great place.  Headlining was amazing, we were second headliner a few years earlier with The Guns N Roses band as I call them, and yeah it was great to be able to finally, I guess it was a nice way to celebrate our tenth year by headlining a stage at Download, so we were really stoked with that.
You have played with some of the biggest bands in the world all around the world, is there one band that stands out for you that absolutely blew you away?
Um… I think Iron Maiden is definitely one, in more ways than one I think, because not just their show which was great every night, I literally watched every night of the tour, we did about thirty shows with them and I don't think I missed a moment of any of those thirty shows.  Just the way that they conducted themselves, the professionalism, just the hunger that they still have this far into their careers was quite inspiring really and something that we looked up to and gave us a great help for having the kind of career that those guys have had.
Being out on the road at the moment are you already writing new material for the next album or is that something that takes place after you're finished touring?
Yeah we actually are, we've been in and recorded a new track to preview later on in the year.  We've been writing that much that we just wanted to get in the studio and put one down and we've already done that, there's a bunch more demos that we've done, so yeah, the next record is well on its way.
When do you finish up touring?
Well we come back from Australia and we've got the UK tour then in October and that finishes at the end of October and that's it then, we're definitely going to be focused then on the new record. Sometimes things come along that you can't turn down but the time is definitely to start working on the next record as soon as we finish the UK tour.
Five albums in with hopefully many more to come and with a couple of line up changes, how have you personally seen the band grow over this time?
Yeah, as you said, a couple of line up changes, I think that changes the dynamic and the song writing dynamic and just the way things get done and it's a good vibe at the moment, there's a lot of creative minds now in the band, it's good that inspiration comes from a lot of different places and different people really.  I think technology has come such a long way now from when the band started, you can just email each other riffs, ideas and actually work on them and work on ideas together without actually being in the same room together is good for personal space and to be able to have that time to sit there and work on your own parts has definitely been a big one, rather than to have to all sit in a room and jam out all day every day which sometimes can be a bit stifling.
Before you start killing each other?
Ha ha yeah almost, nah, you just lose a bit of the spark I find then and everybody's feeling a little bit under pressure to come up with something right away which may not necessarily be the best thing that you could do, so when you've got your own personal time to really think about what you're doing I think it lends to a lot more creativity.
Now I read that you guys are all very active with your social media and that you all look after it, is that correct?
Yeah absolutely, all aspects of it.  I just personally think that's the way it should be, that's your forum really, and that's the gateway to your fans.  If they're taking the time to follow you on twitter or to like you on facebook or whatever then I don't really think that it's too much to ask for you to check in and just keep in touch and have that relationship with your fans, it's so easy to do these days, I don't really understand the bands that give it to someone in an office to answer on their behalf or whatever.  You're never too busy to take a minute out of your day to just update the fans with what's going on and check out some questions and answer them.  It's the least we can do really and we enjoy keeping in touch with our fans that way, it's certainly not a chore.
Just lastly, do you have a message for your Australian fans before you head down here?
Yeah, thanks being patient and waiting really, and we're looking forward to getting back down and playing some great shows with some great bands.
Essential Information
From: Wales
Band members: Matthew Davies – Vocals, Gav Burrough – Guitars, Ryan Richards – Drums / unclean vocals,  Kris Coombs-Roberts – Guitars, Richard Boucher – Bass
Website: www.funeralforafriend.com
Latest release: Welcome Home Armageddon (Roadrunner Records)

You can catch Funeral For A Friend on the following Counter Revolution dates:
SATURDAY 24 – BRISBANE, THE RIVERSTAGE
SUNDAY 25 – SYDNEY, BIG TOP LUNA PARK
FRIDAY 30  – MELBOURNE, FESTIVAL HALL
SUNDAY 2  – ADELAIDE, JUBILEE PAVILION, SHOWGROUNDS
MONDAY 3 – PERTH, CHALLENGE STADIUM