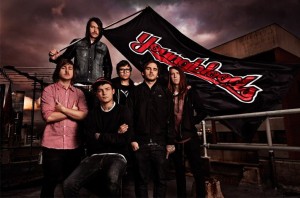 It's crazy, we never really expected it to get to this place.  It was only a year and a half/two years ago that we weren't doing crowds anywhere the crowds we are doing now.  It's all a dream really, it's hard to put it into words.
Hailing from Queensland, Australia, for The Amity Affliction, it seems that everything they do lately continues to exceed expectations….and then some!  Their second album Youngbloods when released last year debuted at #6 on the ARIA charts, a monster feat for a local rock act, let alone a band that plays the hardcore music that The Amity Affliction does.  Voted Album of the Year in Blunt Magazine and also on Triple J's Short Fast Loud, they were the only Australia band to play Soundwave Festival this year, numerous international tours and now multiple sold out shows on their upcoming Fuck The Reaper national tour with Asking Alexandria and Skyways, before they head off once again to Europe and the USA.
But wait, there's more, coming up on September 30th, there will be a deluxe version of Youngbloods released which will feature bonus tracks, DVD interviews, live footage and enhanced artwork and liner notes.
Stepping straight out of rehearsal for the upcoming tour, we chatted with drummer Ryan Burt.
Hey Ryan, thanks for taking the time to chat today and for taking a break from rehearsal.  So you are about to play some shows in far North Queensland later this week, how are rehearsals going for the tour?
Yeah, we're trying to get ready for the tour and everything is coming together slowly, but surely, like always!  We have four shows, then we come back and head to New Zealand and then we start the Fuck The Reaper tour.
So whilst we are just on Queensland, how do you find the response to the band in your home state, is that any different to other states?
Well I guess there's a bit of pride when it comes to playing in our hometown and Brisbane or anywhere in Queensland.  I guess the reception is often a bit livelier than the other crowds, but I guess at the stage we are at right now, everywhere is great.
Have you guys played in New Zealand before?
We've never been there before, so we will have to see how that goes, hopefully it goes all right!  We get messages on Facebook asking when are we coming to New Zealand and I guess we are now.
So you have a jam packed few weeks with the Fuck The Reaper Tour with Asking Alexandria and Skyway, you must be pretty blown away with the response to ticket sales so far?
It's crazy, we never really expected it to get to this place.  It was only a year and a half/two years ago that we weren't doing crowds anywhere the crowds we are doing now.  It's all a dream really, it's hard to put it into words.
You are touring with Asking Alexandria who you have played with over in the UK haven't you?
Yes we have, they are good guys.  We did a tour at the end of last year through the UK with those guys.  We are pretty excited to bring them out to Australia.
You have a bunch of under 18 shows on this tour, do you find there to be any major difference for you guys up on stage between playing an underage show versus an over 18 show?
Well I guess the under age shows are always a bit crazier because they have more energy haha!  Most of our audience would be under 18 anyway and I think the under 18 crowd are much more appreciative of us coming to play for them.  I like doing both shows, but sometimes I prefer doing the underage shows.
A deluxe edition of Youngbloods is coming out in a few weeks with some bonus tracks and a DVD, what more can you fill us in on that release?
The DVD has a bit of footage from the recording like a big recording diary of recording the album in New York.  It's also got the bonus tracks that didn't make it on the album.  There are interviews with the band members and other things the fans wouldn't have seen from the recording process.
Being a year or so since it's release and having had that time to play the songs live, what are your thoughts when reflecting on the album now?
I'm still proud of what we created, there's not really that many things I would change.  Of course it gets a little old playing the same songs over and over again.  But we are very proud of what we created and hopefully we can do it all again with the next one.
Did things like debuting at Number 6 in the ARIA charts take you by surprise back when it was released?
It's just crazy for a band like us to get so high in the charts.  We debuted at 26 with our last album and to get number 6 is absurd!  We never thought anything like that would happen, it's awesome.
Have you started thinking about, or working on the follow up album?
Well we've actually just started writing for the next album and hopefully we will be aiming for the first few months of the new year.
After the Aussie shows, you have a bunch of overseas planned – New Zealand, the UK with Funeral For A Friend, then Germany and the USA.  Firstly, how has Youngbloods been received overseas?
Well I'm not even sure how widely the album is released overseas but obviously people can get it in iTunes and what not.  We've had pretty good response no matter where we have gone.  America was a hard one to kind of crack, but for the most part, we've done really well I think.
Are you a fan of Funeral For A Friend and Escape The Fate who you are on tour with?
I used to be a while ago a fan of Funeral For A Friend, I loved their older stuff, but I haven't heard too much of their newer stuff.  I've never really listened to Escape The Fate, but I am sure they are all good guys and we are really looking forward to it.
You have toured the UK and USA before, how have your past experiences been over there, is it a pretty hard slog?
Yeah in America it's the hardest because there's so many little places to play in the middle of everywhere.  We are in a smallish van with like 8 people and staying in shitty little hotels and whatever.  Pretty much any tour in America goes no shorter than 5 weeks straight, it's not the easiest of places to tour, but it's all good!  Hopefully we crack there soon, but it's definitely a hard one!
But as far as the touring goes, it's obviously something you love doing, given you keep going back for more haha?
Well I guess that's how we built our reputation because we have toured so much of each year for like the last 5 years.  We are all well and truly used to it by now!
Now as a band, do you guys have any tour rituals or things you find yourselves doing to keep yourselves sane, or maybe it's insane haha?
Haha, well I guess we all try and keep to ourselves, I mean that's probably the best way to get through it.  If you are in each other's faces 24/7 for 5 weeks or 2 months, it all gets a bit much.  We listen to our iPods and read or do whatever and try not to go too insane!
With all your overseas touring so far, have you noticed any major differences between the crowds from country to country?
The Europeans are pretty energetic.  We go well in Germany which is why we are going back and this time we are doing headline shows which is crazy.  But it really depends upon where you go in America, you could play one place and it could be awesome and the next place they wouldn't have ever heard of you.  We are still to crack America, so touring the whole of America as many times as possible is best I guess.  The UK is pretty good though as well.  Australia is my favourite place to play obviously, because we have such a strong following here.
So with the rest of 2011 pretty much taken up with touring, what's the plan for early 2012?
We will hopefully be recording within the first 4 months of next year.  There are also a couple of other really big announcements that we can't say just yet, but people will find out about really soon.  So yes working on the new album and then some things happening at the start of the year.
Essential Information
From: Queensland, Australia
Website: www.myspace.com/theamityaffliction
Latest release: Youngbloods (2010, We Are Unified)
FUCK THE REAPER TOUR DATES – THE AMITY AFFLICTION / ASKING ALEXANDRIA / SKYWAY
Tickets to all shows are On Sale Now!
Visit www.DestroyAllLines.com for more information.
Wednesday 5 October – The Tivoli, Brisbane (AA) SOLD OUT!
Thursday 6 October – The Tivoli, Brisbane (18+)
Saturday 8 October – Panthers, Newcastle (LIC/AA)
Sunday 9 October – Big Top, Sydney (LIC/AA)
Tuesday 11 October – Billboard, Melbourne (18+) EXTRA SHOW ADDED!
Wednesday 12 October – Billboard, Melbourne (18+) SOLD OUT!
Thursday 13 October – Billboard, Melbourne (U18) SOLD OUT!
Friday 14 October- Thebarton Theatre, Adelaide (LIC/AA)
Saturday 15 October – Capitol, Perth (18+) SOLD OUT!
Sunday 16 October – Newport Hotel, Fremantle (U18) EXTRA SHOW ADDED!
Sunday 16 October – Newport Hotel, Fremantle (18+) EXTRA SHOW ADDED!
PRE-ORDER YOUNGBLOODS DELUXE VERSION WITH A T-SHIRT ONLY AT JB-HIFI ONLINE (www.jbhifionline.com.au) AND UNFD (store.weareunified.com)