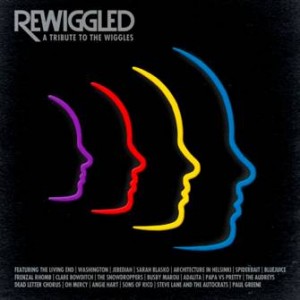 There is no way we could not give this story a run!
In celebration of The Wiggles' 20th birthday, ABC Music has brought together some of Australia's finest contemporary music artists to pay tribute to the undisputed legends of children's entertainment, The Wiggles. Rewiggled features 20 all time favourite Wiggles songs interpreted by The Living End, Washington, Jebediah, Sarah Blasko, Architecture In Helsinki, Spiderbait, Bluejuice, Frenzal Rhomb, Clare Bowditch, The Snowdroppers, Busby Marou, Adalita, Papa VS Pretty, The Audreys, Dead Letter Chorus, Oh Mercy, Angie Hart, Sons of Rico, Steve Lane and the Autocrats and Paul Greene.
"ABC Music has been the record label partner of The Wiggles since the release of their first album 20 years ago, and it's been a great privilege for us to have played a part in their remarkable success over two decades. Creating this tribute album is our way of congratulating The Wiggles on this significant anniversary. The willingness and enthusiasm of all the artists involved is further proof of the esteem and affection in which The Wiggles are held." –  Robert Patterson, Head of ABC Music
"For 20 years, The Wiggles have given children the pure joy of music. Rewiggled features the cream of the Australian music scene, who've re-worked Wiggles songs for fans from the early days who are now adults. And then there are those who will just dig the bands and these highly contagious melodies! I've never had so much fun!" – Paul Field, Managing Director, The Wiggles
Including
The Living End – Hot Potato
Washington – The Monkey Dance
Jebediah – Getting Strong!
Sarah Blasko – I Love It When It Rains
Architecture In Helsinki – Wiggly Party
Spiderbait – Rock-A-Bye Your Bear
Bluejuice – Wake Up Jeff!
Frenzal Rhomb – Captain's Magic Buttons
Clare Bowditch – Georgia's Song
The Snowdroppers – Wags The Dog
Busby Marou – Dressing Up
Adalita – Get Ready To Wiggle
Papa VS Pretty – Can You (Point Your Fingers And Do The Twist?)
The Audreys – Cowboys And Cowgirls
Dead Letter Chorus – Wiggle Bay
Oh Mercy – Toot Toot, Chugga Chugga, Big Red Car
Angie Hart – Our Boat Is Rocking On The Sea
Sons Of Rico – Shaky Shaky
Steve Lane And The Autocrats – Fruit Salad
Paul Greene – Henry's Spinning
Sampology – The Wiggles Mash-up / Remix
About the album
I remember The Wiggles before they became The Wiggles. Yes, that's right. Sometime around 1987 I remember trudging out to the State Sports Centre at Homebush (now Olympic Park) to see six bands for $15. I'm sure the whole thing was put on by Triple M and sponsored by Moove flavoured milk. But who gave a rat's? My school mates and I got to see Barnesy, Johnny Diesel, Hoodoo Gurus, Choirboys, The Chantoozies and The Cockroaches. I probably told my parents I was going to the library to study or something as equally lame, when in fact I was sculling copious amounts of sugar laden milk and attempting to pick up girls, sporting more metal in my mouth than Lil Jon, Goldie and Ludacris put together. So what does all of this have to do with The Wiggles you ask? Well before they were The Wiggles they were The Cockroaches; made up of the effervescent Field brothers and their school mates playing their own brand of white-boy surf and do-wop rock. They were immensely popular for about two years and scored a couple of hits with She's The One, Double Shot (of My Baby's Love) and some other track I can't recall right now. Then, just like the last song at a school formal, it was all over and the ugly house lights were switched on.
Next thing you know it's 1991 and with a couple of neat line-up changes (The Cockroaches lead singer Paul Field now taking on a manager/producer role, the inclusion of musicians Greg Page, Murray Cook) The Wiggles were launched and it was instant success. I'm not going to spend the remainder of this story documenting the highs and lows of The Wiggles. We all know they have gone on to become one of Australia's biggest ever musical exports. They've become part of the Australian cultural make up, as natural to us as a great fitting pair of Stubbies or accidently dropping your chocolate paddle pop in the sand. We all love The Wiggles and it's been that way for over twenty years. And in that time, teenage girls that used to swoon at the mere sight of The Cockroaches are now yummy mummies with two kids of their own buying up Wiggles tickets, CDs and merchandise by the pallet load. But what is it that makes The Wiggles so stupidly popular? Surely it's more than a flashy smile or the bright costumes? In my opinion, it's the bands own sense of musicality…they get it and they get what makes a great song regardless of whether you're young or young at heart. These are guys that dig The Beach Boys, Motown, The Beatles and The Rolling Stones. They take all the tried and true ingredients of a classic pop song and drop in lyrics about big red cars, hot potatoes and fruity fruit salad.
So it seems now the time is right for Rewiggled, an album that pays homage to the songs of The Wiggles and it's an absolute bobby-dazzler! The artist line-up is diverse and unique, each bringing their own flavour to songs that have become holiday car staples and lifesavers for generations of parents. There's the swamp rock growl of The Snowdroppers (Wags The Dog), the snotty-nosed frantic punk of Frenzal Rhomb (Captain's Magic Buttons), the effortless cool of Busby Marou (Dressing Up), Spiderbait's west coast fuzz pop and the pschycedelia of Washington's Monkey Dance (which instantly transports me back to the Batman TV series…y'know the one with Adam West? Grrrooovy), as well as The Living End, Sarah Blasko, Architecture in Helsinki, Bluejuice, Clare Bowditch, Adalita, Papa VS Pretty, The Audreys, Dead Letter Chorus, Oh Mercy, Angie Hart,  Sons of Rico, Steve Lane and The Autocrats and Paul Greene all contribute admirably to an album that both kids and their parents will enjoy. Rewiggled is one step beyond a tribute. It's an album that celebrates a band of musicians still in their prime. It also highlights the regard with which The Wiggles are held. Artists, actors and celebrities cue up around the corner to work and hang out with them and with good reason. The Wiggles were, are and will continue to be cool. That is all.
–  Clayton Doughty