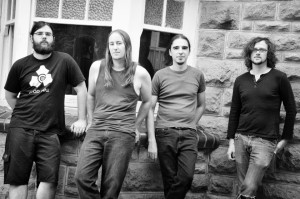 Quiet Child are pleased to announce that they have been asked by Opeth to join them on their national tour of Australia. The tour will kick off on Dec 15 taking in Brisbane, Sydney, Melbourne and Perth. This comes just months after the release of Quiet Child's second album Thumper which saw the band tour the East Coast extensively.
For those hoping to catch Quiet Child in Adelaide, they will also be supporting The Red Paintings on Jan 14 at Fowlers Live. www.facebook.com/quietchildtheband
Opeth/Quiet Child Tour Dates
15 Dec – The Tivoli – Brisbane16 Dec – The Enmore – Sydney
18 Dec – The Palace – Melbourne
20 Dec – the Metro – Perth
For all tour related information, head over to: www.soundwavetouring.com
About Quiet Child
Channeling the best progressive sounds of the last two decades and infusing it with their own individual twist, Quiet Child have demonstrated a hard-working longevity in a fickle market. Steadily building up a reputation as one of the best live rock acts on the local scene, their distinct sound has garnered them a devoted and steadily increasing following. Having spent the last few years sharing the stage with some of Australia's finest acts, 2011 sees the band come into their own as they hit the road to unleash their second album 'Thumper' as a follow up to 2009's Evening Bell.
The diverse and intricate song-writing of their new album is weaved to eerie perfection with the voice of, arguably, one of the best upcoming vocalists, demonstrating the musically dynamic range of a talented and sonically unified group. Thumper is a lyrically hard-biting yet beautiful record, delivering both ends of epic from the tongue lashing of Darwin, to the sweet melancholy of Walking Ghost.
'Thumper' hits the shelves on September 16, with the first single 'Gaps' getting some spins on Triple J.
For more details head to www.quietchildtheband.com.