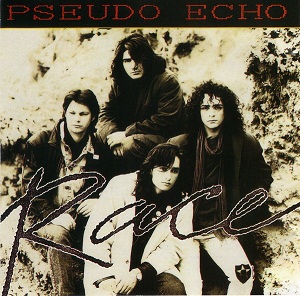 Formed in 1982 in Melbourne Australia, over a career spanning just 3 albums Pseudo Echo certainly left their mark in so many ways.  Following the release of debut album Autumnal Park in 1984, they were regarded as one of Australia's hottest bands alongside INXS.  Their new wave synth pop sound channelled the likes of Duran Duran and Ultravox and the singles Listening, Beat For You, Stranger In Me and Dancing Till Midnight gave the band a string of hit singles. The song His Eyes which was featured in the horror movie "Friday The 13th – A New Beginning" gave them some initial international exposure. With several lineup changes leading into release of 2nd album Love An Adventure, the bands sound turned into a more poppy, upbeat vibe with the introduction of a slight rock edge. Their remake of the 70's dance hit Funky Town reached Top 10 in the USA, UK, Canada and Top 20 in Germany and the likes of the title track, Don't Go and Living In A Dream dominated the Australia scene.
With the late 80's resulting in a changing musical landscape to one dominated by big hair, equally big guitars and hard rock, 1988 saw the band release Race which mirrored the music landscape at the time. While the album no doubt alienated the majority of the bands fanbase, it equally attracted a new breed of rock loving fans. For lovers of keyboard dominated melodic rock, this album is one of those highly regarded underground classics, not just in Australia, but worldwide.
The opening tracks, being both singles, Fooled Again and Over Tomorrow are bona fide rock anthems laden with keys. About the only thing constant in comparison to the bands previous releases are lot's of keyboards and some killer songwriting! Speaking of keyboards…check the video for Over Tomorrow below for some awesome KEYTAR action courtesy of James Leigh! Caught and Don't You Forget, are killer pop oriented songs and highlight the band's irrepressible knack for crafting an infectious melody and keyboard hookline/riff.  Whilst Imagination is pure unadulterated AOR that will have you cranking out some air keytar without question….not to understate the awesome guitar solo from Brian Canham on this track.
For the new wave loving Echo fans, hearing songs like Runaways and Eye Of The Storm with their thundering guitar riffs must have been like listening to Slayer to their ears! But for those of us who were living on a diet of Van Halen, Def Leppard and Bon Jovi et.al at the time, this was heavenly to our ears. With the album did not surprisingly receive an abundance of critical or commercial acclaim, the band did however win the "Yamaha World Popular Song Contest" with the track Take On The World, whatever that award means exactly I am not sure, but it sounds impressive.
The band disbanded not long after the release of Race, however none of the members have been lost in the wilderness never to be seen or heard of again. The 'Leigh' brothers resurface some years later with firstly Vertigo with the song Forever Lately and then along with a change in singer they became Invertigo achieving some decent chart success in Australia with the pop rock explosion of Desentized and Chances Are. Brian Canham on the other hand has been more than busy in the capacity of songwriter and producer with much of his work being heard all over Australian radio and TV.
For any Australian fan of Pseudo Echo, maybe you have been fortunate enough to catch them performing live (with the lineup of Canham, Leigh, Leigh & Pierre Pierre) over the last 18 months or so? If you are lucky you may hear a short interlude in their set which features Over Tomorrow, but largely the set is made up of the classics and greatest hits.  Which incidentally have stood the test of time I might add in their slightly more rocked up live versions circa 2011.  But even more glorious….their set features KEYTAR action and lot's of it!  The music world can never have enough keytar or cowbell in my book!
So there you have it, Pseudo Echo's Race certainly an underground classic and for me personally, one of my favourite ever Australian releases.
Essential Information
From: Melbourne, Australia
Release date: 1989, now available on iTunes
Record label: Interpol Records
Website: http://www.facebook.com/pseudoecho
Track listing:
1. Fooled Again
2. Over Tomorrow
3. Caught
4. Imagination
5. Don't You Forget
6. Runaways
7. Searching for a Glory
8.Take On The World
9. Metropolis
10. Eye Of The Storm