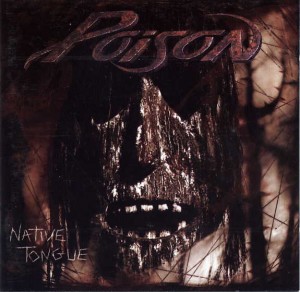 With Bret Michaels in Australia this week for his tour with Motley Crue, what better time than now to give a little expose' on Poison's 1993 release Native Tongue, which was the band's fourth album.  With previous effort Flesh and Blood heralding the introduction of a more serious side to the bands music and lyrical content, that album still sold well over 7 million copies and did of course have one of the bands biggest singles in Unskinny Bop.  Not long thereafter, guitarist C.C DeVille was fired and replaced by guitar virtuoso Richie Kotzen.  Whilst only 21 years of age, prior to joining Poison, Kotzen had already released 3 instrumental guitar albums featuring a blend of shredding, fusion and bluesy elements.  With the wave of grunge and alternative music having taken over since Flesh and Blood and the introduction of a different dynamic in Richie Kotzen, it therefore came as no surprise to hear that on Native Tongue, Poison had well and truly disposed of all the trademarks that made them Poison in the first place.  In fact the only thing recognisable to most Poison fans at the time was Bret Michaels chiselled six pack on display in the CD booklet photo's!
Opening up with the jungle beats of instrumental track Native Tongue and the tribal rhythm and chants on The Scream, the music matched perfectly with the dark brown wood face album cover and photos of the band surrounded by naked jungle girls, wolves and a lake of fire.  In fact with The Scream, this probably still remains one of the heaviest songs the band has ever recorded.  First single Stand driven by acoustic guitar and gospel backing vocals still charted in the US Top 40, but as for musical proficiency, this was another level entirely for Poison with the intricate bluesy guitar licks of Kotzen so far away from the guitar style of C.C DeVille as you could imagine.  The ballad Until You Suffer Some (Fire And Ice) also charted and is a song I rank as one of my favourite Poison ballads, along with the albums other ballad Theatre Of The Soul.   But despite its massive leap in maturity, both musically and lyrically, the album did have some classic Poison type anthems such as Body Talk, 7 Days Over You and Ride Child Ride.  But as much the result of the influence of Richie Kotzen than the absence of C.C DeVille, the songs certainly lacked the pop metal styling's of DeVille.
As far as personnel goes used on the album, the producer was Richie Zito, who in the couple of years preceding had worked with the likes of Cheap Trick, The Cult, White Lion, Bad English, Tyketto and Heart on what were some of those artists biggest releases.  The late Billy Powell from Lynyrd Skynyrd contributed piano on the very bluesy Bastard Son Of A Thousand Blues and also 7 Days Over You, That heavenly vocalist from The Eagles, Timothy B Schmidt contributed backing vocals on a bunch of tracks and drummer and percussionist Sheila E, best known for her work with Prince rocked the timbales' and congos on Native Tongue and The Scream.  .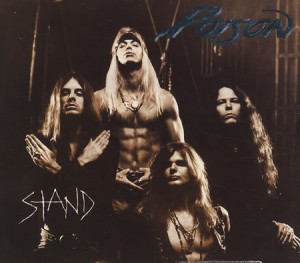 Not long after the release of the album, Richie Kotzen was sacked for being involved with a former girlfriend/fiancé of Rikki Rockett.  Blues Saraceno replaced Kotzen and work commenced on the follow up album Crack A Smile, but due to a series of circumstances, that album didn't surface until the year 2000. .  Whilst Stand, Bastard Son of a Thousand Blues, Fire and Ice and Theatre of the Soul made an appearance on the bands recent Double Dose – Greatest Hits release, the songs from Native Tongue have largely been shunned by the band in the years since.
For me personally, Native Tongue is definitely an album I appreciate far more now, than I probably did at the time.  Matching this with having the benefit of hearing Kotzen's Mother Head's Family Reunion album which came after Native Tongue, his involvement with Mr Big and his other solo output in the years that have followed, above all, it's amazing how much of an influence Kotzen evidently had on the song writing for this album.  At the time, Kotzen was probably exactly what Poison was seeking as they had gradually moved away from their glam metal beginnings and sought to be more musically accepted.  On this basis over the years I have probably nearly gone so far as to file this album under K for Kotzen, rather than P for Poison.  No doubt there's a bunch of Poison fans over the years that will have shunned and ignored this album, but taking it for what it is, Native Tongue is a really great rock record, equally to be enjoyed in 2011 by those who may have totally dismissed Poison on the basis of their earlier glam image and anthems and likewise those Poison fans who's musical tastes have now matured over the years.
Essential Information
Release date: 1993
Producer: Richie Zito
Record label: Capitol Records
Website: www.poisonweb.com & www.richiekotzen.com
Track listing:
01. Native Tongue
02. The Scream
03. Stand
04. Stay Alive
05. Until You Suffer Some (Fire and Ice)
06. Body Talk
07. Bring It Home
08. 7 Days Over You
09. Richie's Acoustic Thang
10. Ain't That The Truth
11. Theatre of the Soul
12. Strike Up The Band
13. Ride Child Ride
14. Blind Faith
15. Bastard Son of a Thousand Blues