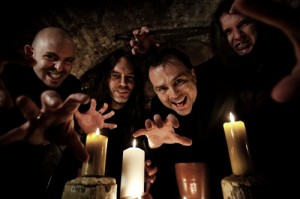 "There will be some surprises and I think in the end it will be a very good mix for everybody.  The good thing I can tell you is the set list will be different every night.!"
Returning in 2010 with their latest epic album At The Edge Of Time, Blind Guardian have once again stamped themselves as the leading power metal band in the world.  Since 1988, the band have released album after album of innovative metal transcending the lines of speed metal, progressive metal, power metal, symphonic orchestral arrangements and celtic influences, combined with epic fantasy like lyrical themes.
Now the band is headed back to Australia for shows in Melbourne and Sydney, with an overwhelming response thus far seeing sold out shows, venues being moved and an underage show to cater for their legion of younger fans.  This definitely promises to be a tour not to be missed for any self respecting power metal fan.   Supporting Blind Guardian will be Australia's very own Black Majesty and Eyefear.
Having just recently conquered Wacken Festival yet again and days away from heading off to South America, we chatted to guitarist Marcus Siepen about what Australian Blind Guardian fans can expect in a few weeks…
Hey Marcus, thanks for taking the time to chat.  So how are things going with yourself today, do we find you in Germany right now?
Yes, I am still at home, we are actually just preparing all the backline as next week we are taking off to tour South America to play 20 or so shows and from there it's off to Australia.
You recently played Wacken festival in Germany which is certainly one of the world's most prestigious metal festivals, how was your experience this year?
Wacken has been awesome, it was the 5th time I think we have played it now.  It was great I have to say, we had a very smooth gig and the response of the audience has been amazing and there was something like 100,000 people.  If you hear that many people singing The Bard Song, it's just pure magic you know.  The good thing is we have recorded every show of this tour so far and Wacken we have on video because it was broadcast on German TV, so we might be using this later on.
The tour itself has been going very, very well, we started in September last year, have played everywhere on this planet almost, Australia is still missing though obviously!  The response has been great everywhere and it's been great fun for us.
Soon however we welcome you back to Australia, with shows in Melbourne and Sydney and I see you are also playing an underage show.  Is this something you have done before, play underage shows?
You know that's always tricky for us and we face the same problem in the USA too for example.  Whenever we play clubs where they sell alcohol, the kids aren't allowed to enter, which is bad for us as a lot of our fans are young kids you know.  When we started in the 80's, we still have the same fans coming as we did 25 years ago, but with every new album, we have always attracted the young kids as well.  So the underage show is very important for us as otherwise a lot of our fans wouldn't get the chance to see us which is a shame.
With this attraction of younger fans to the band, do you put this down to having your music associated with computer and war games and the like?
For sure.  We are great video game fans ourselves, especially Andre and me, we have just been to the Gamescom in Cologne, which is the biggest video games fair in Europe I think.  When we did that song for Sacred part 2, that was a big thing for us because we love playing those games ourselves and many, many of our fans love playing that stuff.  We know many of our fans have discovered the band through games, especially those table top role playing games and it seems the music they play while playing these is Blind Guardian.  So it's a great thing for us and especially given its something we love doing ourselves so it works perfectly fine.
Whenever we do something, whether it is writing stuff or recording, or play a show, we always try to do our best.  Whether it be the best songs we can write at that point in time, or the best sound production, or set list or stage production and I think people just respect this and honour this, that's why we have still kept the same fans from the very early days of the band.  I think they are just telling their friends and they are telling their friends and more people keep coming to discover the band even though they may not have heard us before.  It's a lot of hard work that pays off in the end.
So what can we expect from Blind Guardian as far as your set list goes for your Australian shows?  Will you be focussing heavily on tracks from At The Edge Of Time?
It will be a great mix and obviously there are some songs we have to be playing, we can't skip The Bard Song, we can't skip Mirror Mirror or our fans will kill us haha!  Obviously there will be some new songs we want to play and also some songs we haven't played in a very long time that we have brought back to the set.  Actually, we are preparing some songs that have never been played live before.  There will be some surprises and I think in the end it will be a very good mix for everybody.  The good thing I can tell you is the set list will be different every night.  We like changing the set list each show, it keeps it interesting for ourselves and we don't find ourselves playing the same set list for one and a half years which would be a very boring routine for us!  We also know many people come to more than one show and that gives them the guarantee if seeing different shows.
Can we expect you to include the cover of You're The Voice into your set given the connection of that song with Australia?
Actually, I have to say we once thought about it, so we will have to talk some more.  It would obviously be a nice thing.  We covered it not just to please Australia, we love the song and it's been one of my favourite 80's songs because it is just so catchy and John Farnham is a great singer.  So we will have to see, it's not the song that I had mentioned earlier about a song that hadn't yet been played live, but I will have to talk to the others some more, so we will see.
And it's not like you have a shortage of material to choose from!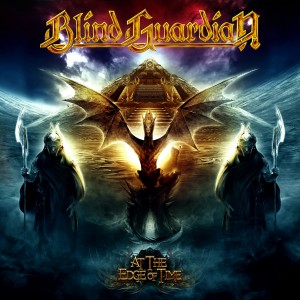 You toured Australia about 4 years ago I think it was, wasn't it, what do you remember of that tour and experiences you had here in Australia?
It has been awesome, the first time we came to Australia we were thrilled, as we didn't know what to expect.  The great thing is we had some time off so we could explore Melbourne and I remember Frederik and I went to some market thing where we spent hours.  We have met a lot of people that have been great, the gigs themselves have been awesome and so we can't wait to be back.  Especially with a few days off in Sydney where we can explore the place and that's the great thing about touring.  You get to do what you love, but you also get to tour and explore the world.
Obviously set lists change from tour to tour and perhaps sometimes even show to show, but is there a particular song off the new album that you personally enjoy to perform most?
Well I would have to say my favourite live song at the moment, which does actually change constantly depending on my mood or whatever, but Wheel Of Time is one of my favourite songs at the moment.  So far we have been playing four songs off the new album, Sacred Worlds, Wheel Of Time, Tanelorn and a A Voice In The Dark.  They're great fun to play and they fit perfectly into the set list, the reception from the audience is as great for those songs as for the older stuff.
The often talked about orchestral album which I am sure you get asked about a lot, and here is another question haha!  I see you are to be working with Germany fantasy author Markus Heitz for this album, what is the latest update on the album?
Actually, we are busy with that one in parallel to touring.  The big step was finding the right orchestra and we are going to be using the same one as we did on our last album.  We have already recorded like 5 or 6 songs for the album, and there will more recordings in future tour breaks and lots of work next year on this for sure.  The second and very, very important step for us was finding somebody to work on the lyrical background.  As you said, that's going to be one of Germany's best fantasy authors, Markus Heitz.  He will write the novel especially for this project, so Hansi will base his lyrics on what's going on with this novel.  That's very exciting for us as we love the books by this guy.  At the moment we are aiming for a release sometime in 2013.  In Blind Guardian terms, that's not too far away!
With At The Edge Of Time nearly a year old now, have you been happy with how it has been received around the world?
Yes definitely, we are very happy about it. The funny thing is most people said it's a compact form of anything Blind Guardian has ever been about.  There's the faster, aggressive, speed metal roots in there, there's the mid tempo and progressive stuff and then there's stuff we haven't done before such as the oriental elements in Wheel Of Time for example.  Most people have said this album has everything that the band is about and I have to say I agree.  It's not that we planned something like this on purpose, it just happened.  We are very happy ourselves with the album and the way the fans see this album.
So what else for 2011, you obviously have a number of shows still to be played, but then is it working on the orchestral album?
There's still plenty more shows to come, I don't think we are done with touring until mid-December actually.  I think we finish off with some festivals in Germany, one in Poland and Czech Republic.  As I said there's lots of work to be done for the orchestral album and at some point start writing new material for the next studio album.  So we will be pretty busy!
Well Marcus, it's been great chatting with you and I hope you have a wonderful tour here in Australia!
It will be great, see you there and make sure you say hi when you are there!
Essential Information
From: Germany
Band: Hansi Kursch – Vocals , Andre Olbrich – Guitars , Marcus Siepen – Guitars , Frederik Ehmke – Drums
Website: www.blind-guardian.com
Latest CD Release: At The Edge Of Time – July 2010 (Nuclear Blast/Riot! Entertainment)
Tour dates
Sydney – Friday September 30, Metro Theatre (venue been changed from The Factory Theatre)
Melbourne – Sunday October 2, Billboard The Venue & Monday October 3, Billboard The Venue
Tickets On Sale Now: www.metalmassacre.com.au