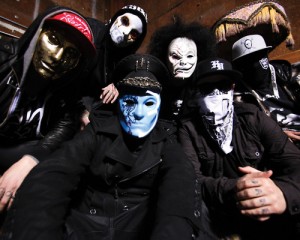 Very much at it's core it's a rock n roll show with a lot of energy and a lot of fun, with our own Hollywood Undead twist on it.  It's definitely different, but it's an entertaining and fun show!
Bringing an explosive cocktail of hip hop, rock, pop and metal and their signature masks to Australia for the very first time in late September will be Los Angeles based Hollywood Undead.  Following on from their breakout debut album Swan Songs, 2011's follow up album American Tragedy pushes the bands musical and lyrical boundaries even further.
Teaming up with UK's Skindred who will be bringing their blend of reggae and metal that they have dubbed "ragga metal", this is your opportunity to catch two of the most unique and entertaining live acts in the world today.
We chatted to Johnny 3 Tears from Hollywood Undead about the American Tragedy and his thoughts on the bands first visit to Australia.
Hey Johnny, thanks for taking the time to chat.  So it's confirmed, you guys are actually headed out to Australia.  That was obviously looking highly unlikely a few weeks ago with the Soundwave Revolution cancellation?
At first we were really stoked to found out we were doing Soundwave because we have never been there and we were looking forward to going there for a while.  Then when we found out we weren't doing it, so we were really upset, then we thought it was getting moved to February and thought that's still a way away, then we found out we were doing this tour, so everything is good.
It was a little bit of a roller coaster ride and I mean everyone in the band has been stoked to be coming out there.  It was meant to happen last year and then the year before, but it never came to fruition.  Once these dates were actually booked it was a big relief as I've got some good buddies out there that I am looking forward to coming and seeing and we are just going to have a lot of fun man.
Being your first time here in Australia, what are your expectations?
You know, that's one of those things, it's like the first time we went to Europe or any place else, you never know.  But we've never been let down in any sense.  We've actually had a pretty good following in Australia since we first came out as a band.  It was one of those things that we had people that wanted to come see us, because it's certainly not an easy thing to do on the organizational side, which I have nothing to do with.  I'm expecting a bunch of good shows and having a good time.  The closest I have been to Australia is the Nature Channel, it's s big mystery to me, so I am really, really excited.
You are teaming up on your shows with Skindred, have you toured with them before?
No I'd never even heard of them until I found out.
Well obviously that will be a new experience for you, checking them out!
Yes absolutely.
Being your first Australian tour, the majority will not have seen you perform live, what can we expect?
Well it's a rock n roll show with our own kind of twist on it.  We have a bit more instrumentation than a typical band, we do a lot of switching off on instrumentation and vocal parts.  Very much at its core it's a rock n roll show with a lot of energy and a lot of fun, with our own Hollywood Undead twist on it.  It's definitely different, but it's an entertaining and fun show!
A few weeks ago, you were over in Japan, how was that?
It's always a pleasure to go over there, it's one of our favourite places to play.  It was our third time over there I believe and it's a cool culture over there.  It's one of those places that I try and soak up as much as I can, as you are never there for very long.  Culturally speaking the people are so polite and refined and it's one of those places you wish you could get to talk and know everybody because they are so friendly and stuff.  I actually got a language program so I can learn Japanese and the next time I am over there I am ready!
Whether it is Japan or Australia or whatever country you are visiting for the first time, what's the first thing you guys have to check out or try to experience the local culture?
Like you said, it's really a case of trying to absorb as much of these places as you can.  It's kind of a gift that I get to go and play music for a living in these places that I never thought I would ever see.  So I try and appreciate and absorb as much of that as I can, because in truth, you never know if, or when you are coming back.  One of the cool things about going anywhere besides the US is that America as a country is very young.  You can go some place in Europe and see something that's 2,000 years old and there's really nothing like that here.  So it's really fascinating to see an older side of culture and anglo saxons and how this all happened.  I am a history buff so I get right into that and soak up as much as I can.  Then there's drink the local liquor and try the local drugs, see what they have to offer, then I leave!
You released your new album American Tragedy a few months ago, how did you find the recording experience this time around compared to your first album?
It was interesting, it was better in the sense we knew what we were doing this time around.  We were kind of rushed with the first record, we got signed really fast and put into a huge studio we didn't even know how to work really.  So in that aspect we knew what to expect and a rough timeframe and how to go about it, so it was a little more organised.  The challenge I suppose is you want to satisfy people, you've got to remain Hollywood Undead and write Hollywood Undead songs, but at the same time you don't want to write Swan Songs part 2, to keep it interesting for ourselves!  The songs are certainly different than Swan Songs, but it's still Hollywood Undead and that was the whole goal.  I think the record inadvertently ended up a little darker and a little heavier.  Kind of because systematically the way we recorded it, we did an AM/PM kind of thing. When we recorded Swan Songs we had the studio scheduled to get there about 12 noon and leave at midnight, but when we did the majority of American Tragedy we went into the studio at 12am and left when the sun came up.  It was a weird time period, but it was fun and interesting and I learnt a lot about music.  It was definitely a mind fuck, but I enjoyed every second of it.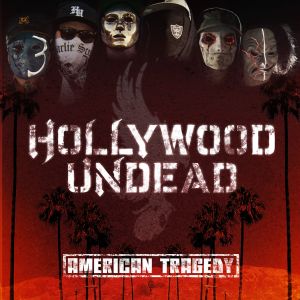 On this album, the production team features a cast of people, including Don Gilmore who you worked with on your first album.  Was the inclusion of a range of producers simply an intention to mix up the sound and styles on the album?
A producer's real job is to bring everything they can out of the person writing.  So if you write a whole record with someone and you get to know them too well and it may become too friendly or too awkward.  So we switch it up because every producer brings something different out of the person writing the song and pressure you in different ways.  We know conscientiously it's a little more uncomfortable, but at the same time it would keep us pretty driven because you have to be when you first start working with someone.  So we kept it fresh with each person and I think it was a good formula, so we will probably try that again.
Where did you record the album and how did this environment influence the sound and song style?
We recorded at a few studios.  We have one at home which is in Hollywood and that's where me an J-Dog live and we do the scratch tracks there, which are like the bones of the song. Then the studio we record in, there's one in the Valley and we have on in Hollywood.  One thing we did do which was different this time was we recorded a few songs in New York.  We had never done that, we've never left our home base to record music before.  We thought it would be a good idea to try something different being out of your home environment.  It definitely worked out man, New York is s fun city, so we ran around there, recorded a few songs and they came out real good.  We will probably do a bit more of that on the next record too in order to bring some different moods out.
American Tragedy, what's the meaning behind the album title?
I mean it's pretty obvious honestly when you look at it, it's just the environment here in America and it's a worrisome time over here with everything going in from the economy to unemployment, we are at war and all these things and the tension is always really high.  When we were writing the record we based a lot of the songs on that formula of what was going on and it helps the song writing if you are using something current emotionally.  So the songs really revolved around the mystery of what the hell is going to happen to the country and the people in it.  I don't want to be too morose, but it seems to be falling apart in certain ways and we used that artistically to make the record and it was a very fitting title and a lot of music and songs were based around what was currently going in over here.
How has Danny settled into the band, especially during the writing and recording for the new album?
He's cool, he's a good dude and a good buddy and it's much easier to write with him.  Just because the process became strained before and this is fresh and it's a new person and when you are writing songs with someone you have to trust them and be close to them and take the criticism and so forth.  I've got a great relationship with him and I couldn't be happier, he's a friendly guy and all that jackass shit!
You have released a bunch of video clips for a few of the tracks off American Tragedy, does the vision for the videos come from you guys directly, as opposed to outside producers/directors?
Absolutely, the only one we didn't make was the first one Hear Me Now, which a guy from Sweden (Jonas Akerlund) made.  He's a big video dude and a close friend of our record label president.  He did a couple of songs off our first record so we wanted to work with him again.  We write and try to at least co- direct each one of our videos.  Fans appreciate it when they see a video and know the band had that direct involvement in it and we try and keep that at a high level.
You guys have had a change of masks this time around, is that purposefully to reflect the new album?
Yeah they are still the same in a sense and we added lights and reconfigured them.  It really was, it's a new record, it's a new chapter in the lifespan of Hollywood Undead and we wanted something to represent that visually and that was the one thing we could do.
Time for the last question now, so what's in store for the rest of 2011, have you got any time off on the horizon?
We actually are spending our time off now, after we got off the last tour.  When we get home from Australia we are doing a fall tour with Asking Alexandria and then we are in tour supporting Avenged Sevenfold for the rest of the year. Then move into Europe in January and then back to Australia in February, so that's a pretty full schedule!
Hey Johnny, thanks for your time and have a great tour down under in a few weeks!
Thankyou very much, we are really looking forward to it!
Essential Information
From: Hollywood, USA
Band members: Johnny 3 Tears, J-Dog, Charlie Scene, Funny Man, Da Kurlzz , Danny
Website: www.hollywoodundead.com
Latest album: American Tragedy (2011)
Tour dates with Skindred: TICKETS ON SALE NOW
FRIDAY 23 SEPTEMBER
BRISBANE, THE STEP INN – 18+
www.oztix.com.au
SUNDAY 25 SEPTEMBER
SYDNEY, METRO THEATRE – Lic A/A
www.ticketek.com.au 132 849
TUESDAY 27 SEPTEMBER
MELBOURNE, THE ESPY – 18+
www.oztix.com.au / www.espy.com.au
WEDNESDAY 28 SEPTEMBER
ADELAIDE, FOWLERS LIVE – Lic A/A
www.moshtix.com.au, www.venuetix.com.au & outlets
FRIDAY 30 SEPTEMBER
PERTH, ROSEMOUNT HOTEL – 18+
www.oztix.com.au
More information: www.soundwavetouring.com