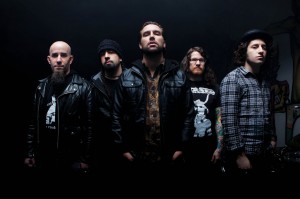 "I know there's a lot of people bummed out about my former band (Fall Out Boy) not doing anything right now, but hopefully they are happy that everybody is going out and getting all the shit out of their heads so to speak and feeling better and making cool stuff."
In music, the term "supergroup" can be used quite loosely, but when you are talking about a band that features members of Fall Out Boy, Anthrax and Every Time I Die, I think as far as The Damned Things go, the term super group is well justified.  Featuring Anthrax members Scott Ian and Rob Caggiano, Fall Out Boy members Joe Trohman and Andy Hurley and rounded out with vocalist Keith Buckley from Every Time I Die, that's what who make up The Damned Things.  Releasing their album Ironiclast late in 2010, the album saw the band fuse their love of classic rock with heavy riffs and the type of intensity you would expect from the level of performers involved.
Not just simply a studio or one off project, Australia will get to witness The Damned Things when they take the stage at Counter Revolution later this month.  We chatted with The Damned Things guitarist Joe Trohman of Fall Out Boy fame about their upcoming Aussie tour, the key to the band gelling together so seamlessly, as well as the musical opportunities the band has allowed him.
Hey Joe, thanks for taking the time to chat today!  So after a bit of uncertainty there for a few weeks, you guys are heading to Australia which you must be pretty excited about?
Yeah we are really thrilled.  We were super bummed to hear about what was happening and we were trying at least to see if we could get a tour going.  We were trying to maybe put together a tour with Every Time I Die and then Counter Revolution came up and we were really, really thrilled.  It's kind of how we are going to end the year for the band.
You have obviously been out here with Fall Out Boy previously, but what of your expectations of your shows with The Damned Things?
As far as I know from Fall Out Boy and what I have discussed with any other band that has been to Australia, is that it's always a pretty amazing crowd.  It doesn't necessarily need to be a huge crowd, but just energetic crowds that are really into it.  Australia really seems to appreciate when a band from another country stops by for some shows.  I'm expecting people to be really into it, that's all I ask.  Don't come to the show and cross your arms!
Have you had much of a gauge of the level of interest in The Damned Things out here?
I am a disconnected son of a bitch!  You know I have my Twitter account and a lot of kids hit me up on Twitter and it seems like there's a lot of excitement about us coming.  I really don't know who is going to know us, it's kind of still like a festival environment so people will come to see the bands anyway.  I honestly really don't know what people know about us, or if they even do.
You guys just did a headline tour in the USA.  How was that?
That went great man.  I think it's really cool to get a chance to go on tour with some bands that you dig on.  That's been really fun, I liked being on tour with Maylene & The Sons Of Disaster and Fair To Midland.  It went great, it was a lot of fun and we really enjoyed ourselves and I think the other bands did as well.
So what was it like playing the smaller venues and no doubt playing to smaller crowds than what you would have been used to, in saying that I am assuming both of those things!
Yes it was the type of venue we were playing.  You know I often get asked this question of what it's was like to go from Fall Out Boy to small clubs, well you know Fall Out Boy started out in small clubs.  So I've been used to be playing small venues and clubs.  There's been a place in Chicago for a long time called The Fireside Bowl, it's still there but they don't really hold shows there anymore.  That was like the CBGB's of Chicago, punk rock, hardcore, metal, indie rock bands, they all played there.  That's what I grew up on, so going back to it just feels natural.  It's also very appropriate for The Damned Things right now, we shouldn't be trying to headline and small clubs are the way to go for us right now.
How have your respective fans accepted the band, have you got a sense of them coming to the shows, or are The Damned Things appealing to a new core of fans that dig your music?
Well it's a combo.  I think what's bittersweet about ending the year out in Australia and not do another US tour and keep pounding the pavement is we did see a remarkable amount of The Damned Things fans building up which is really, really cool.  It wasn't just like people came to see us based on our other bands. It's nice, we've definitely been doing support tours this year and making a record that I like to think came out quite well and helped a little bit to build our own fan base.
How have you guys settled in as a live band, did you hit the groove almost instantly, or did it take a little bit of settling in?
The groove was really good straight off the bat, things fell into place really quickly. After the first show it was pretty much just tweaking.  It helps to play in a band with a bunch of professional musicians that just know what they are doing and don't question their confidence.
Was there anything else specifically that you think helped you guys settle together as a band, such as common personality traits?
Absolutely, confidence and professionalism are obviously two key things, but personality is key as well.  We were lucky, there's sometimes six, sometimes five guys in this band and that's enough to create some serious horseshit!  But that hasn't happened, it came out all right.
In terms of the set list what have you guys been doing on tour? Are you going to be playing the whole album?
Yes it's pretty much the album in its entirety!  I'm hoping that we can also play the song we have recorded for the Batman soundtrack, which would be really cool.  We have also been doing a Quicksand cover that we will definitely be bringing but I am sure nobody will know because nobody knows Quicksand really well!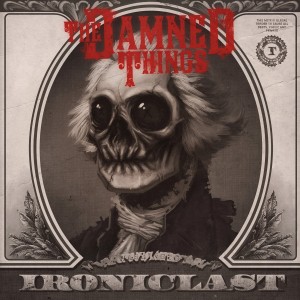 Just further on the track for the Batman game soundtrack, that must have been a cool thing for you guys given your interest in comics and stuff?  How did it come about?
We are definitely thrilled about it, no doubt.  I know how it came about, they basically hit up out management expressing a liking of the band and asked if we had anything unreleased.   We had some stuff we had started recording at the same time as the record, but we didn't get around to finishing.  We took it on the road with us and set up a little studio in the back lounge and sent it in to them.  It came out really cool, I'm excited for people to hear it.
Now you personally were a pretty big Scott Ian fan growing up weren't you?  How has this been as an experience to be writing, recording, playing with him?
It's been a great experience!  When we met for the first time it was definitely a little nerve wracking and playing him my music and playing guitar in front of him and with him, which kind of all happened at the same time pretty soon after we met each other, was also very nerve wracking.  I think overall, it went well and turned out OK!  I am glad I didn't just cower in fear, as a lot of people probably would and rightfully so.  It's kind of frightening to hook up with someone you grew up admiring and show them your ability.  It's kind of like "hey man, look at me naked, look what's inside my asshole!".  I don't see a lot of people going around doing that, not even crazy people, it takes a lot of guts and you need to push yourself to do something like that.
So I guess then Scott Ian was one of a handful of guitar players you admired the most…
He was definitely somebody I admired as a guitar player and I love Anthrax.  There are many handfuls of guitars I admire, because I admire so many, but he is definitely one that I did admire and I still admire.
How have you found playing in The Damned Things from a guitar playing and song writing point of view, obviously a lot more freedom and opportunities to explore and try new things?
Absolutely, it's been incredibly important for my development as a musician and a songwriter and as an artist so to speak.  It's been awesome man, it's allowed me to go and work on other things and allowed me to feel more confident about my abilities and myself.  That's why you go out and try new things and do new bands.  You may fall, but you pick yourself up and get better at it and become surer of yourself.  It's been huge and it's been nice to have that freedom and get a bunch of shit that's been in my head for a long time.  It definitely sucks to have all this stuff, but never be able to get it out.  I know there's a lot of people bummed out about my former band not doing anything right now, but hopefully they are happy that everybody is going out and getting all the shit out of their heads so to speak and feeling better and making cool stuff.
With the other guys soon to be busy with new albums for Anthrax and Every Time I Die, has there been any discussion about writing some more tracks for The Damned Things and you mentioned earlier how you are also working on some other things?
There is definitely talk of writing more stuff for a new record down the line.  We are going to wait and see what happens next year and see what kind of shows or tours we might get offered, such as shows in Japan that might work out for everyone's schedules and stuff.  So yeah, we still might be doing some touring on this first record.  I personally have been working on some stuff for a new band that will be coming out in the next year.  So I'm keeping myself musically busy and The Damned Things are just going to sleep for a little bit.  But we definitely want to make another record, I think that's the consensus, we want to keep doing it and we have a ton of fun.  As I said earlier, it's kind of bittersweet to end it so early whilst actually having a fan base.  I actually want to make another record for people.  People keep asking "you're going to make another record right?, you're going to keep doing it right?, it's not just a one off thing?"  I don't want it to be a one off thing, its way to easy to just stop.  I don't like doing anything the lazy way.
Is your other musical project going to see you exploring another side of your musical personality?
I'm a rock music dude, so it's still rock music in essence.  But it doesn't sound like either of the bands I'm in now.  I don't want to put out the same thing again anyway, that would be boring.
So I can't finish up without asking what's the latest with Fall Out Boy, obviously you guys are all busy with other projects, but has there been any talk about anything yet?
It'll happen again, but it's a long way off.  It just has to be the appropriate amount of time and everybody has to feel good about it.  I might be winding down with The Damned Things, but Patrick is still in the middle of doing his stuff, Pete's doing his stuff, Andy's working on some other hardcore and punk rock stuff, so everybody still has stuff they are working on.  I've actually been working on this other project whilst working on The Damned Things.  That's with some other really cool musicians that I am really excited to work with.  So I feel like we've worked so long doing Fall Out Boy that we've built up so much other stuff that we've been waiting to pour out individually and separately.  So that has to happen first and I feel at the end of the day it's going to be better for Fall Out Boy when we come back.
Well Joe, it's been great chatting and hope you guys have a killer time out here in Australia in a few weeks!
Thank you so much Scott, I really appreciate it and thankyou for the interview.
From: USA
Band members: Keith Buckley, Scott Ian, Rob Caggiano, Joe Trohman, Andy Hurley
Website: www.thedamnedthings.com
Latest release: Ironiclast (2010)
You can catch The Damned Things on the following Counter Revolution dates:
SATURDAY 24 – BRISBANE, THE RIVERSTAGE
SUNDAY 25 – SYDNEY, BIG TOP LUNA PARK
FRIDAY 30  – MELBOURNE, FESTIVAL HALL
SUNDAY 2  – ADELAIDE, JUBILEE PAVILION, SHOWGROUNDS
MONDAY 3 – PERTH, CHALLENGE STADIUM