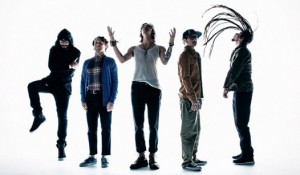 Multi-platinum Californian-based alt/funk rockers Incubus will head Down Under this summer to deliver shows around the nation, in support of their seventh and latest album 'If Not Now, When?'.
Currently tearing up arenas around the USA, kicking-off with a sold-out show at the famous Red Rocks Amphitheatre, Incubus will play Sydney, Adelaide and Melbourne before heading north for a Brisbane finale, on what will be their fourth tour downunder.
Tickets go on sale 9am, Wednesday September 28.
Expect to hear true and sensational performances of classics cuts such as 'Drive', 'Pardon Me', 'Wish You Were Here', 'Are You In?', and 'Dig', as well as songs from their latest offering, including 'Adolescents' and 'Promises, Promises'.
Incubus' latest album, released July this year and titled 'If Not Now, When?' (Sony Music) features the single 'Promises, Promises', and is the band's first in nearly five years. Lead singer Brandon Boyd describes the album as: "darker, slower, more rich, more refined, and more involved than anything Incubus has birthed to date."
Since forming in 1991, Incubus have accumulated worldwide album sales exceeding 13 million through their double decade-long rise to the top.
Australia embraced the band before and far beyond their 1997 debut album 'SCIENCE'.  'SCIENCE' plus later album releases 'Light Grenades' and 'A Crow Left of the Murder' have all earned Gold status, whilst 'Morning View' and 'Make Yourself' hit Platinum.
Incubus are: Brandon Boyd (vocals), Mike Einziger (guitar) and Jose Pasillas (drums), Chris Kilmore (DJ) and Ben Kenney (bass).
TOUR DATES:
SYDNEY, HORDERN PAVILION – FRIDAY FEBRUARY 3
CANBERRA, ROYAL THEATRE – SATURDAY FEBRUARY 4
ADELAIDE, AEC THEATRE – MONDAY FEBRUARY 6
MELBOURNE, FESTIVAL HALL – TUESDAY FEBRUARY 8
MELBOURNE, FESTIVAL HALL – WEDNESDAY FEBRUARY 8
BRISBANE, CONVENTION CENTRE – FRIDAY FEBRUARY 10
TICKETS ON SALE 9AM WEDNESDAY SEPTEMBER 28
Ticket agent pre-sales run 2pm Monday Sept 26 to 5pm Tuesday Sept 27, or until allocation is exhausted.
BOOK THROUGH:
Sydney / Adelaide / Brisbane – Ticketek 132 849 www.ticketek.com.au
Melbourne – Ticketmaster 136 100 www.ticketmaster.com.au OR Festival Hall Box Office, 288 Rosslyn St, West Melbourne, Licensed & Unlicensed All Age areas available