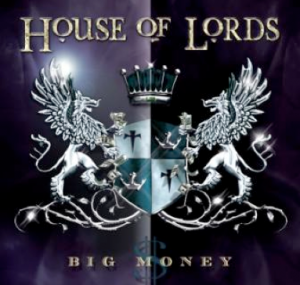 In 25 words or less: "Everything about this album is pure class, not that I really expected anything less from one of the greatest within the kingdom of melodic rock…"
Despite being in existence for over 20 years now, I must say it took me by surprise a little that House of Lords latest release Big Money is now their eighth, man how albums fly by!  Ignoring the hiatus back in the mid to late 90's and the more experimental Power And The Myth that followed that break, the band and it's various lineups have however been incredibly consistent in the years since.  Consistent both in terms of album frequency and also for delivering the high quality bombastic melodic rock for which fans of the James Christian fronted band keep returning for.  Big Money takes off right from where previous album Cartesian Dreams left off and for that matter the album before it, Come To My Kingdom. 
Title track Big Money is full of driving guitars and a big shout out chorus.  The epic One Man Down is almost haunting like with it's acoustic guitar intro before building into trademark House Of Lords bombast and takes me right back to the Sahara album days.  Hooks a'plenty will greet you throughout First To Cry a song that could have easily been lifted of that iconic debut album, classic arena rock at it's best!  Whilst it may not be Greg Giuffria, the glorious sound of keys open up first single Someday When and as with the previous track, is trademark early House of Lords.  Searchin' is a great showcase for the band with some tasty guitar work from Jimi Bell, this one has a real latter day Winger vibe.
The brooding and moody Living In A Dream World really amps things up with a guitar riff that almost could have come from Zakk Wylde era Ozzy Osbourne, a song that begs to be cranked and cranked loud!  The Next Time I Hold You is a grandiose ballad that provides a nice tempo change in readiness for the onslaught to come.  Run For Your Life may take a little while to build, but once it does, strap yourself in, another opening with lots of keys that create a real expectancy that climaxes with a MASSIVE chorus and I mean MASSIVE and once again really puts on display the awesome level of musicianship that James Christian has surrounding him in House Of Lords.  Hologram has a chorus that just doesn't want to end and is a track that comes from the Def Leppard style of stadium rock, not that House Of Lords need any schooling in this regard!  If you didn't already have a stack of hooks and melodies and guitar riffs buzzing around in your head from the preceding tracks, Once Twice will really drive its chorus and crunching guitar riff into your senses.  "Once, twice, love, bites….trust me, those words will stick in your head like crazy glue.  Even closing track Blood finishes the album in incredibly strong fashion with a fist pumping chorus and heavy guitar riff.
Everything about this album is pure class, not that I really expected anything less from one of the greatest within the kingdom of melodic rock, James Christian.  Production, vocal delivery, song writing, musicianship, you name it, this album pretty much delivers on all counts.  The House of Lords in 2011 delivers a far more musically muscular style of melodic rock compared to the debut album,  but no less melodic.  James Christian, BJ Zampa, Chris McCarvill, Jimi Bell and songwriter Mark Baker, take a bow… one of the best melodic rock albums you will hear this year, simple as that!
Essential Information
Release date: 23 September, 2011
Label: Frontiers Records/Riot! Entertainment (Australia)
Website: www.jameschristianmusic.com
For fans of: House of Lords and exceptional melodic rock
Tracklisting:
Big Money
One Man Down
First To Cry
Someday When
Searchin'
Livin' In A Dream World
The Next Time I Hold You
Run For Your Life
Hologram
Seven
Once Twice
Blood