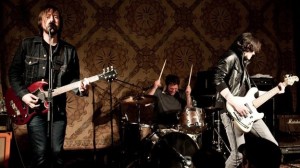 "The last time I was there, it was probably the most positive, fun tour that Taking Back Sunday ever had for me.  The idea of coming back is something I am really looking forward to."
The bands Taking Back Sunday and Coheed and Cambria will be known to most people, however how many of you have heard of Terrible Things, the band that features Fred Mascherino, formerly guitarist of Taking Back Sunday and former Coheed and Cambria drummer, Josh Eppard?  In 2010 the band released their first album, a concept album of sorts about a series of fires that haunted Fred's former hometown 40 miles out of Philadelphia, featuring 12 tracks of explosive rock filled to the brim with pop sensibility.
Having just spent the best part of 2 months out on the road with the Vans Warped tour in the USA, after a well earned rest the Terrible Things will be back on the festival circuit here in Australia for Counter Revolution later this month.
We chatted with Fred Mascherino, Terrible Things vocalist and guitarist about returning to Australia to play some shows and the disappointment of not playing on the same bill as Van Halen!
Hey Fred, thanks for taking the time to chat.  So where in the USA do we find you today, are you enjoying a bit of a break after the Vans Warped tour?
Finally this is the first week I have slept in my bed since the beginning of June so I am feeling pretty good.  I'm in Philadelphia right now.
So how was the Vans Warped tour, a good experience for you guys and did you do the whole tour?
Yeah we did the whole thing and I vowed to never play outdoors again and now we are coming over there!  But it was great, it's probably the most exhausting tour on earth, but we love it.  I've done it many times and it's always a good time and it's become a bit like family for me at this point.
Well I guess the good thing here with Counter Revolution is you shouldn't get the extreme heat you would have gotten in the USA during Warped.
Texas was horrible – I mean I love the people, Arizona, it's just like playing in the desert!
And how did it go without Andy Jackson in the band, this was your first tour without him wasn't it?
Yeah it was.  Warped Tour was the first thing he has missed, it was because of the length of the tour and what we were up against with the tour he decided to step out on. It went surprisingly well and we weren't totally unprepared because Andy had missed some other shows and we had to play those as a 3 piece.  You know, all of us in the band are players and musicians and it allows us to do a little bit more when there is a space to fill.  It's just as rockin' as ever I would say!
You are headed out to Australia in September for Counter Revolution, that must have been an uncertain few weeks not knowing what was happening with the lineup  and if you were coming or not coming?
Haha yeah you guys are playing with our heart over here!  I don't know whether it was Van Halen or if it was Australia haha!  We were so excited to be coming and when we found out that we weren't, it was sad, so when there came a chance to do it again, we were definitely interested and no matter what it took, we were coming.
I had read previously you are a Van Halen fan, you must be a bit bummed with them not part of the revised lineup now?
Yeah, they're kind of my childhood heroes basically.  The way that a lot of guys my age love Star Wars, I mean I love Star Wars, but for me it was all about Van Halen as a kid.  I got my first guitar and was determined that was what I was going to do for the rest of my life and it was all about good rock music with a sense of humour.  So that would have been like a childhood dream come true, playing some shows and getting to watch them.  They are not a band though these days I have in high rotation, but they are doing a new record, so who knows.
You have been out here to Australia before with Taking Back Sunday haven't you?  How was that experience?
Yes a couple of times.  I have had so many good times, but it's been a while and it's the first time for me in about 4 or 5 years.
You are going to be out here for over a week, what do you looking forward to most about being back in Australia?
The last time I was there, it was probably the most positive, fun tour that Taking Back Sunday ever had for me.  The idea of coming back is something I am really looking forward to.  I hope to get to see some sights as we have a couple of days off, so hopefully we can hang out a bit more.  I am urging anyone that wants to bring me sightseeing that I will be up at 9am and ready to go…on the days off!  Hopefully I can get some swimming in as I felt a little cheated recently as after Warped I went for a vacation down the beach, but that got cut short with our hurricane over here.
What can your fans expect from your set at Counter Revolution, do you think you will be playing any newer songs?
Well we just got off a tour with 75 other bands and the one thing I am confident of is we are doing something completely different, it's more of a rock thing that doesn't really exist.  Josh Eppard has pretty much been my favourite drummer for a number of years, so when we put this band together, what I was trying to do was pretty much build my dream band.  I'm really pleased with the way this year has gone and it seems like there's been good reaction from people.  We are always on our Facebook and get a lot of messages from down in Australia.  It's real promising and that's why we are so excited.  We are not with our label anymore and we are kind of doing everything on our own at this point, so even getting asked to come out is a big honour. So I feel like it's a good time for us and you are going to get to see something very real and songs played with emotion and real heart.  That's what we are trying to do.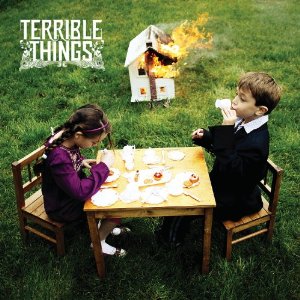 Your debut album came out about a year ago.  Has work begun at all on the next record?
Actually, I have been writing for a few months and now we are home from Warped we are starting to do demos and stuff.  We have one song we often throw into the set, but we are planning to record a bunch of songs this fall and get them out right away.  We want to try and find more fan friendly ways of putting them out, as we were really displeased with our label.  We were never really able to give songs away for free or do anything that gives stuff back to the fans.  I feel like now is the time for is to really do that.  We realize there is a new way of doing things and that the old way is being ushered out.  We want to be on the forefront of the new era of the music business and I think the way to do it is give as much as you can to the fans.
Yes definitely, so is that where the Terrible Tuesday videos come from?
Yeah, exactly!  That's our thought there, every week we put up a music video.  It's not just a video of us horsing around backstage.  It's us playing new songs or covers or acoustic versions.  We try and put that out there every week so you are always hearing something from us and it keeps us on our toes too as it will be a case of what are we putting up this Tuesday and we will get the camera going, get out our guitars and throw something up.  That's been a lot of fun.
So what of the songwriting in the band, is that something you largely handle, or do you do it in collaboration with Josh and Brian?
The first record was a lot of my writing because I had already been writing when I found all the guys for the band.  I basically sold the band to them based on the songs and they were like, 'yeah I want to do this'.  Josh is a great writer, he plays piano and guitar as well as drums so he is adding to the writing a lot this time.  Actually one of the Terrible Tuesdays was a new song called Cost, which he pretty much wrote all the music for.  So it's great, that's another reason when we were putting together the band was not only guys who have had success, but also guys who were writers in their band and not just some hired gun.
Just going back to the beginning of the band as such, how long did it take to build the chemistry within the band, was that a pretty instant thing?
Honestly, I owe a lot to our producer Jason Elgin. He kind of had this rule of leaving your ego at the door and let's do what's best for the song.  There was certainly a bit of push and pull in the beginning because if you have had success you kind of feel like, well what I did before worked and now someone is suggesting something different and you have to be very open minded who are all creative.  Nobody in this band really takes a back seat.  Even our bass player Brian Weaver who has been with us over a year now, he was in a band called Silvertide and we have a very mutual respect coming into this and it's not that it ever goes away, it's just we need to be reminded when it comes to writing.  But now we are getting into the 2nd year of the band it's really catching a rhythm and these new songs are better than ever.
When might the new album be out do you think?
I'm hoping before the end of the year and it's probably going to be a 5 track EP.  As I said earlier, we are trying to release it in a way that the labels release them, we are trying a new way.
And The Color Fred, is that something you are still doing?
For the past few years it's only been acoustic shows, and I do really enjoy the acoustic thing as it allows me to play songs from all my past bands.  But I do plan on doing another Color Fred record, but right now Terrible Things is my big priority.  The Color Fred is probably going to be an album where I play all the instruments next time, but it won't be for a year or so.
Well Fred, thanks for your time and have a great time in Australia and hope you get some swimming done haha!
Yeah for sure, thanks Scott, appreciate it!
Essential Information
From: USA
Band members: Fred Mascherino, Josh Eppard, Brian Weaver
Website: www.terriblethings.net
Latest release: Terrible Things (2010)
You can catch Terrible Things on the following Counter Revolution dates:
SATURDAY 24 – BRISBANE, THE RIVERSTAGE
SUNDAY 25 – SYDNEY, BIG TOP LUNA PARK
FRIDAY 30  – MELBOURNE, FESTIVAL HALL
SUNDAY 2  – ADELAIDE, JUBILEE PAVILION, SHOWGROUNDS
MONDAY 3 – PERTH, CHALLENGE STADIUM