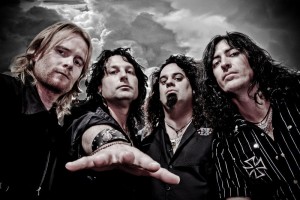 In an era where many of us are still loving the rock music that we grew up with but many bands are too cool to even try and still play it, Diamond Eye refuse to forget those days and have no intention of changing who they are either.  These boys love to rock and they have taken elements of every band you've ever loved and created the monster that is Diamond Eye.  Kicking around for the best part of five years and with previous EP's as well as a live CD / DVD released last year the guys have gone back into the studio to give us this new EP 'Sound Of The Guns' and it's pure Rock & Roll!
Here's what I'm talking about that is sadly missing from a lot of music these days, harmony guitars, guitar solos, acoustic breakdowns, big soaring vocals, hooky choruses, whoa ohs and much much more.  Hey I'm not saying it doesn't exist elsewhere, just saying that Diamond Eye are giving it all to us in the five song EP and it's impressive.  If I did have to compare it to what you already know, there are shades of the melody and anthems of KISS with at times the riffs and heaviness of Iron Maiden and Metallica, but check out the live clip below and you'll see what I mean.  This new EP is their best work yet, the songs all compliment each other and for an independent release the production is great and clean, they've truly done well with this and I'm loving every second of it.  If you like all of the above, then give Diamond Eye a listen, you may find an element that you love that you've been missing for a long time.
In my opinion, 'Waiting For Me' is the best song that KISS never wrote and should be being played in front of 20,000 people every night and the band aren't kidding when they say this is stadium rock at its finest, because I feel like it truly is. In fact all the songs could easily be heard in that kind of forum.  To make it even cooler, the epic song 'Sound Of The Guns' has been nominated for WAM (West Australian Music Industry) Song of the year 2011, so people are taking notice and hopefully you will too.
Diamond Eye, they're what Rock & Roll should still be all about…
Track Listing:
1. Waiting For Me
2. Closer To The Sun
3. Atlantis
4. Machine
5. Sound Of The Guns
Essential Information
From: Western Australia
Check it out if you like: Stadium Rock at its finest!
Release date: September 15th, 2011
Label: Independent
Websites: www.diamondeyeofficial.com
Latest Release: Sound Of The Guns – EP
Check out our interview with Diamond Eye here…