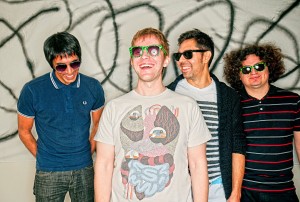 "You know I don't get nervous anymore because I know I have done my job the best that I can and the rest of it is largely out of my hands.  I think we did a good job planning the picnic and now we will see what kind of weather we are going to get."
Saves The Day is certainly a band which represents and chronicles change and life's journey, almost like no other.  Spanning over seventeen years, Saves The Day lead singer Chris Conley has been releasing personal and purely artistic albums with no commercial notions.  Having just released Daybreak, the bands seventh full length album, it completes the trilogy of albums that also includes 2006's Sound The Alarm and 2007's Under The Boards.  A trilogy that has seen Conley undertake a personal journey through anger and frustration, and now finding acceptance with the latest release Daybreak, released here in Australia on 3Wise Records.
We had an in depth chat with Chris Conley about this trilogy of albums and how one exactly goes about translating such a personal journey and emotional evolution into music!

Hey Chris thanks, for taking the time to chat.  So you are about a week or so from your new album Daybreak being released, what are your feelings right now, anticipation, nervousness, and excitement?
You know I don't get nervous anymore because I know I have done my job the best that I can and the rest of it is largely out of my hands.  I think we did a good job planning the picnic and now we will see what kind of weather we are going to get.
The album is the final chapter in your trilogy of albums, which started back in 2005.  What are your feelings to have completed something that has spanned 3 albums of work?
It feels like a triumph, because it was such a long process.  It wasn't necessarily a commercial venture, it was merely artistic.  It was a way for me to understand a personal journey and I vented a lot of my feelings along the way.  As I documented my mental evolution and emotional evolution, going from someone who was angry and cynical and rejecting the experience of life as it is.  Too learning to accept that things are the way they are and there's very little we can do to change them.  If anything, being angry and cynical will only make things worse.  So I feel like all the hard work has paid off because I am proud of the album and fans seems to really like the new material when we play it live and I think it's a good thing to consciously try and have a positive relationship with the world as opposed to the easy way out being angry.
You started this album, what about 3 or 4 years ago, what of the song writing for the new album, on one hand you were going through a personal journey, were all the songs written during this period, or did they go back to the first couple of albums in the trilogy?
Yeah it sure was.  Some of the songs were actually written during the first album of the trilogy and some during the second, and some were also brand new songs.  Whilst I was working on it, I had it in my mind what songs were going to beat illustrate the uplifting feeling I was going through in this personal evolution.  So the song writing process has never changed for the band, I'm always searching for ideas that are interesting to me.  It might even be a melody that pops into my head whilst falling asleep or driving to the park and I might sing it into a recorder and hunt down the chords that bear compliment the melody.  Continuing on with this trilogy, that's been the theme.  Although with the concept, I've been aware that some songs are better for the angry chapter and some for the transitional chapter and some are going to work for the uplifting, final chapter.  So it was an interesting experience writing it.
Speaking specifically about the album in a musical sense, how did you find the music and process evolving as you tried to convey your intended emotions and messages?
It was a lot of fun because a bunch of the songs on Daybreak were written during the period of the angry album and it was so clear to me that this uplifting music didn't work on this album that was dealing with delusional, paranoid, depressed thoughts.  It's almost as if the music has a language of its own.  In music we talk about major and minor chords and all that really means is some music makes you feel happy and some makes you feel sad.  Lyrically it was quite easy to explore the different chapters because I was personally evolving at the same time.
Writing the songs as you have over these last 3 albums, have you in anyway been conscious of how much connection, whether great or little, others may have with these songs?
You know what, the entire catalogue of Saves The Day has been personal and purely artistic with no commercial notions. I am certainly far too shy to be seeking the spotlight, so I just really tried to understand myself through the writing process and it's as if it's my own personal therapy and the success of the music is secondary.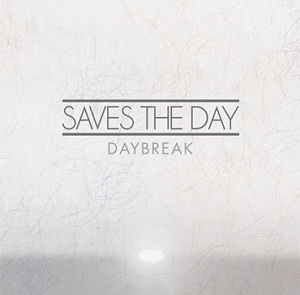 Ok, so for people listening to "Daybreak" as their first introduction to Saves The Day, do you feel that they will be disadvantaged in any way listening to this album in comparison to someone who has been following the trilogy?
I don't think so because all of our albums have changed so drastically from one to the next.  If you came into the band on any album you would have to get used to the changes immediately.  We are not a band that found a formula and set it in stone and tried to continue make successful music. We tend to evolve with each album so it's probably just as difficult to dissect the bands catalogue of music, as it was when we had one or two albums out.
So now that the trilogy is complete what's next, have you thought that far ahead yet?
I'm really excited about the direction of the newer material since I've done all the soul searching an I'm at peace so I think the next album will go straight to the moon.  It's going to be uplifting, upbeat, energetic and catchy as always. There's not as much soul searching so perhaps there will be more observations of the outside world.
Saves The Day has had a number of line-up changes over the years, what is it about the current line-up of the band that you feel is different from those in the past?
This is the first time I've had a united group where everyone is enthusiastic about the music at the same time.  In the past we've had some members who are eager about writing and recording and some who are questioning the commercial viability of the band.  Sometimes people also just get tired of touring.  Bit finally I have a group of guys behind me who are incredibly talented and dedicated and vested in the history of the band and ready to bring the future to life.  For me it feels like the first time I've.  had a band of brothers.  It's a lot of fun for me.
How would you describe a typical Saves The Day fan, over the years, have you got a good sense of this?
You know what, I see a parallel between us and The Cure.  Not musically and not in terms of success, but in terms of the people we appeal too.  During the 80's and early 90's The Cure was the band that was there for kids of the nations of the world who felt alienated and uncomfortable and frustrated and confused and Saves The Day has always been there for the people who never really fitted in.  A lot of the fans I meet remind me of myself from years ago or seem to be evolving on a similar path if they are my age.  I think we are a band for the people!
Any closing messages or last things you want to say for your fans down under?
We say in most of our interviews when we get asked where is the best place on earth to play and we say Australia.  Our fans there are absolutely incredible and we thankyou and look forward to seeing you again.
Essential Information
From: USA
Band members: Chris Conley – Vocals/Guitar, Arun Bali – Guitar/Vocals, Rodrigo Palma – Bass/Quark Configuration, Claudio Rivera – Drums
Website: www.savestheday.com
Latest release: Daybreak (2011, 3Wise Records)