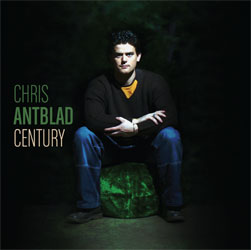 In 25 words or less: Antblad delivers song after song of highly accessible rock, filled with endless hooks, melodies, vocal harmonies and a lead vocal performance that is a real highlight.
With labels such as Melodic Rock Records and the tenacity and dedication of people such as label head honcho Andrew McNiece, it's certainly a great time to be a fan of music, with many releases in recent years seeing the light of day that otherwise would be lost to a dusty old basement, or a fried up PC hard drive.  This release from Swedish singer/songwriter Chris Antblad is no exception – album completed a few years ago, originally set for release on a record label that is no longer with us, master versions of the album unable to be utilised…but the moral of the story is that finally, Century has now been released.  Perhaps only really being known to some people in the AOR community for his involvement with the Spin Gallery release Standing Tall way back in 2004, for all intents and purposes up until now, Chris Antblad has been a songwriter, having collaborated with the likes of Eric Martin, Joe Lynn Turner and Paul Carrack.
With a song writing background largely in the domain of adult oriented rock and country, it is therefore no surprise to hear that the 13 tracks on Century rest firmly in this style.  All the way from the opening track A Fire Burning through to closer Living On A Lie, Antblad delivers song after song of highly accessible and at times soothing rock, filled with endless hooks, melodies, vocal harmonies and topped off with a lead vocal performance that is a real highlight of the album for me.  With the obvious influence of Bryan Adams, there's at times a bit of Don Henley and Richard Marx in Antlbad's vocals, whilst the vocal harmonies often remind me of Australian pop rockers Taxiride, which then leads into an obvious influence from The Eagles.
The opening duo of A Fire Burning and Century are a good introduction of what you can expect on the album, but the album just keeps getting stronger and stronger with each track.  The very pure AOR of Asleep In Your Arms is an uplifting blissful gem that in terms of style is very much a cross between say solo Jimi Jamison and Journey.  The country tinged Battlefields could almost have been lifted straight off Mitch Malloy's debut album, it's a real slow burner.  Get In Your Car is straight out of the Bryan Adams and Shannon Noll songbook, a fun rocker, whilst When Fools Rush In is perhaps the most 80's sounding pop track on the album.  I Stand Corrected throws in a little curveball with a dose of Savage Garden upbeat electro pop.  Sounding more like Per Gessle's (Roxette) solo material, than say Roxette, the back to back hit of Home For Me and I'm Gonna Make You Mine probably take the prize for my two favourite tracks.  The real country tinge to Antblad's vocals and song writing style really seems to come out on the albums couple of ballads, perfectly illustrated on Be Mine.  Jealous Eyes will appeal to those who worship Work Of Art, whilst I'll Keep Holding Onto Love and Living A Lie continue on with a more AOR style and are anything but a couple of fillers to end the album.
Century really is an incredibly enjoyable album delivered by a highly talented vocalist and songwriter.  In a year where there have been some stellar releases that are likely to overshadow this album, I can only urge you not to let the potential anonymity of this one slip under your guard.
Essential Information
Release date: 30 September, 2011
Check it out if you like: Richard Marx, Bryan Adams, Rick Price, Mitch Malloy and melodic pop rock with a country tinge
Record label: www.melodicrockrecords.com

Producer: Chris Antblad
Website: http://www.myspace.com/chrisantblad

Track listing:
1. A Fire Burning
2. Century
3. Asleep In Your Arms
4. Battlefields
5. Get In The Car
6. When Fools Rush In
7. I Stand Corrected
8. Home For Me
9. I'm Gonna Make You Mine
10. Be Mine
11. Jealous Eyes
12. I'll Keep Holding Onto Love
13. Living On A Lie.