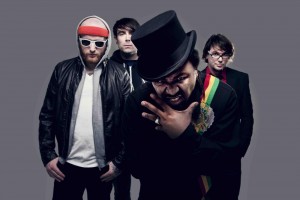 "As a frontman, I am quote antagonistic, I like to attack the crowd, but at the same time not alienate myself from the crowd.  It's a weird balance between kicking them up the ass and telling them that you love them…"
Since 1998 Skindred have been bringing it with their genre defining, well actually, let's say genre creating, blend of reggae and metal that they refer to as "ragga metal".  With their new album Union Black released on September 23rd here in Australia on 3Wise Records, the band will also be bringing their much talked about live show energy for a bunch of shows later this month, teaming up with Hollywood Undead.  This will be your opportunity to catch two of the most unique and entertaining live acts in the world today.
We chatted with Benji Webbe, Skindred's dynamic frontman about what inspired their new album Union Black and of course their upcoming Aussie visit.
Hey Benji! how are you, thanks for taking the time to chat.
Hey Scott man, how are you, I'm very well thankyou!
Where in the world do we find you today?
Right now, I am sitting looking out my window and thinking should I go for a jog or not and I am thinking that's it's going to be not haha!
So it's confirmed, you are guys are actually headed out to Australia.  That was obviously looking highly unlikely a few weeks ago with the Soundwave Revolution cancellation, you must be excited to have had that all confirmed?
Yes definitely, the good thing about Australia is we don't need to speak another language, you speak English and can understand us!  That's why I like touring Australia and America, you don't have to have someone hanging around with you translating everything and you never know if they are telling you the truth either!
Being your first time here in Australia, what are your expectations?
Well this will actually be my third time out there.  I was out there previously with my previous band Dub War and was actually fortunate enough to do that TV Show, Recovery.  It was a pretty trippy situation as I am a punk rock kid in a punk rock band and the next thing I am on National TV, which was weird.  We are looking forward to getting down there but the only thing that's going to kill us is that 23 hour flight over there.  I'm going to stack myself up with loads of drugs and hopefully wake up when we land in Australia!
Do you have any idea whether you guys have a strong following over here?
No not really, I don't know nothing you know mate.  We are in our own world, we don't know if we have a fan base down there, we haven't got a clue.  All we know is we are coming down there and we want to give you Aussies a blinding live show and create some strong vibes in Australia for ourselves.
You are teaming up with Hollywood Undead for the tour, have you ever played with them before or crossed paths?
No not at all, all I know is they are a little bit like Eminem and they wear masks, that's all I know!
You mentioned earlier about your "blinding" live show", can you elaborate on that a little more?
As a frontman, I am quote antagonistic, I like to attack the crowd, but at the same time not alienate myself from the crowd.  It's a weird balance between kicking them up the ass and telling them that you love them, you know what I mean?  As a frontman I want to bring an energy that they have never experienced before.  I want to make them feel relaxed enough to know this is something that if they want to be stand offish, they will still feel part of it.  It's a bit like church you know, everybody's welcome and everybody's got to get down.
Playing the big festivals such as Download, versus playing smaller intimate club type shows, do you guys have a preference for the types of shows, or is it just another show when it comes down to it?
Yeah exactly as you said.  I don't look at it like there's only 30 people in the room, I look at it like there's 30 people that paid to see us and I want to give them the best possible show I can give them, that's it.  There's no difference to me between a room of 20 kids and a festival of 20,000.  If you watch videos of Skindred on YouTube and you see us playing in a pub or in a stadium, we bring the same energy.  I think personally when someone plays a show and there are not many people there and complain to the audience that there's not a huge crowd, well it's just not fair. The people at the club, it's not their fault, if you are going to rag on someone, rag on the fucking promoter when the show is over!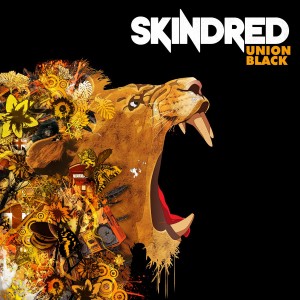 You will be releasing your new album Union Black on 3Wise Records here in Australia on September 23rd.  How did you find the recording experience this time around compared to your past releases?
Well the good thing about Union Black is that the first three albums were recorded for an American label and they really wanted us to sound like… Well on American radio, anything that sounds different really stands out, so they didn't want us to stand out for some reason.  They just wanted us to sound sonically like an American band.  When we parted company with our label from the States, which was in the best way there was no bad energy, we packed up all our stuff as we had basically spent 7 years in America, constantly in America doing stuff and headed back to England.  We did make a lot of headway in America but it was great to get back to the UK.  We wrote the record in Bristol and recorded in London and it was nice to be in England with a British producer recording this stuff.  I think a lot of the sounds on Union Black, a lot of the dub step sounds and stuff, if we recorded it with an American producer, they may not understand it as much you know.  That's not a knock, that's just the way it is.  I mean there's things in Australia that I am sure you would talk about that I wouldn't know what the hell you are talking about, stuff like TV shows and actors and shit like that you know.  That's where it was nice to be in a situation where we could comfortably talk about stuff, whether it be UK TV shows or bands or whatever, there was no explaining, everyone was on the same page.  I'm not saying I wouldn't want to work with someone else from America, but just for Union Black, it was nice to have that whole UK feel to it, you know?
You said you wrote the album in Bristol, how did this environment influence the lyrical content do you think?
I always write for me first and if you understand it, then great, but if you don't, then no big deal, you can move on and go check someone else out.  Lyrically, I always feel that if someone found the booklet from Skindred and they just read the words, I would want them to be encouraged and uplifted as if finding a great poem, or a motivating and intelligent speech.  I think it's most important that the lyrics and the words still encourage people, without the music.  So it's great to have a good beat and a great feel and a killer chorus, but if someone just reads the words, I want them to feel just as inspired.
James Loughrey handled the sound for the album, what led to you choosing him specifically?
Well James just showed so much interest in wanting to work with the band.  I said to him, you are going to get paid for this job, but if you weren't getting paid, would you still want to work for us, be honest with me.  He said, you know what, with a band like Skindred, it's more than getting a meal ticket, or getting paid, I'm challenged.  That answer is priceless!  I call the bass player for Skindred the MD, musical director, Dan Pugsley who seemed well set on James as well.  So we went in the studio and James worked like a treat.
Union Black, what's the meaning behind the album title?
For me, Union Black is a celebration of Britain's ethnicity and togetherness.  I live in a community where next door there is a West Indian fella, just across the road there are Arabs, down the street I've got Somali's and I've got Italians and Jewish and Irish and Welsh and for me living in this community, all getting along and all moving forward, it's like a celebration of the union of the United Kingdom.  Because the word black is normally associated with depression and all that, well it's got nothing to do with that.  For me when I came up with the title, I wanted something that summed up the way I felt when I was going to the train station of a morning going over to Bristol seeing all these nationalities getting along and enjoying life.  That to me is what Union Black is about, a celebration of what we've got in the UK.
You had Jacoby Shaddix from Papa Roach sing on the track Warning, what was the association there between the 2 bands?
Before we even started going to America, me and a couple of the guys in the band had always been fans of Papa Roach.  We had the chance to go over to the USA and tour with them, years and years ago.  Jacoby just seemed like one of those people that seemed like a very genuine and loving kind of guy and we traded numbers then and always kept in contact.  I never had any intention of having anyone on the album.  When we wrote Warning, there was a piece of the song that I wrote some ideas for and it just didn't feel right.  The guys said it was cool, but I didn't want cool, I wanted fucking hell, this is great!  So when we finished the piece of music and went in the studio, I just felt that what I was doing wasn't strong enough.  So we knocked around and thought about it and I realized that Jacoby was over in the UK.  So I asked him to come down to the studio and he came down, but first of all I sent him the music and asked him to come up with something for us and he refused to send it back.  I was like, ok well just come to the studio, so he came to the studio and just blew us away.  We knew that what he wrote was definitely for that song and we performed it live a few times and it's just one of those songs that gets the dance floor buzzing you know!
Well given we are out of time, just lastly, do you have any messages for the Aussie fans about your upcoming shows?
I just want people to come to the shows and rock and for people to experience something which is powerful and live and which is about unity!
Awesome Benji, well we look forward to checking you guys out in a few weeks and you enjoy that run you are going to go on a little later!!!
Haha, thankyou for the encouragement, I appreciate it, you take care brother!
Essential Information
From: Wales
Band members: Benji Webbe – Vocals, Mikey Demus – Guitar, Dan Pugsley – Bass, Arya Goggin – Drums
Website: www.skindred.net
Latest release: Union Black (Australia – September 23rd, 3Wise Records)
You can catch Skindred on their Australia tour with Hollywood Undead…
Tickets on sale NOW!
FRIDAY 23 SEPTEMBER – BRISBANE, THE STEP INN – 18+ (www.oztix.com.au)
SUNDAY 25 SEPTEMBER – SYDNEY, METRO THEATRE – Lic A/A (www.ticketek.com.au 132 849)
TUESDAY 27 SEPTEMBER – MELBOURNE, THE ESPY – 18+ (www.oztix.com.au / www.espy.com.au)
WEDNESDAY 28 SEPTEMBER – ADELAIDE, FOWLERS LIVE – Lic A/A (www.moshtix.com.au, www.venuetix.com.au & outlets)
FRIDAY 30 SEPTEMBER – PERTH, ROSEMOUNT HOTEL – 18+ (www.oztix.com.au)