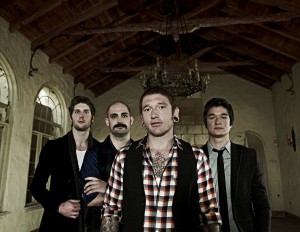 Heading to Australia for the first time to play at Counter Revolution are Florida based rockers, Go Radio.  Formed in 2008 by Jason Lancaster, formerly of Mayday Parade, the band recently released their highly anticipated debut album Lucky Street, which followed on from two EP releases.  With Go Radio, it's definitely a case of the music and live performance that does the talking, honest rock topped off by the captivating vocal talents of front man Jason Lancaster.
Alex Reed, Go Radio guitarist checked in with May The Rock Be With You and chatted about the bands upcoming Counter Revolution dates and their recent release, Lucky Street!
Hey Alex, thanks for taking the time to chat, how are things and where do we find you today?
I'm doing great thanks, how are you Scott!  We are back at home base for the band in Tallahassee, Florida.
So it's confirmed, you are guys are indeed headed out to Australia.  That was obviously looking highly unlikely a few weeks ago with the Soundwave Revolution cancellation?
Yeah, yeah that was a little scary for us as we were super pumped for it and we were like nooooooo….
The common response from bands has been disappointment that you won't be playing with Van Halen, are you also one of those bands haha?
Absolutely!  It's funny actually as we have been working with this company that does our in-ear systems called JH Audio and the sound guy is the starter of the company and we were hearing all these stories.  We were really amped about it and if you didn't have respect for, or have listened to, Van Halen at one point in your life then I don't know what you are doing in the rock n roll industry.  So we were bummed they aren't playing, but more than excited it got put back together.
Being your first time here in Australia, what are your expectations?
You know, I'm trying to keep my expectations pretty open.  I've had the opportunity of spending some time in Perth, Australia about 5 years ago and I absolutely love it there.  My expectations are kind of live it and experience every moment, it's our first international tour and I don't see how it could be bad.  A lot of our friends are on the tour and we are excited to see another country.  Sightseeing alone is going to be amazing!
Have you been conscious of a strong following for the band over here via social media etc?
You know, it is hard to tell, just based upon that.  But we have had a strong response from people letting us know they are super excited, even from New Zealand even.  So we have a bunch of people from there even coming to check us out.  So we are hoping we have a good turnout.
Being your first Australian tour, the majority will not have seen you perform live, what can we expect?
We definitely have a lot of energy. We try to put it all out there and give it 100% every time.  No matter if we are in the hot sun, or a nice air-conditioned place or even on a tiny stage or a large stage, we're going to put on the consistently same high energy show that we possibly can.  We're definitely going to play a mix of some new songs that we are releasing with our deluxe edition of Lucky Street and our old EP and songs from the album.
You have just come off the Vans Warped tour over there in the USA, how was that experience this year?
It was amazing!  It's one of those iconic festivals that you grow up wanting to play and you always hope to get there.  It was almost surreal once we were doing it and on it.  It's like you go on autopilot everyday and you have to catch yourself during the middle of it and go WOW, I'm actually doing this.  It was unbelievable, a lot of our friends were out on the tour and bands we've toured with before.  It was everything that I could have imagined and a lot more work than I could have imagined it could be.  Very sweaty, but tonnes of fun!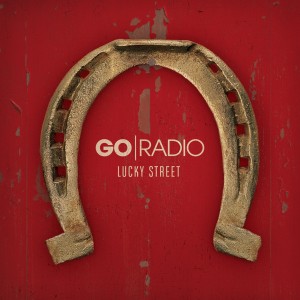 Having released 2 EP's before you released your debut album Lucky Street, was that a definite intention to establish the band first, before going down the path of dealing with a full length album?
Well we released our first EP independently before we had signed a record deal with Fearless Records and that was something we were just touring with on our own and trying to build our own fan base.  I think both EPs served as those stepping stones.  The first one was for us to get the name out there, have a CD to promote and tour on it and get ourselves prepared as a band to maybe then be ready for a record deal.  It did help us with that.  With our second EP which was our first on Fearless, that definitely was one of those buffer records where we wanted people to hear about us and get something out there that was short and sweet and almost leaving you wanting more and anticipating the next thing.  So yes definitely, they helped build up a fan base before we released Lucky Street.
How did you find the recording experience this time around compared to your EP's, in what ways do you think you were wiser heading into the album?
We actually challenged ourselves with the full length.  We went with a totally different producer that none of us had ever worked with. We really liked his past work and the stuff he had worked on before.  His name is Tim O'Heir.  But we decided as a full length it's our first outlet to really make that decision about what kind of band we want to be and what direction we let people know we are going to go in as a band and set out that path.  So that's why we went outside of the box a little bit.  It was a cool process, totally different to any process we had ever done.  A total old school mindset, we didn't really rely to heavily on computers.  We played everything ourselves all the way down to every egg shaker and every little tambourine.  It was all done live and there's even real strings.
As far as the writing process goes, we wrote a lot of that on the road because we are touring constantly.  So you can kind of get that rock touring vibe throughout the record.  Making Lucky Street is probably one of the biggest growing processes as a band we have experienced so far.  So it will probably be one of the most memorable times in my life.
You have the deluxe version of the album coming out next month, what have you got lined up on this deluxe edition?
Well we are releasing it in October and have recorded a couple of new songs for that and included some old demos and stuff.  So we are excited for that to come out and keep the momentum going and give our fan base a little more until the next record is done.
How diverse are the musical influences in the band?
You know, that's a great question as we are not one of those bands where all of us listen to the same CD.  We have as many different influences that you could probably imagine a band having.  We all have different backgrounds, I grew up in Michigan and the other guys were from different states.  Matt our bass player listens to anything from old folk and old country, through to high intensity aggressive rock n roll like Foo Fighters and all that.  Then I think our drummer Steve, well I think his favourite band is No Doubt.
And what about you as a guitar player Alex, who have been some of your greatest sources of influence?
Hmm, well Steve Vai was one of the ones I listened to, just as a guitar record, stuff like that guitar wise was pretty cool for me.  But as far as a rock n roll band, Foo Fighters have been one of those bands that I have loved what they have done with guitars.  Pat Smear has just been fantastic.  As far as modelling what I like to play, definitely the Foo Fighters.
After you head back to the USA after Australia, you have a pretty busy touring schedule that takes you through most of November, is it then a bit of a break to see out 2011?
After Australia, well we fly straight into the Yellowcard, then a little break for the holidays.  Then probably back on the road, but we hope to spend a little bit of time writing over the holidays.  But definitely back on the road for the spring!
So in closing do you have any messages for the Aussie fans about your upcoming shows?
We are more than excited to be coming over there and we can't wait to see a new country and meet a whole bunch of you guys that we have been talking to online that we haven't gotten to meet yet!  We will be spending as much time out in the crowd as we will on stage, so come and say hi!
Essential Information
From: USA
Band members: Jason Lancaster – Vocals/Guitar, Alex Reed – Guitar, Matt "Burns" Poulos – Bass, Steven Kopacz – Drums
Website: www.wearegoradio.com
Latest release: Lucky Street (2011, Fearless Records)
You can catch Go Radio on the following Counter Revolution dates:
SATURDAY 24 – BRISBANE, THE RIVERSTAGE
SUNDAY 25 – SYDNEY, BIG TOP LUNA PARK
FRIDAY 30  – MELBOURNE, FESTIVAL HALL
SUNDAY 2  – ADELAIDE, JUBILEE PAVILION, SHOWGROUNDS
MONDAY 3 – PERTH, CHALLENGE STADIUM