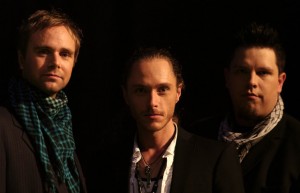 We feel that this record could appeal to people who thought Artwork was a little to "soft", but still we think that those who liked Artwork maybe will like In Progress too! My personal belief is that this kind of music really could appeal to a lot more people, given airplay on radio and TV.
Work Of Art – well the Swedish bands second album In Progress is far from still in progress that's for sure.  If you are looking for a perfect example of what AOR music is all about, then look no further than what is destined to be one of the genres albums of the year.  Song after song of soaring melodies, catchy chorus's, heavenly backing vocals and outstanding musicianship and songwriting.
On the eve of the album being released, guitarist Robert Sall and drummer Herman Furin kindly answered our questions.
For our readers who may not be familiar with Work Of Art, can you explain briefly the music of Work Of Art?
Robert: Very melodic rock music with lots of hooks, catchy choruses, both guitar and keyboard driven, very uplifting with lots of energy!
On August 26th, you will be releasing your 2nd album, 'In Progress'. Musically, how do you compare the new album to your debut album, 'Art Work'?
Herman: In Progress is more of everything! We all performed better, and stepped up in every way! Production wise, we reached a new level, and found the sound we were looking for. We also got fantastic help with mixing by the great Bo Reimer and he set the bar high for Lars on the other tracks. Lars came through and did amazing mixes on his part!
Given the awesome response your first album received from within the AOR community, did you feel great expectation coming into this 2nd album?
Herman: Of course! When we talked about doing another album, the first thing we said to each other was: it has to be good!  In the end though, we felt that this is a strong album we can be proud of!
Your first release 'Art Work' was an AOR lovers "wet" dream and the song clips you have posted so far from 'In Progress' certainly sound like delivering the same. Are the songs you write for Work Of Art influenced by what you anticipate fans of AOR want to hear, or are the songs purely driven by what Robert Sall and Work Of Art wish to write and record?
Robert: I think when we we please ourselves we please our fans. If you liked our first album, then you know what you can expect form this album as well. The biggest challenge for me is to write songs that both Herman and Lars like. But it's a fun an inspiring challenge.
Compared to the process you undertook for writing and recording 'Art Work', how different was the process for 'In Progress'?
Robert: The biggest difference was that with this album, we started totally from scratch. With Artwork, we had a lot of song ideas from the past 10-15 years, we could choose from, but on this album it was all new material. Otherwise, I think we took everything we learned from making the first album and just brought everything up a notch.
Were there any key lyrical themes that you explored throughout the songs on 'In Progress'?
Robert: There are a lot of "break up" songs on this album, but, going through a tough break up myself during this time, it felt natural to write about it. But, the album ends with a very positive song, go figure…..
In terms of your song writing, what do you consider to be the most important ingredients that need to feature in a Work Of Art song?
Robert: First of all, a strong melody with a catchy chorus. Also, I try to find some clever hooks in the guitar and keyboard arrangements to support that melody. Harmonically, I really like to throw in some unexpected changes to keep it fresh and exciting. And of course, Lars outstanding background vocal arrangements play a huge role in our sound.
Regarding the origins of the songs that were recorded for 'In Progress', did some of them date back to the writing sessions for 'Art Work', or did they all come from writing sessions specifically for the new album?
Robert: All songs were new except the song Fall Down which we recorded an early version of for the Artwork album. But we only kept the chorus and re wrote everything else on this new version.
Reading your Myspace page, your album was completed way back in early October 2010, what resulted in the album release being seemingly so far away in late August 2011?
Herman: Actually we thought that the album was going to be released late 2010, or perhaps early 2011, but our label had other plans.  According to them, they didn't want our album released at the same time as Whitesnake, as an example.
Since you released your first album, there certainly seems to have been an increase in the interest in the AOR/melodic rock genre worldwide, do you sense this also and do you anticipate there being an even greater response to 'In Progress'?
Herman: Hopefully! We feel that this record could appeal to people who thought Artwork was a little to "soft", but still we think that those who liked Artwork maybe will like In Progress too! My personal belief is that this kind of music really could appeal to a lot more people, given airplay on radio and TV.
Is the plan this time around to tour and play shows in support of the release?
Herman: Yes! We are making preparations for touring and shows and are talking to a lot of people about it.
Knowing that Toto is such a great influence on the band, it must have been a major buzz for you personally to contribute in a song writing capacity to the upcoming Bobby Kimball and Jimi Jamison album?
Robert: A true honour indeed and I'm very proud that both my songs are featured as video clips as well. Actually, the first songs I wrote for that album was The Great Fall but Herman and Lars liked it so much so we kept it for In Progress. Anyway, it's always a privilege to work with with someone you idolized as a kid, a "dream come true" for sure. Also, having writting songs for both Joseph Willams (the Williams/Friestedt record) and the new Fergie Frederiksen record, it kind of completes my "hat trick" in Toto singers haha;)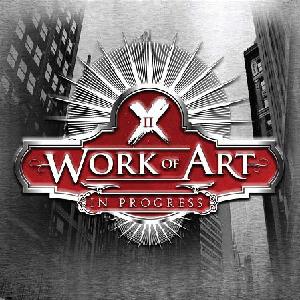 Robert, how have you personally found the experience of writing and working on other projects such as W.E.T, do you feel that has helped to give an appreciation of what you have, and want to achieve with Work Of Art?
It's always great and inspiring to get the chance to do outside projects like W.E.T. It was an absolute treat to be working with Erik and Jeff and coming off that record, I was really hungry to get back to do new music with WOA. "There's no place like home".
Speaking specifically of song writing, who are some of your greatest influences?
Robert: David Paich is, of course, my childhood favourite songwriter. He is probably the only songwriter that I totally idolized. But otherwise, I'm really influenced by songwriters like David Foster, Richard Page Jeff Paris, Jim Petrik, Desmond Child etc. The list goes on……
Do the musical influences in the band differ significantly, or do the three of you share very similar influences?
Herman: I guess we share a whole lot of favorites, like Toto, and Robert and I have much in common there. Then again, we all branch out in different styles, and like different styles as well.
Here's a chance to gaze into your crystal ball, by the end of 2011, Work Of Art will have done the following:
1. Played Live!
2. Played Live!
3. Played Live!
Essential Information
From: Sweden
Band Members: Lars Säfsund – vocals, Robert Sall – guitars, keyboards, Herman Furin – drums
Website: Official Facebook Page
Latest Release: In Progress (2011, Frontiers Records, Riot! Entertainment)