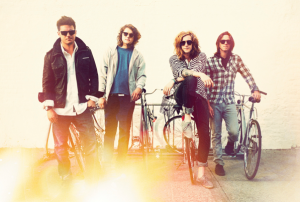 "One of the songs on the record called Say You Like Me, I actually wrote about a girl in Queensland who literally won me over.  Like every girl there is so incredible, their accents are amazing, they're so beautiful and so much fun to hang out with….."
Delivering a much needed dose of sunny summer vibes during what has been a long cold winter here in Australia, We The Kings have just released their brand new album Sunshine State Of Mind, full of good times and infectious summer anthems such as first single Friday Is Forever.  In a few weeks, We The Kings will be returning to our shores for the second time this year where they will be playing shows with fellow popsters, You Met At Six.
Fresh from battle on the paintball fields and with the smell of BBQ in the air, we chatted with vocalist Travis Clark about the new album, what he loves about Aussie girls and of course what he is most looking forward to about the upcoming Aussie shows.
You can also check out our recent interview with You Me At Six right here, and also here's all the information you need for the tour…..
Hey Travis, thanks for taking the time to chat with May The Rock Be With You!  So where do we find you right now, you are in the midst of a tour right now aren't you?  How is that going…
We are.  We actually just got done with the craziest thing we have done out on tour.  We had this paintball company pay us to come out and play paintball with all their equipment and stuff.  So we played band versus crew and against other bands.  I have welts all up and down my body, it's crazy.
So that's going to be fun then I'd you have a show tonight?
This was actually our day off today, we just sparked up the grill and cooking some hot dogs and hamburgers and doing a bit of drinking outside the hotel.
So you have just released your new album, Sunshine State Of Mind which I don't think has quite hit stores yet here in Australia….here's your opportunity to tell us why should we buy it!
I think it's just an all round great record.  It's a perfect follow to the hit single we had with Check Yes Juliet, a lot of the songs are perfect this time of year songs.  It's now summer over here in the USA right now and a lot of the lyrical content will remind you of summer or get you excited for the summer that's coming up.  I think this is definitely the best work we have ever done, the lyrics are more intimate, the music is a little more fun, I guess.  I'm really excited about it, I love that we are able to put out three records and especially now that Australia has had so much support coming our way, it's really incredible to have a totally different part of the world loving our record. I've heard nothing but good stuff so far from all the people over there who have bought the record. I'm so happy and proud of this band and can't wait to get back over there.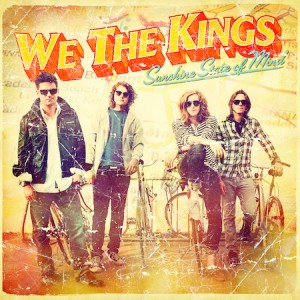 The title is Sunshine State Of Mind, is there any significance behind the album title and the fact you have released bang in the middle of summer over there in the USA?
Yes definitely.  We come from Florida which is considered the sunshine state and I know Australia has a sunshine state too right.  Well one of the songs on the record called Say You Like Me, I actually wrote about a girl in Queensland who literally won me over.  Like every girl there is so incredible, their accents are amazing, they're so beautiful and so much fun to hang out with.  I wrote a bunch of songs about my experience when we came over there for Soundwave Festival and we just thought it was so cool that sunshine state Queensland was where I met this girl and where we are from in Florida, so that's why we named our record that.
Compared to your last album, Smile Kid, how would you describe this new album in a musical sense?
On this record what we really tried to achieve was to have a record you could play all the way through without having to skip a track, almost as though it was a movie.  When you are watching a movie for the first time, you don't skip a scene or you will miss the point, so I thought this would be a really good record for us to make a full record so someone can sit down and take in the entire thing abs listen to what was being said.
How did the song writing evolve on this album, was that anything significantly different to your past releases?
This is the same exact style we have written songs before.  I usually lock myself in a room, wherever that may be and I'll sit there with an acoustic guitar and write and write and write and eventually I will come out with a song. Then I will bring it to the rest of the boys and we will work it out together and try make it into a full We The Kings song.  We feel like that process works, so until it's broken, we are not going to fix it.
You released a video for Friday Is Forever which looked like a bunch of fun to make, do you have any funny stories to tell from it's recording?
Haha yeah that was amazing actually!  We had a police escort following us around L.A the entire time.  We tried to get some of the nicer parts of Hollywood and some of the trashier parts which is  all this homeless people. When the police escort would enter those areas all the homeless people would start sprinting away because they thought they were being arrested.  There was stuff we didn't put into the clip as the cops didn't want to bring negative attention to some of the parts of L.A.  It was just really funny to see them pick up all their stuff and scrambling to get away from the cops!  It was such a fun video to make, there was no real plot or anything to it, it was just a fun video to shoot.
What are the musical influences in the band, do they vary greatly?
Yes I think so a lot.  I grew up in Blink 182, Jimmy Eat World and Green Day.  My mum taught me every single song she ever new when I was growing up as she used to be a singer songwriter.  I have this wild crazy list of bands and artists I am so amazed by, but the other guys have a bit more of a specific view of what they listen to.  Our drummer listens to stuff that is a little more drum based and loves the harder stuff such as hardcore music.  Our guitarist is really into southern rock and classic rock bands and our bassist is into bands like The Pixies or Flaming Lips and Pink Floyd, so it's really cool to see us all coming from different musical backgrounds and playing the music that we do.  We all love what we do and love the music so it's cool to hear each song and how it's influenced in a certain way.
You guys headed to Tel Aviv recently…how did that opportunity arise?
That was unreal, we went over there to film a music video with this crazy technology. It was actually cheaper for us to fly all the way to Israel than fly the director and producer to the States and film it.  We kind of looked at it like a vacation and we didn't think we would have any fans in Israel.  When we arrived at the airport there was about 50 kids with signs, screaming, balloons, candy and I felt like I was one of the Jonas Brothers walking off a plane haha!  It was so amazing to see we had fans that far, they all came to the video shoot and were part of that.  Tel Aviv is a beautiful place and we honestly didn't think it would be like that, it was such a great time.
So you are headed out to Australia soon for some co-headlining shows with You Me At Six…have you guys played much together before?
They've been like our tour brothers ever since we've been fully touring.  They were one of the first bands we went on tour with, it was Warped Tour, they took us on tour in the UK where they are huge, they are starting to get recognised here in the USA so we took them on tour here.  We have talked for the longest time about doing a co- headlining world tour, what better place to start than Australia which is honestly one of my favourite places in the entire world.
You were out here in Australia for Soundwave 2011 and a few sideshows, what were some of the highlights from this tour?
It was amazing, some of those bands we were playing with!  When people would ask who are you out on tour with and we would say oh, nobody that you might know, Iron Maiden, Slash etc and they would be freaking out about the bands we were playing with.  It was such an amazing tour and I think the perfect one for us to be introduced into Australia.  We really had an opportunity to meet lots of fans and other bands and we got a few days off in each city so we also got to do sideshows which were incredible, we did the whole touristy thing and hung out at beaches and partied etc.
What are you expecting this time around, given you were here earlier this year and have just released the new album?
Our label was saying to us that it might be a little different as Check Yes Juliet was such a huge single and people know who you are, so it will be different how many people might be coming to the shows and how crazy it will be.  Thats what I look forward to as I love meeting fans and if they are crazier now, I am even more excited!
Well that's our time, hope you guys have a great tour out here in Australia and look forward to catching one of the shows!
Thankyou man, I really appreciate it
Essential Information
From: USA
Band Members: Travis – vocals / guitar, Hunter – guitar, Drew – bass, Danny – drums
Websites: www.wethekingsmusic.com & www.soundwavetouring.com
Latest Release: Sunshine State Of Mind – (2011, Liberator Music)
Catch We The Kings and You Me At Six on their Australian tour:
Saturday August 27, The Tivoli, Brisbane, QLD
Sunday August 28, UNSW Roundhouse, Sydney, NSW
Tuesday August 30, The Hi-Fi, Melbourne, VIC
Wednesday August 31, The Hi-Fi, Melbourne, VIC
Thursday September 1, Fowlers Live, Adelaide, SA