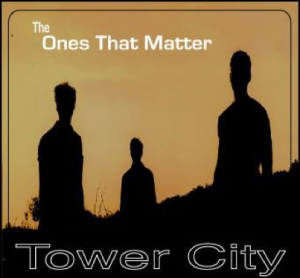 "Thanks for making us feel special at this moment in time. This is why we are doing this. We hope we don't disappoint!  And, we truly appreciate you more than you know….."
Tower City, the American trio who formed in 1988 and best known for their album 'A Little Bit Of Fire' which has a cult following amongst AOR loving fans worldwide, largely Europe.   The album, recorded back in 1992 and which features some of the best AOR songwriting you are ever likely to hear, sadly looked destined to never be heard, until MTM Records released the album in 1996 which gained the band a cult following worldwide.  With the songs on that album having been written and recorded years before, by 1996, the band had since become known by the name Colorvine, which delivered a more progressive and alternative form of melodic rock that gained them a strong following within the USA.
Now here we are in 2011 and the music of Tower City will be heard in a way it never has before….a selection of their "greatest hits" have been re-mastered and are soon to be released under the title ofThe Ones That Matter, along with four new tracks that have been recorded in the last 7 years.
With the prospect of an interview just too hard for us at May The Rock Be With You to refuse, we tracked down brothers Heath and Larry Saltis who share the amazing story of Tower City, a story that hopefully for the bands fans worldwide has a few more chapters to be finished yet!
Thanks for taking the time to answer these questions and chat about Tower City, Colorvine and importantly, your new release 'The Ones That Matter'.  Firstly, I have to ask, what was the catalyst for going back to the archives of the fore mentioned bands and re-releasing & re-mastering some of these songs, as well as recording 4 new songs for 'The Ones That Matter'?
We have never been inactive as musicians. Our music may not have been represented as we felt it should have the first time around. We went back and looked at a lot of the tracks, picked some of our favorites, eliminated some that involved outside entities, and revamped a collection that we could be proud of presenting to those listeners that still cared. The new tracks are representative of our growth together after the Tower City days.
What has kept you guys busy in the last decade or so, have you been heavily involved in music?
We all have our own lives, living them in our own ways, but the history of our music careers together has kept our bond. This collaboration has reminded us what our true strengths really are. If you love to write and play, it never leaves you. To have the bond that we had/have is a true blessing, and it always comes back to fruition. Tim is a Berkley College Graduate/composer/session player-extraordinaire, Heath is active in other projects such as his new collaboration, Halo for Adam, and Larry is always the Producer/sounding board for upcoming talent. Tower City and Colorvine will always be our base though.
Going through the process of choosing songs for 'The Ones That Matter', obviously you would have reflected on these songs that were written/recorded some 15 to 20 years ago.  What are your general thoughts now looking back?
Heath started the whole process. There was skepticism at first, but it has brought us together with great memories that haven't surfaced in a long time. Time passes, people change, but the music remains. This has been a truly nostalgic experience. We have dealt with a lot over the years, shared a lot of heartache, laughter, and matured in the process. We've also dealt with big players in the industry, and it's nice to be doing this on our own terms.
What was the process you undertook of choosing the songs to feature on the new album as there's obviously over 40 songs from the history of Tower City and Colorvine to choose from!
We focused on Tower City tracks first seeing as how that is where our larger audience base is in Europe. AOR has a true and loyal following there. We needed to revisit this process and represent ourselves personally due to the fact that the second Tower City album was not done well and was a bit out of our control. The 4 newer songs are rare Colorvine-oriented and unreleased tracks that fit the song collection well, and were recorded in the last 7 or so years. We will release a Colorvine compilation soon.
On your new release there are going to be four new songs featured, how would you describe where your songwriting is at in 2011?
A writer has to evolve. We love the AOR community, and handpicked these four songs to complement the Tower City songs. They are melodic, American Rock, with solid vocals and groove. Hopefully they will be enjoyed as an addition to the 12 songs.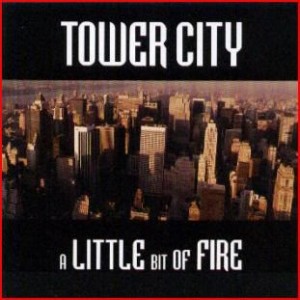 Has the process of writing and recording new material re-ignited any fires to release maybe an album worth of new material under either the Tower City or Colorvine banner(s)?
Nothing is off the table….where there's a will there's a way. We are going to see how this release does. If there is still an audience that demands material, writing comes naturally.
Not taking away from 'The Ones That Matter', but I am sure this will create interest in the original Tower City and Colorvine releases, are these something that you may also eventually re-release as well?
Good question, but I think we are focused on this new release. We love "A Little Bit of Fire"; it was released under MTM records. We licensed the original material in Europe and own all the masters. Colorvine is still somewhat of an enigma to a lot of the world. We would love to release that material in a full blown compilation assortment. Maybe even the first record in its entirety as well, and then we could release the "Green Record" in a compilation format.  Those tracks have never been heard.
So let's delve into a little bit of the history of Tower City.  Despite in the late 80's/early 90's you guys having been signed to major labels, what 2 or 3 times?, that AOR/melodic rock classic 'A Little Bit Of Fire' didn't see the light of day until 1996 when released on Swedish label MTM Music.  Why did it take so long for this album to finally get released?
We were caught in the crossfire of Los Angeles Rock Politics and Grunge crossfire. When the Seattle scene hit we were somewhat caught in the middle. We  were signed to major recording contracts but never got to actually professionally record the songs we were signed with.  In fact,  "A Little Bit of Fire", the entire record, was completely recorded in our apartment. There was too fickle of an environment in the industry at that time. One thing leads to another and someone has to lose. We look back and wish we could have embraced our AOR brethren better. We just didn't understand the European market in 1996. We were actually very focused on Colorvine, a different project, and the Europeans were eating up Tower City. Oops, bad timing! We won't make the same mistake twice. That's why we are so thankful for the support the AOR crowd has given us!
For me personally, the 'A Little Bit Fire' album is littered with virtually everything that I love about music.  In a songwriting sense, what were you guys influenced by at the time when those songs were written?
We grew up influenced by everything from Duran Duran, Boston, AC/DC, Jazz, Bee Gees, Synth Pop, Def Leppard, and Funk. Those songs came from the heart at a very specific time and influential moment in rock history. We do feel the songs were differentiated by our songwriting skill, but, the sound of the production fit right in the big bands at the time. Our good friend and partner Scott Sanders who is featured and credited on "The Ones That Matter" had a lot to do with the sound and recording of that record. He is the one that re-mastered the recordings as well. He is very influential in the sound effects industry and the fourth member, behind the scenes member, of Tower City.
Listening to the sound/production of the songs on 'A Little Bit Of Fire', stylistically, they are obviously very reminiscent of what was happening at the time in the late 80's, with the big production etc.  Whilst you guys ended up self producing the songs, was there any big name producer involvement in the earlier stages when you were involved with major labels?
We were tied to various producers yes. We wound up firing them all. They all seemed to forget that the reason they were working with us was because of who we were and how good the band was at performing live.  How we were classified as songwriters was the main reason the record companies were interested in the band the first place. So, when you end up working with people who forget all those things you end up with a one-sided relationship.  And, we always felt that the songwriting process went hand-in-hand with the production process.  It was meant to be a team effort and not someone else's creation.  That is why Scott Sanders, our fourth member behind the scenes, had the biggest impact on the Tower City recording process. He is influential in the L.A. film scene currently, a devoted friend and partner, and very much a part of the current album as he did all the re-mastering work for "The Ones That Matter". I think all our past experiences add to the reason why we are putting this release together. It represents freshness over manipulation.
To clarify, at least for me personally haha…whilst both Tower City releases came out in 1996 and 1998 respectively, when were these songs actually recorded?
They were recorded in 1992. We affectionately and deservingly detail our studio at the time as "In House Studios", meaning our apartment or basement. Some recordings were produced on holidays to our hometown in Ohio, but mostly in our L.A. apartment. Not bad, eh?
You were based in L.A for around 5 years over during what would have been the glory days of hard rock, were you guys active on the live circuit during this time and what were some of your more vivid memories, good or bad of being in L.A during that time?
The record companies signed us from private showcases, which were common at the time. However, our desire was to play live on the circuit, which never happened in L.A. because we were forbidden contractually to perform anywhere on the Sunset Strip for fear that some other band would try and copy our songwriting chemistry. And, that was especially disappointing seeing as how the reason we got signed in the first place was because we were better 'live' than how our demos sounded.  When we moved back to Ohio, we played regionally and toured around the Midwest like crazy. That was great. The L.A. scene is always nutty as you can imagine. Back then, we were out there for one reason; to play live and get signed. We have always been songwriter-focused musicians, but, we packed a big punch when we were performing. Not only did we sound better than the recordings – we kicked some serious butt and came across 'heavier' in a live setting than anyone could have imagined.  If you came to a Tower City or Colorvine show, you definitely got your money's worth.  Too bad the scene in LA never got to see it.
In Tower City, we see predominantly the melodic rock/AOR side of your songwriting, whilst Colorvine takes on more of an alternative and at times, funk sound. What was the musical upbringing and influences of you guys, as you certainly covered a wide variety of styles under both bands?
As above, we have all been musicians since birth. When you have music in the home from the 70's on, there are influences from every genre. Heath was raised on piano and took over drums. Tim is a funk bassist that is classically trained and can rock. Larry was a classically trained guitarist at 13 yrs. old, but, rock took him over in the 80's. We have been friends feeding off each other from various influences for years. Most importantly, we like good music regardless of the genre.
As mentioned, Colorvine took on more of an alternative rock style.  Given the timing of when these songs were recorded, was this just the natural progression of where you guys were at in terms of your songwriting?
Possibly. Heath actually took over the physical position of drummer instead of keyboards and the programming and hiring drummers at the time. We were ready for a change and it did happen naturally. It was raw and aggressive. Something clicked that we didn't know was in us. The "Colorvine Black" album is our first independent release and a true benchmark for our careers as musicians. It rattled our Tower City fans and established a large following regionally at home. It even made the Grammy nomination list in 1996. We must have hired the right promoter I guess! Lol!
The interest in melodic rock/AOR in the last year or 2 is as healthy as I can certainly remember it being for quite a number of years.  What are your thoughts on some of the new music coming out in that arena in the last few years…that is if you have listened to any of it?  How do you think the 'A Little Bit Of Fire' album compares to some of the stuff being released in 2011?
Comparatively, "A Little Bit of Fire" musically stands on the merits of its songwriting alone.  We think what has changed is the electronic recording capabilities that didn't exist at the time, such as Pro-tools or Logic which we can record on now and send files back-and-forth across the internet. We don't have a lot of direct access to a ton of AOR acts per say, but we respect any artist that puts out music for the subjective opinion of any audience. Like we said before, we are song guys, and that means "if you write good music our ears are open". On the other hand, if it's not that good, we're not here to criticize. We're musicians, not critics.
Here you are doing an interview with an Australian based website and I know from things like Facebook etc, there are certainly other countries far and wide where your music has extended.  What is your response to the interest in your music that still exists here in 2011 and the corners of the globe it has reached over the years? 
God bless all those that have had an open ear after all these years. We hope you are ready to hear some more, including some you haven't before! We said it once, and we'll say it again…TIME PASSES, PEOPLE CHANGE, but THE MUSIC REMAINS!!!  We have worked very hard on this new compilation and our new website to access our fans – www.towercity-colorvine.com – and we hope you are all as excited as we are. Hopefully we will be able sometime to share a rare moment live with you all in the future. Thank you very much. Check our band page out on Facebook for updates as well:
http://www.facebook.com/#!/pages/Tower-City-Colorvine-Rock-Band/170595206315279
Thanks for your time, anything else you wanted to share or say that might have been missed, here's your chance….
Thanks for making us feel special at this moment in time. This is why we are doing this. We hope we don't disappoint!  And, we truly appreciate you more than you know.
Essential Information
From: USA
Band Members: Larry Saltis – Lead Guitars and Lead Vocals, Heath Saltis – Drums, Keyboards, Backing Vocals, Tim Paul Weiner – Bass Guitar and Backing Vocals
Websites: www.towercity-colorvine.com
Latest Release: The Ones That Matter  (2011, Out Now)
Purchase via CD Baby right here: http://www.cdbaby.com/cd/towercity