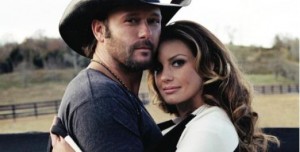 Country music's reigning king and queen, Tim McGraw and Faith Hill will tour Australia for the first time together next March, promoters Rob Potts Entertainment Edge and Chugg Entertainment announced today.
The Tim McGraw & Faith Hill / Australia 2012 tour will be the first time the country music superstars have toured together outside of North America, will be Hill's first time touring Australia and will include them performing separately and together.
It will feature their massive hits including McGraw's Live Like You Were Dying, Everywhere, Real Good Man and Hill's Breathe, This Kiss and The Way You Love Me, as well as duets It's Your Love, Let's Make Love and I Need You.
In addition to their already-announced headlining performance at CMC Rocks the Hunter, the six-concert tour will play a night in each Perth, Adelaide, Melbourne and Sydney, and two nights in Brisbane.
Tim McGraw & Faith Hill / Australia 2012 will mark almost five years since the power couple last toured together and will be only the fourth time they have ever done it – first in 2000, then 2006 and 2007.
The 2006/2007 tours made theirs the highest-grossing country music tour of all time, and the highest-grossing that year, full stop, beating out the likes of Madonna, Tom Petty and Crosby, Stills & Nash.
The long-awaited Tim McGraw & Faith Hill / Australia 2012 tour kicks off at the Burswood Dome in Perth on March 14, plays the Adelaide Entertainment Centre on March 16, CMC Rocks the Hunter on March 18, the Rod Laver Arena in Melbourne on March 20, the Brisbane Entertainment Centre on March 23 & 24 and wraps up at Sydney's Allphones Arena on March 27 (Sydney's Acer Arena became Allphones Arena on September 1).
McGraw and Hill have been dominating the charts since the early 90s, and have produced 70 million record sales, 8 Grammys and 46 US number one singles between them.
Hill, a multi-platinum crossover artist whose hits This Kiss and The Way You Love Me are recurrent playlist favourites on Australian radio, has performed at the famed Super Bowl twice, The Academy Awards and The Grammy Awards. She has graced the covers of, amongst other publications, People Magazine, Marie Claire and In Style.
McGraw returns to Australia following his Southern Voice tour in 2010. McGraw's Brisbane Entertainment Centre concert sold out within fifteen minutes, shows in Sydney and Melbourne followed suit, and promoters added a second Brisbane and an outdoor show in Townsville.
Of any musical genre, McGraw was USA radio's most played artist of the past decade, receiving 7.8 million spins. McGraw is a musician and an actor with roles in Flicka (2006), The Blind Side (2009) and Country Strong (2010) alongside Gwyneth Paltrow.
Tim McGraw and Faith Hill are autonomously amazing, but together they're a partnership powerhouse, particularly when it comes to touring.
Don't miss Tim McGraw and Faith Hill touring together for the first time in Australia.
Tickets go on sale Friday, September 16 at the special time of 2pm (local).
TIM MCGRAW & FAITH HILL / AUSTRALIA 2012
Wednesday 14 March
Perth, WA Burswood Dome
Friday 16 March
Adelaide, SA
Adelaide Entertainment Centre (Arena)
Sunday 18 March
Hunter Valley, NSW
CMC Rocks the Hunter
Tuesday 20 March
Melbourne, VIC
Rod Laver Arena
Friday 23 March
Brisbane, QLD
Brisbane Entertainment Centre
Saturday 24 March
Brisbane, QLD
Brisbane Entertainment Centre
Tuesday 27 March
Sydney, NSW
Allphones Arena (Acer Arena became Allphones Arena on Sep 01)
More info: www.chuggentertainment.com
WebLinks: www.faithhill.com & www.timmcgraw.com