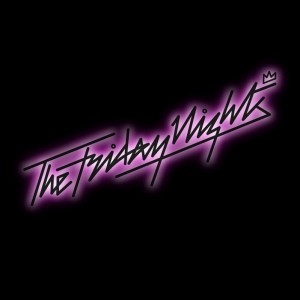 Official bio:  It's a long way from the blistering cold of Stockholm to the sunny beaches of southern California. This, however, doesn't concern Swedish powerpop trio The Friday Nights.
What they sound like? Well, you know that feeling you have when you are on the early stretch of the highway as you go through gear after gear to pick up speed? Listening to a song by The Friday Nights is like being on that stretch for 3 minutes while constantly gaining velocity. A crash is inevitable and you are most likely to crash into a Malibu beach-party.
The bands debut album is currently being recorded in London and Stockholm. It is a display of a band totally on top of their game in terms of song writing and playing. This one is truly all killers and no fillers!
Let's start with the basics first – what brought the band together and what is the inspiration behind the band name?
Erik and I decided to start a rock and roll band that was supposed so sound kind of like AC/DC. We went to Erik's studio, drank a lot of glögg (Swedish mulled and spiced wine) and after a few hours the first song was written and recorded. The song was "Angela" and it didn't sound like AC/DC at all so we decided to go in a different direction.
The band name came from when a girl I used to date said that our songs is the perfect music to listen to when you're getting ready to go out to party on a Friday night.
You have twenty seconds in an elevator to try and convince someone to listen to your music, what do you tell them?
"If you don't listen to The Friday Nights, I will."
Can you introduce each member of your band and give us a rock "n" roll fact or myth about each of them?
Peter – drums and vocals. He's a carpenter, just like Jesus.
Erik – vocals and guitar. He loves Slayer.
Johannes – bass and vocals. I scored 100% on all the math exams in fourth grade. First time ever that happened in that school.
You have been busily recording songs in Stockholm and London for your forthcoming album.  Can you give us an update on how this process is coming along and when we might get to hear the finished product?
We're still unsigned so I don't have a release date. We're starting to mix the album in September and we hope to have a record deal when the album is mixed. However, the mixing process will take a while so unfortunately I don't think the album will be released in 2011.
In terms of your song writing, what do you consider to be the most important ingredients that make up The Friday Nights song?
Great melodies. Always. The melodies combined with Erik's voice, punk rock rhythm section and then we drown it all in 80's keyboards. The trick is to not fear the pathetic.
Is the process of song writing a whole of band affair, or do you have a few key contributors?
Erik and me (Johannes) write and produce all the music together. Erik writes the lyrics. Some lyrics are written by Miqael Persson or Daniel Jäger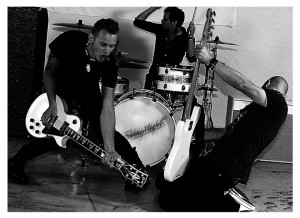 What or who inspires/influences your music the most?
When we started the band we were very influenced by late 70's / early 80's power pop. Today the influences isn't that narrow, today you can hear influences from 80's synth pop, 80's hard rock, contemporary indie rock, punk rock etc. If it's good and we like it, we will be influenced no matter what kind of music it is.
What bands did you grow up listening to and how did they help create the style of music that can now be heard throughout your music?
We in the band have very different musical backgrounds. I (Johannes) grew up listening to punk rock, Erik was always a heavy metal fan and he will probably stay true to heavy metal until the day he dies. To be honest, I don't know anything about what Peter used to listen to when he was growing up but today he is listening to a lot of contemporary rock music.
What kind of movie do you think your music would be best suited to and why?
Wayne's World 3. I would love to see Wayne and Garth singing one of our songs in their car.
I know you have played a handful of gigs in your relatively short existence.  What can one expect from spending 45 minutes at one of your live shows?
Well, this isn't the time to be modest so I'm just going to say it – we are an amazing live band. We sound as good live as we do on our recordings and we stole all stage moves from The Clash and Paul Stanley. Can't go wrong with influences like that…
Over here in Australia, Sweden seems to have a never ending supply of awesome rock, pop and metal bands.  For those reading this in galaxies far, far away, what do you have to say about the Swedish music scene from which you originate?
There's a lot going on in Sweden now. Two of my favourite Swedish bands are Mike Snow and The Amplifetes. Peter, Bjorn & John is another great band.
With 2011 already a few months down, here's a chance to gaze into your crystal ball.  In 2011, The Friday Nights will have:
1. Completed the album.
2. A record deal.
3. An Orange Amp sponsor deal. (Orange, if you read this, CALL US!)
Essential Information
From: Sweden
Sounds like: Infectious power rock, pop, punk!
Band members: Peter – Drums, Erik – Lead vocals & guitar, Johannes – Bass
Website: www.thefridaynights.com
Latest release: TBA