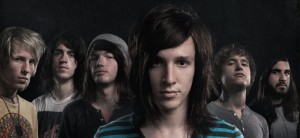 "We bring a lot of energy and a lot of that is my job to try and pump up the crowd and get them involved!  So long as Australia is down to moving around, I think we are going to get along just great!…"
Like many bands on the Soundwave Revolution lineup, The Word Alive find themselves in the enviable position of getting their first opportunity of touring Australia.  Having last year released their debut album Deceiver, the band has found themselves touring relentlessely and capitalising upon their stature as one of heavy music's rising talents.
Chatting to vocalist Telle, we confirmed loud and clear his own thoughts from watching Parkway Drive footage that Australian crowds certainly know how to move to heavy music, so I think it's safe to say The Word Alive is going to deliver one hell of a show at Soundwave Revolution.  Read on for our chat…
Hey Telle, thanks for taking the time to chat with May The Rock Be With You!  You guys are out on the Vans Warped tour right now aren't you, how is the going so far?
It's been amazing, this summer has been really beneficial for our band and it's been a great showcase to show the improvement our band has made live to really come into our own, so I am excited about it.
So in September you are headed out to Australia, for Soundwave Revolution.  You guys obviously must be excited to be coming out here!
I'm definitely beyond excited, I'm wanting to see what it's all about over there. I've seen a lot of Parkway Drive videos and the crowd seems to know how to move around to some heavy music, so I'm waiting to see what these shows are all about.
You are going to be out here for a over a week, what are you looking forward to most about being in Australia?
The one thing is trying your guys sushi, I want to see how it compares to here in the States.  I am a huge sushi fan.  In general just being a tourist and seeing your country that I have dreamt about going to since I can pretty much ever remember of knowing of Australia.
Have you had a chance to check out the rest of the Soundwave Revolution lineup, any bands you are personally looking forward to checking out or playing with?
I've seen quite a bit of the lineup, we have some of our friends from the Warped tour and other tours we have been on. I know Van Halen, Alice Cooper, Story Of The Year, The Used, Thursday.
Being your first time out here, do you have much of an idea of how well known The Word Alive is here in Australia?
I know anytime we have ever posted anything on our social networking sites, I've always seen comments from people like "come to Australia, come to Australia".  Over the past few years, some of the same faces keep recurring, so I've chatted to some of those as I like to keep in contact with fans as much as I can.  I know they've been supporting our band and telling all their friends for the past few years, so I am hoping we will have a strong fan base, but I guess we will find out soon enough!
What can your fans expect from your set at Soundwave Revolution, how would you describe The Word Alive live experience?
I feel we are a band that has a lot to offer something for the people who like to stand in the back and admire people who can actually play their instruments and play them well, I feel we have that technical ability in our band.  I feel we are really solid live as far as comparing to our CD goes.  Then for everyone else who like to move around, we bring a lot of energy and a lot of that is my job to try and pump up the crowd and get them involved!  So long as Australia is down to moving around, I think we are going to get along just great!
Well I don't think there will be any problems with that! from Australian crowds
That's great to hear!
So given what you just said about it being your job to pump up the crowd, how do you find the whole festival experience, taking your music to a bigger stage, compared to playing the smaller more intimate venues?
Some of the time I think at festival shows, people generally come with the mindset that they are going to move and have a good time.  Whilst club shows people can also have that same mindset, being a much smaller environment, people can often be forced into it.  I feel sometimes it's a little better if you have a sold out show and 500 to 1,000 kids and every time 10 people move, then 100 people move, I feel that gets people into things a lot quicker.  At festival shows you have got people wanting to stir up dirt, people wanting to crowd surf and come over barriers and be seen a lot more by the bands as it's in the daytime.  I guess also festival shows are rare during the year, it's something kids look forward to each year.  So I anticipate that same mindset when we come, with people being really excited about a lot of bands.
Do you guys have any interesting tour "rituals" or things you guys as a band do to keep yourselves sane haha!
We all get along really great in the band.  In our bus we watch movies, play video games, we like a lot of the same things.  I think a lot of the guys in the band are really funny which also really helps.  We will bring guitars on the bus and make up songs about each other and stuff like that.  So I think we try and keep ourselves entertained one way or another.
You recently released your debut full length album 'Deciever' and I see you are already starting work on your follow up album.  Firstly, for those that may be new to the band, what can you tell us about your album Deciever?
Well we released it in August last summer.  This year we have had some great opportunities for tours, we had our first headline tour of the States and did really well with that, especially coming into almost a year since it's been released now. As we've started travelling the world a little more, fans have started not only discovering our band, but really paying attention to the songs and what we are about.  So I feel even in the last 6 months or so, compared to the last few years, we are starting to have some truly diehard fans who understand what we are about, understand what our music means to them and I feel we have a lot of our fan base who really have an in depth connection with the band. Now we are at the point where people have listened to our CD consistently for over a year now and know every song inside out.  When you go and see a band for the first time, chances are you are not going to be jumping around and going crazy, it's likely you will watch the band and see what they are about.  I feel like now we have had a lot of the same kids see us 3,5,7,8 times since the CD came out, so now it's getting to the point where they can be jumping around and singing along and just enjoy themselves, so we are seeing that stage now at a lot of our shows.
When are you planning to start work ork on new album?
We have booked studio time for February and March of next year.  So pretty much between now and then we are going to be constantly writing.  We have about 7 demo ideas and about 2 full songs done right now.  We are not going to set a number, we will just keep writing, whether we get to 15 songs or 20 songs, we are going to write until the day before we get into the studio.  We're going to pick the best 12 or 13 songs and we are going to make sure we have the best sophomore album we can make.
From an earlier answer, it sounds like you have no major problems coming up with songs about each other haha, but do you write new material on road?
Yes that's pretty much it, all of the songs we write out on the road or the bus.  We have these little practice amps so Zack and Tony can jam really easily.  We have recording software on one of our computers and some recording equipment, so we can record, not quality for release to the public demos, but a good enough quality that we can understand and critique them and build them into strong songs.  Actually, the guys have been writing earlier tonight, and once Zack and I are done with interviews for you guys, we have an 11 hour drive so it's probably going to be back writing music.
Is that because you guys tour so much and it's really only when you have time, or do you find it a more inspiring environment?
I think it's a mixture of things.  Part of it is because we do tour a lot and we are gone a lot.  That kind of leads to the thing when we are home, we don't necessarily want to be cooped up in a studio all the time.  I live in California, the band is from Arizona, our drummer lives in Oregon, so we are kind of spread out so this is the majority of the time we spend together.  All of our mindset is on music, it's not like hey, I have a family dinner to go to coming up this week etc.  It's like when we are on the road, music is 100% our life, that's eat, sleep and breathe and everything we do.  I think it's easier to get in a groove for us now that we have been a steady touring band for the last few years.  So we have just grown accustomed to at first that we had to write in the road, now we kind of like it!
How would you describe the musical direction of the new material, compared to what you delivered on Deceiver?
I think we want to be a band that progresses from album to album.  We definitely want to try a lot of new things, we have improved individually as musicians and myself as a vocalist. So naturally there will be things we couldn't have done before.  We have a good mindset of what our fans like and expect from us, so we are not going to deviate too far from that at any given time, but we are not going to write the same songs 12 or 13 times.  We are a band that likes every song to sound different on our albums.  So we are going to try that again and create an even stronger catalogue of songs that showcase what we are best at doing.
So what's in store for the rest of 2011 after you finish up with Soundwave?
Well to fully complete our year we fly to Europe after Soundwave for the Never Say Die festival with Suicide Silence and Emmure.  Then we come home for a little break, then we go on the Fearless Friends tour in US, and a bit of Canada, then we will be writing until we head into the studio in around February 2012!
You can catch The Word Alive at Counter Revolution, all the details right here…
Essential Information
From: USA
Band Members: "Telle" Tyler Smith – Vocals, Tony Pizzuti – Guitar, Vocals, Zack Hansen – Guitar, Vocals, Dusty Riach – Keys, Justin Salinas – Drums, Daniel Shapiro – Bass
Websites: www.facebook.com/thewordalive
Latest Release: Deceiver – 2010
You can catch The Word Alive on tour with Every Time I Die and The Acacia Strain
FRIDAY 23 SEPTEMBER
BRISBANE, THE HI FI- 18+
www.oztix.com.au
MONDAY 26 SEPTEMBER
SYDNEY, MANNING BAR – 18+
www.oztix.com.au
THURSDAY 29 SEPTEMBER
MELBOURNE, THE ESPY – 18+
www.oztix.com.au / www.espy.com.au
SATURDAY 1 OCTOBER
ADELAIDE, FOWLERS LIVE – Lic A/A
www.moshtix.com.au, www.venuetix.com.au & outlets
MONDAY 3 OCTOBER
PERTH, AMPLIFIER BAR – 18+
www.moshtix.com.au