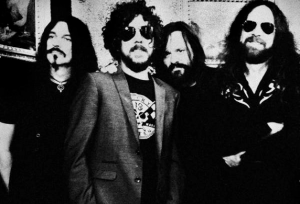 "BETTER THAN THE RECORD. MANIC. VERY LOUD AND EXTREMELY BRASH…."
The Aussie classic rock behemoth that is Electric Mary have just released their latest studio offering titled Long Time Coming. For those of you that have not seen Electric Mary do what they do best and that's play live…the DVD that also comes part of the Long Time Coming release will complete the puzzle for you. Recorded at Sydney's Gaelic Theatre, the DVD captures the Electric Mary live energy that has seen them in demand worldwide, supporting the very bands that form part of the Electric Mary DNA, Deep Purple, Glenn Hughes, Judas Priest, Whitesnake, Alice Cooper….
Via the bands Facebook, this is what they had to say about the forthcoming EP, Long Time Coming – "we recorded we scrapped .. we started again we stopped .. we lost a friend .. we moved forward .. we recorded again .. again we stopped .. we found an old believer we worked and worked .. we moved bases .. we got sick we stopped .. we started again .. we ran at a million miles an hour .. we lost a love .. we got angry .. we lost the plot .. we were in with a chance but they said no .. we had no cash .. we did some shows .. we kept believing…THE RECORD IS FINISHED."
An EP launch is taking place this coming Saturday, August 6th in Melbourne. Then Electric Mary will be hitting Sydney to show how ROCK is done on Sunday 14th August.
Now find out more with our chat with Electric Mary frontman, RUSTY, the man who is so rock 'n' roll he even types as LOUDLY as he sings!
You have just released your new EP and live DVD which you have titled Long Time Coming. The journey to get this latest bunch of songs onto CD certainly wasn't an easy one. Did the EP title pretty much choose itself?
THAT HAS BEEN THE WORKING TITLE FOR A WHILE AND WHEN WE WERE LOOKING, BECAUSE WE HAD LIVED WITH IT FOR SO LONG WE JUST STAYED WITH IT.
I have run through the EP a few times now and whilst it's distinctly Electric Mary, there seems to be a few subtle changes to the song structures/style here and there. Is this the way the songs naturally evolved this time around?
THERE IS A LOT MORE BAND ON THIS E.P. PETE SPENT A LOT OF THE TIME IN THE STUDIO WITH ME. ALEX HAS RIFFS ALL OVER THE PLACE AND VENOM HELPED ARRANGE SOME OF THE SONGS.
Were there any specific sources of influence, in both a musical or lyrical sense for these new 6 songs?
AFTER 7 YEARS IT'S STILL ALL ABOUT THE RIFFS THE DRUMS AND THE MELODY. THE LYRICAL LANDSCAPE CHANGED FROM DAY TO DAY. THERE ARE OBSERVATIONS OF OBSERVATIONS.
When recording in the studio, are you a band that mostly records in a "live" sense as a full band, as opposed to each band member individually recording their parts?
WE ALWAYS RECORD TOGETHER UNTIL WE ARE SOLD ON A TAKE. VERY FEW OVERDUBS. THOUGH MORE THAN MOST THIS TIME AROUND. THERE ARE MORE GUITARS ON THIS ONE BY DESIGN.
Being a band with such an emphasis on your live performance, collectively as a band, do you guys struggle with the whole studio recording process, or is it something you get totally engrossed and involved in, beyond just the playing/singing of your parts?
THE STUDIO IS THE BIGGEST CANVAS IN THE WORLD. YOU CAN THROW PAINT ALL OVER IT, YOU CAN BRUSH STROKE ANY WAY YOU WANT. YOU CAN SPRAY IT AND THEN YOU GET YOUR SCISSORS OUT AND DELIVER THE PIECES YOU WANT.
How much has the song writing process changed from the beginning with your first release Four Hands High, to where you are now?
HMMM, WELL I WROTE EVERYTHING IN THE BEGINNING AS IT WAS MY BAND, NOW IT'S OUR BAND. I'M STILL THE BIGGEST SOOK SO I TRY AND GET MY WAY AS MUCH AS I CAN.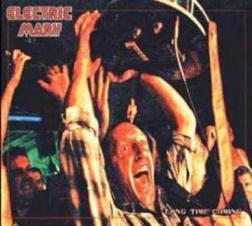 When it comes to Electric Mary, for me personally, the defining sound is the thunderous guitar riffs. Can you share how these are generally written? Are these riffs generally the starting point for a song?
THE RIFF IS ALWAYS THE STARTING POINT. WE WANT TO BE EXCITED, WE WANT THAT FEELING WE FELT WHEN WE WERE 16 EACH AND EVERYTIME.
MELODIES CHANGE FROM DAY TO DAY, THERE HAVE BEEN TIMES WHERE WE HAVE RECORDED SONGS AND WHEN I PLAY THE BAND THE FINAL SONG THEY LOOK AT ME AND SAY WTF. I DON'T REMEMBER ANY OF THAT HAHAH.
O.I.C OFF LONG TIME COMING HAS HAD THREE CHORUSES.
Maybe it's just an insatiable appetite for new Electric Mary music, but I have to ask are we likely to see another EP release by the end of 2011?
I WOULD SAY THERE WILL BE ONE IN MARCH 2012.
For those who haven't yet witnessed Electric Mary live, either because they have been sleeping under a rock or are too tight to buy your new DVD release…how would you describe Electric Mary as a live band?
BETTER THAN THE RECORD. MANIC. VERY LOUD AND EXTREMELY BRASH.
Over the years, I have certainly noticed a shift in the demographic of Electric Mary fans. In you own experience both in Australia and internationally, do you feel you have a good handle on who the music of Electric Mary appeals?
YEAH I LOVE THE NEXT GENERATION OF ROCK 'N' ROLL FOOT SOLDIERS. THEY AIN'T AFRAID OF THE PAST OR THE FUTURE. THEY COME WITH THEIR PARENTS, THEY COME WITH THEIR FRIENDS AND THEY LIVE IN THE MOMENT. WE TRY AND DELIVER EVERY NIGHT, THEN THE HOPE IS THEY SPREAD THE ELECTRIC LUV
Coming up in a few months you are heading back to France on your longest expedition yet, with 20+ shows in both France and Spain. What is it about France and their love for Mary, or is it the other way around?
OUR VERY FIRST SHOW IN FRANCE WAS 2009 SUPPORTING WHITESNAKE IT WAS A MAGIC MOMENT, SOMETHING THAT I HAD BEEN WAITING FOR AND BELIEVING WE COULD DO FOR A LONG LONG TIME.
WE WERE INTRODUCED TO FRANCIS ZEGUT THE KING OF FRENCH ROCK RADIO. AFTER THE WHITESNAKE SHOW WE PLAYED AT THE BACK OF A CAFE, THERE WERE 25 PEOPLE THERE AND FRANCIS INTRODUCED US. FOR TEN MINUTES HE SPOKE, THE CROWD LISTENED INTENTLY AND I KNEW THIS WAS THE REAL DEAL. WE THEN DELIVERED WHAT I CONSIDER ONE OF OUR BEST SHOWS, WITH A SHITTY P.A, THREE RED LIGHTS AND A HOLE IN THE MIDDLE OF THE STAGE. WE PUNCHED A HOLE IN ROCK 'N' ROLL THAT NIGHT.
The origins of Electric Mary largely started about 8 years ago as an unplugged entity and has now evolved into an international stadium rock behemoth, can you answer the following:
a) What has given you the most satisfaction – BEING ABLE TO TRAVEL ACROSS AUSTRALIA AND THEN IN TURN THE WORLD PLAYING OUR MUSIC TO PEOPLE WHO GENUINELY BELIEVE IN THE ROCK 'N' ROLL WE DO.
b) What has been the biggest lesson(s) learnt – YOU GOTTA BELIEVE 120%. THERE ARE A LOT OF PEOPLE THAT HELP INVEST STRUGGLE WITH YOU, BUT AT THE END OF THE DAY IT IS DOWN TO THE BAND AND WHAT THEY DO. IT IS A CONSTANT STRUGGLE OF ENJOYMENT AND PAIN.
c) Is there one show that sticks out as being the most memorable – HELLFEST WAS A MAGIC MOMENT. ALL EYES ON ME WAS WRITTEN ABOUT THE EXPERIENCE, WE DROVE TEN HOURS OVERNIGHT. WE DIDNT SHOWER, WE HAD LITTLE SLEEP, WE WERE HUNGRY, BUT AS SOON AS WE STEPPED ON THAT STAGE, WE WERE ELECTRIC MARY.
Check out our review of Long Time Coming right here…
Essential Information
Long Time Coming Release Date: Out Now!
EP/DVD Launch:
Melbourne – Saturday 6th August, The Espy – Gershwin Room
Sydney – Sunday 14th August, The AnnandaleWebsite:  www.electricmary.com