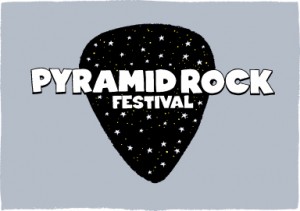 Are you ready to ROCK?
 Are you ready to rock this New Year's season? Because we here at the PYRAMID ROCK FESTIVAL sure as hell are!
That's right, from Thursday December 29 to Sunday January 1 Victoria's beautiful Phillip Island will once again be
overrun with more than 50 of your favourite international rock stars and home-grown heroes to provide the best
New Year's party atmosphere around. After an amazing year in 2010, which was heralded by many punters as our
best yet, we're hoping you can help us make Pyramid Rock 2011 even better!
We know you're all just itching to find out who's playing at this year's festival, so without any further ado, we present
you with the first line-up of acts…
If pop music had a curfew, SCISSOR SISTERS would be the band sneaking out the window while their parents were
asleep. For nearly a decade the New York collective – led by the enigmatic Jake Shears and Ana Matronic – have
been pushing the boundaries not only of pop music, but of what it means to be a pop star. They've got more hits
than most bands have songs, they've collaborated with everyone from Kylie Minogue to The Muppets and guess
what? They're headlining the Pyramid Rock Festival in 2011! Watch out, this one could get sticky!
Since the day they burst onto Melbourne's underground rock circuit in the late '90s, it's been a long and steady rise
to the top for THE LIVING END. Over the course of their six albums the Aussie rock icons have never put a foot wrong.
The latest stride in their awe-inspiring career is The Ending Is Just The Beginning Repeating, an album that delivers the
most honest representation of the band yet. Honesty has never been a problem for The Living End at the Pyramid Rock
Festival, and in 2011 they'll be putting on yet another display of raucous rock energy.
GOTYE is destined to finish 2011 on a high note, and that's not only because he'll be gracing the Pyramid Rock main
stage in front of a massive crowd of adoring fans. Having already gone platinum with his surprise #1 smash hit
Somebody That I Used To Know, you get the feeling it won't be the last time Gotye is lavished with precious metals
before the end of the year. His third album Making Mirrors has only just been released and will surely catapult
Wally de Backer into the next echelon of superstardom.
Legend. Innovator. Icon. They're all apt descriptors but they barely come close to encapsulating GRANDMASTER FLASH's
enduring musical legacy. From pioneering the use of turntables as an instrument on their own, to helping elevate rap music
to the global stage with ubiquitous hits like The Message and White Lines, the man born Joseph Saddler more or less IS hip
hop. His very special appearance at the Pyramid Rock Festival is not only a must-see for hip hop devotees, but anyone who
calls themselves a music fan.
Taking out triple j's Unearthed J Award, globe-trotting with Laura Marling and Mumford & Sons and lighting up
stages at festivals all around the world – it's all in a day's work for Sydney's BOY & BEAR. Come New Year's they'll
be bringing the rootsy rhythms and country-fried tunes of their recently released debut album Moonfire to thousands
at the Pyramid Rock Festival. It's a tough job, but someone's gotta do it!
After putting in years of hard yards, DRAPHT is finally living the life of Riley. At least that's how it seems since
he released his fourth album The Life Of Riley. Debuting at #1 on the ARIA charts, picking up a J Award
nomination and smashing it on the radio with tracks like Rapunzel and Bali Party, the Perth MC has been
lapping it up in 2011. Following a massive headline tour later this year, Drapht will arrive at Pyramid Rock
with a head full of steam. Do not miss out!
With an endless bag of Aussie rock staples from Buy Me A Pony to Calypso and Black Betty, SPIDERBAIT have
been leading the pack for far too many years to remember. And now, following a lengthy hiatus, Kram, Janet
and Damian are getting the band back together to celebrate Spiderbait's 21st birthday at the Pyramid Rock Festival!
Is it too soon to start holding our collective breaths for their first new album since 2004's Tonight Alright?
CLOUD CONTROL recorded their all-conquering debut album Bliss Release in their native Blue Mountains
and it breathes out a certain invigorating fresh air familiar to those in the countryside. So there's probably
no better setting than the glorious coastal surrounds of Philip Island to take in their blissful, psych-infused
pop tunes. After a year spent spreading their music to a global audience, Cloud Control will deliver a
welcome homecoming set at Pyramid Rock.
BLUEJUICE, Australia's most obsessive penguin-fanciers, are returning to Phillip Island for the 2011 Pyramid
Rock Festival with their handsome new live show. Following on from the massive success of platinum-selling
single Broken Leg in 2009, Bluejuice are box-fresh from the studio where they've been recording their
highly-anticipated third album Company. New songs, new suits, new show – see it first at Pyramid Rock!
It's been four years since Melbourne electro producer MUSCLES released his explosive debut album Guns,
Babes, Lemonade and four years later it still bangs as hard as it ever did. With its long awaited follow-up
Manhood slated for release in early 2012, Muscles will be arriving at the Pyramid Rock Festival at just the right
time. Get ready for a seriously 'sweaty' set in the Pharaoh's Annex!
SPANK ROCK, together with producer and co-conspirator XXXchange, played a vital part in giving hip hop a
much-needed facelift in the mid-'00s, infusing elements of scratchy electro and punk rock, and serving it up
readymade for the dancefloor. In 2006 he dished up a game changing debut in YoYoYoYoYoYo and five years later
Spank is finally backing it up with Everything Is Boring And Everyone Is A Fucking Liar. And at the end of 2011 he'll
be backing up his 2007 Pyramid Rock appearance with a long-awaited return visit.
THE PANICS are fast emerging as the greatest story tellers in Australian pop rock. Or have they passed that
point already? On latest album Rain On The Humming Wire the adopted Melbournians open up about their inner
workings, reflecting on the past and looking towards a brighter future. Sounds like the perfect band to make a
New Year's resolution to! You'll be able to do just that at Pyramid Rock 2011.
Callin' out to all area crew: LYRICS BORN is heading down to Phillip Island for the Pyramid Rock Festival! The
Japanese-born, American-raised rapper has come a long way since free-styling with classmates in California's
Bay Area in the early '90s. His latest creation, 2010's As U Were, is yet another step forward for the MC, branching
out to synthier textures and collaborating with a diverse range of artists. So what do we think of Lyrics Born's inclusion
on the 2011 Pyramid Rock line-up? We like it, we love it!
THE HERD are not your average band. They're an eclectic, bombastic, outspoken, fire-stokin', genre-hopping,
heart-stopping, eight-strong force of nature – and they're coming to the Pyramid Rock Festival in 2011! With new
album Future Shades hot off the presses and a back catalogue of festival favourites tucked under their arms, The
Herd will be painting Philip Island a distinct shade of awesome when they hit up Pyramid Rock this New Year's.
Fuzzed up to the max and dripping in West Coast cool, DUM DUM GIRLS announce their Australian live debut
as part of the 2011 Pyramid Rock Festival. The all-girl group led by the appropriately Ramones-esque Dee Dee
have a fond ear for sounds of the past. Sifting through the anarchic, oestrogen-fuelled punk flavours of The Slits
and The Shangri-Las, Dum Dum Girls manage to smash out their energetic garage rock with a surprisingly fresh
feel. They are not to be missed!
It gives us great pleasure to announce that ILLY is backing up last year's blistering Pyramid Rock triumph with
a victory lap in 2011. Still reeling from the success of his 2010 sophomore effort The Chase, the Melbourne
MC simply cannot get enough of the summer sun on Phillip Island. Returning with even more fan favourites in his
arsenal, Illy is out to prove once again why he's one of the most talked about names in Australian hip hop.
For nearly 20 years SALMONELLA DUB have been carving out a musical path that few have dared to follow.
With their unique mix of dub, electronica, reggae, rock and drum 'n' bass, this legendary Kiwi collective have
conquered festival stages, club rooms and dance halls everywhere from Brisbane to Brussels. Rightfully earning
a reputation as one of the most captivating and dynamic live acts in the world, Salmonella Dub will be making
us all sick with their infectious dance beats this year at the Pyramid Rock Festival.
The inclusion of pop chameleon BERTIE BLACKMAN on the 2011 Pyramid Rock line-up has got us excited.
Drifting from folk to rock to electronica over her three-album career, Bertie has proved she is one of the
most unique and multi-talented artists in the Australian musical landscape. The Sydney girl will be dipping
into her impressive back catalogue of diverse musical stylings this year at Pyramid Rock, as well as previewing
some new materiall from her upcoming fourth album. We wait with bated breath to hear what it sounds like!
There are prospects, prodigies, whiz kids, wunderkinder…and then there's JONATHAN BOULET. At the tender
age of 21 Jonathan wrote, produced and played all the instruments on his self-titled debut record. The following
year he did pretty much the same with his other band Parades, and managed to come up with a cracking single
of his own in You're A Animal AND found time to work with The Holidays, Megastick Fanfare and Kyu. The guy has
one gear: GO! and he'll be doing just that at Pyramid Rock in 2011.
Tour veteran and festival junkie ASH GRUNWALD will be rolling back into Pyramid Rock in 2011 in typical
carefree style. Capping off a massive year that saw him release his fifth and most adventurous album to date
Hot Mama Vibes, there are few who embody the laid back and fun-loving atmosphere of Pyramid Rock like this
blues maestro. No doubt there'll be plenty of fans vibing to his tunes this New Year's.
Newcomer to the Pyramid Rock fold, LA's HANNI EL KHATIB is sure to be a name on everyone's lips come the
year's end. The son of Palestinian and Filipino migrants, Hanni describes his gritty mix of soul, garage rock and
'60s R&B as "knife fight music". Keeping with the weaponry theme, Hanni's debut album – due for release this
September – is titled Will The Guns Come Out. His set at Pyramid Rock is gonna go off with a bang!
Widely regarded as one of Australia's finest funk and soul outfits, THE BAMBOOS have wowed global audiences
with their lively and energetic shows and perfectly constructed studio albums for nigh on a decade now. Last year
the Melbourne eight-piece released their fourth album 4 and toured relentlessly around the globe. In 2011 they
return to Philip Island a more honed and internationally acclaimed outfit than ever before.
There are few bands as hard working (or rocking!) as Melbourne's own CALLING ALL CARS. Their new album is
Dancing With A Dead Man and it's a monster! Shattering all notions of the so-called second album syndrome,
Calling All Cars have taken their game to another level with their triple j-featured second album. See what all
the fuss is about and prepare to rock out pretty hard when they smash it up at Pyramid Rock.
With a once-in-a-lifetime voice and talent to burn, GRACE WOODROOFE has a long and no doubt successful
career ahead of her. Plucked from obscurity by the late Heath Ledger, who flew her to LA to record with
none other than Ben Harper at the age of 16, Grace's sultry blues style hasn't taken long to click with her
quickly growing fan base. Still only 21, this Perth girl is set make quite the impression at the 2011 Pyramid
Rock Festival.
Hammers, chains and washboards aren't exactly your everyday musical instruments, but then again
GRAVEYARD TRAIN aren't exactly a conventional band. Their mix of swampy blues, beat-down country
and tortured folk – infused with their trademark mad and macabre motifs – seems to appeal to everyone
from the potato farmer to the punk rocker. A wild, bumpy and often frightening ride – it's all aboard the
Graveyard Train for Pyramid Rock 2011!
Providing the feel good synth pop vibes at this year's Pyramid Rock Festival will be TIM & JEAN. One of
triple j Unearthed High's impossibly talented alumni, the Perth duo have gone from strength to strength
since they were first discovered in 2009. This year saw them produce their debut album Like What, a
carefree but assured release brimming with synthy goodness. They might only be young, but these guys
have the goods and will be putting them on show at Pyramid Rock.
The #1 DJs in the country THE ASTON SHUFFLE will be bringing their party stylings to Pyramid Rock in
2011. Last year was massive for the Canberra dance duo, who released a damn fine debut album in
Seventeen Past Midnight, helped redefine the traditional role of the DJ with an ambitious live show
and – best of all – took out the Holy Grail of Australian dance music: the inthemix50 poll. We are
already salivating!
Recently in the country for a quick-fire east coast tour, JIM WARD is returning Down Under with the
Pyramid Rock Festival in his sights. A man once synonymous with loud noises and political angst in
previous outfits At The Drive In and Sparta, Jim has found solace with a defter touch on his just
released debut solo album Quiet In The Valley, On The Shores The End Begins (really a collection of
EPs, but who's keeping score?).  Jim Ward is in love with Australia. Suffice to say the feeling is mutual.
Sydney hip hop crew THUNDAMENTALS have really come into their own on new album Foreverlution,
and they'll be coming into Phillip Island this New Year's Eve to celebrate. The party-starting three-piece
will arrive at the Pyramid Rock Festival in fine form, after they open for hip hop heavyweight (figuratively
speaking) Big Boi on his 2011 Australian tour. Catch the boys dropping massive tunes like Paint The Town
Red and Move It Up at Pyramid Rock. You'll be thunda struck!
Gracing the Pyramid Rock stage last year alongside It Can Wait collaborator Illy, OWL EYES has graduated
to play her very own set in 2011. The dream pop princess has had a dream run in 2011, releasing her beautifully
crafted sophomore EP Raiders to much critical acclaim as well as touring with indie kings The Wombats
and Darwin Deez. Find out why the scarily talented 20-year-old can't stop raiding us at Pyramid Rock.
Channelling the long lost spirits of Australian pop icons of yore, SPLIT SECONDS make a welcome Pyramid
Rock debut in 2011 with their jangly, vocally-driven indie pop paragons. Armed with radio favourites All You
Gotta Do and Bed Down, the Perth collective look set to make quite the impression this festival season ahead
of the release of an anticipated debut album in 2012. First stop: Pyramid Rock!
There's no French horn in FRENCH HORN REBELLION, but there are two crazy, party-loving brothers from
Wisconsin by the names Robert and David Perlick-Molinari. Their style is varied, their manners are
impeccable, and they might just own the finest threads in the lower east side! But more importantly, their
2010 album The Infinite Music Of The French Horn Rebellion is chock-full of contagious dancefloor beats and
they'll be turning your world upside down and all around this year at the Pyramid Rock Festival.
As a special treat for early bird ticket holders, the team at ROCKWIZ will be taking over the Pharaoh's Annex
on Pyramid Rock eve (Thu Dec 29). Julia Zemiro, Brian Nankervis and the RocKwiz Orkestra are putting on
an extra special festival show featuring all the madcap hysterics and special guest stars of the TV show. So
who'll be appearing on the RocKwiz panel at the Pyramid Rock Festival? Well you'll just have to wait and see…
There you have it, our first announcement! What do you think? Now for all the important stuff like how
to make sure you don't miss out on this unbelievable festival…
As already announced, Pyramid will once again be rolling out in its favourite format, which includes free
camping for all tickets and the ever popular early arrival 3-Day Pass. The 3-Day Pass allows punters to arrive
and set up a day early on Thu Dec 29. This year those lucky enough to secure the limited release 3-Day Pass will
get to see the incredible RocKwiz Live show taking place on Thu Dec 29, and as usual take in movies on the big
screen under the stars.
2-Day passes will also be available, giving punters access to the entire band line-up starting on Fri Dec 30.
Bands kick off from 10am each day and play until the wee hours of the morning.
More good news on the ticketing front, prices have remained the same as last year! With the festival returning
after its best year yet and with this year's staggering first announcement, tickets are not expected to last long.
So make sure you're logged onto www.thepyramidrockfestival.com when tickets go on sale on
Wednesday 14 September at 9am sharp!
And lastly, 2011 will unfortunately be the last year punters under the age of 18 can come to Pyramid Rock. The
event is currently a licensed all ages festival and you can attend THIS year if you are 16+. Those under the age
of 16 will, however, need to be accompanied by a parent/guardian. Pyramid Rock Festival intends to operate
for many years into the future, delivering the best possible acts to Phillip Island, and plans to do so working in
conjunction with liquor licensing requirements.
Right, that's it from us. Keep your ears peeled for a second announcement in the coming months but until then,
happy hunting!
THE PYRAMID ROCK FESTIVAL
Thursday 29 December 2011 to Sunday 1 January 2012
Presented by triple j, Channel [V] and Faster Louder
Featuring:
SCISSOR SISTERS  THE LIVING END  GOTYE  GRANDMASTER FLASH  BOY & BEAR
DRAPHT  SPIDERBAIT  CLOUD CONTROL  BLUEJUICE  MUSCLES  SPANK ROCK
THE PANICS  LYRICS BORN  THE HERD  DUM DUM GIRLS  ILLY  SALMONELLA DUB
BERTIE BLACKMAN  JONATHAN BOULET  ASH GRUNWALD  HANNI EL KHATIB
THE BAMBOOS  CALLING ALL CARS  GRACE WOODROOFE  GRAVEYARD TRAIN
TIM & JEAN  THE ASTON SHUFFLE  JIM WARD  THUNDAMENTALS  OWL EYES
SPLIT SECONDS  FRENCH HORN REBELLION  ROCKWIZ LIVE
 TICKETS ON SALE 9AM WEDNESDAY 14 SEPTEMBER
All online tickets available from www.thepyramidrockfestival.com