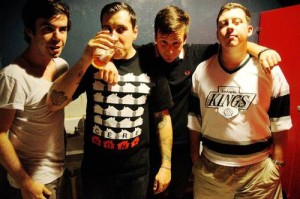 "Definitely it's an exciting time for me, as since I was a kid I loved music and wanted to be in a band, so it's cool now to be able to say, "I play in a band, that's what I do, nothing else". 
For Boston based Make Do And Mend, August 26th marks the official release date of their debut album End Measured Mile here in Australia on 3Wise Records.  Having been released elsewhere in the world many months ago, the album has been getting some massively positive reviews.
A band that is certainly not afraid of touring, and doing plenty of it, since our interview below with the bands drummer Matt Carroll was completed, Make Do And Mend have been confirmed for Counter Revolution (formerly known as Soundwave Festival) here in Australia.
Hey Matt, thanks for taking the time to chat for this interview.  So you guys are currently over in Europe, how has that been going so far?
The tour has been fucking amazing. To go on our first tour over here with Hot Water Music has been a dream come true. The shows have been really incredible and we couldn't have asked for a better tour.
End Measured Mile is your first full length release and has been out now for a little while, but will be getting an official Aussie release in a few weeks.  It seems like the album has been incredibly well received so far, has the reaction to it taken you guys by surprise at all?
A little bit, I think it always does you know.  We are a relatively new band and every time we release something, I guess every band has that sense of doubt right before you release a new record.  You think you made a good record, you believe in it, but then right before you release it you'll be like, maybe this sucks and people aren't going to like it.  So there's always that surprise when people like it and that sense of relief and happiness that people are digging what you have a tonne of work into.
In Australia, the CD will be released by 3Wise Records, how did this association come about?
I think it went hand in hand a little bit.  We wanted to release our record in Australia because we knew we were coming over and obviously a place we have wanted to go to for a super long time, so it was a logical step for us in terms of putting out the record in Australia.
You guys have existed since around 2005 and whilst you have had a couple of EP releases, this is your first full length album.  Was this something you were controlling whilst you were defining yourselves as a band, or was it more circumstances and finding an avenue to release your material?
When we first started, the band was a little more of a part time thing for us.  Some of us were still in school and doing other things, so for that time and place, EP's were what made sense.  We wrote a small group of songs and we would be like, ok let's go and record these songs and put out an EP.  As the band continued on and became more serious, we were thinking more about needing to make a full length record.  If we wanted to be a real band, we needed to make a full length.  It was all a natural and logical progression for us, we made 2 EP's and after that, you can't really keep releasing EP's.
Now I was reading that you guys all still work full time, with the greater interest in the band now, how have you balancing the touring commitments and full time work?
Up until recently, yes that was still the case.  I would say around March, all of is were still working full time when we were at home.  Then this spring we all got together and said we can't do this anymore.  We can't go on tour for a few months, then come home for a month and then try and find a job.  Luckily we were in the position where even though it's not the most well paying job, we can make this our full time thing.  Definitely it's an exciting time for me, as since I was a kid I loved music and wanted to be in a band, so it's cool now to be able to say, "I play in a band, that's what I do, nothing else".
The album is titled End Measured Mile, what inspired you to choose this as the title?
Well a few different things.  In life and in music especially, people tend look at it as a kind of an arms race.  People have a tough time always sizing themselves up to somebody else, "we aren't as handsome as this band", "we don't make as good as music as this band" that attitude kind of always dragged us down and we were never really into that.  So End Measured Mile is kind of a thought of not sizing yourself up to other people but to do the best that you possibly can and that always works.  Be yourself and don't look at other people and don't think they are doing better than you.
Does this mentality also flow through into James's song writing?
I am sure it does.  I don't write the lyrics myself but my brother James does so I feel very close to the lyrics.  I think that attitude directly affects the way that he writes.  If he doesn't write specifically, then that attitude seeps through into the lyrics.
What of the song writing in the band, how is that handled?
Well James is the one that writes all the lyrics.  Musically however we are a very collaborative band.  Literally every one of us writes music, whether it be a chorus or a riff we will bring it to practice and go from there.  At no point in the bands history and I can't see it ever happening, has someone come with a full song and that song has stayed exactly the way that it was written, so yes we are very collaborative in that sense.
How long did you spend on the process for writing and recording the new album?  Would you describe yourselves as perfectionists when it comes to the studio?
It depends on what people might consider a lengthy process, but we took a month.  For some bands that's a long time or some a short time for a full length record.  We took the least amount of time we could gave possibly done it in. We are a very particular studio band and when we are in the studio we often freak out about little things and it can take us a long time as we don't want to go in and just record a record, we want to make a record.  We don't just have the engineer press record, we are very hands on and make sure that everything is perfect and as well thought out as possible.  So in that case we may take longer than some bands. We literally headed out on tour the day after we finished recording, so that was kind of the timetable we set.
Hopefully we will get to see for ourselves in September if you guys are still coming out, but how would you describe yourselves as a live band?
When we hit the stage we want it to be very energetic from start to finish.  We like to be aggressive and energetic and for the kids to sing along and get involved.
I assume you have been playing some of the new songs in your live set, how have they settled into the set list?
For sure, I love playing the new songs.  We basically let the new songs take over the set list because the kids are into the new record and want to hear the new songs.  So hopefully we will never be a band where the kids just want to hear the old stuff haha!  So it's cool to be able to play shows and the songs we want to play and the crowd be happy with that.
So where are you guys actually based?
We are based now in Boston, Massachusetts, but we grew up in Connecticut.  A few of us had gravitated to Boston for school and stuff, so we eventually decided to just base ourselves there and set up a cool home base for the band.
How about the music scene in Boston these days, is it a healthy scene for you guys specifically, or not really?
Sure, depends what aspect you are looking at it, some aspects are very healthy, but the all ages scene is not very healthy in Boston, which is what we grew up surviving in.  We really like playing those underage shows and to play those 18+ shows is not our ideal situation.  But if you want to play in Boston, unfortunately that's what we have to do. The punk rock scene and rock n roll scene, it's healthy.  In any city we have a bunch of young people that like going to shows and being part of it.
What else is planned for the remainder of 2011, are there touring plans still to be announced?
Yes pretty much and with the uncertainty over Soundwave it's a bit of a blow as we definitely want to come to Australia, but in this calendar year I couldn't see it happening as our tour schedule is just so tight.  We are booked up until the end of the year and then after that we are going to start on the next record, which is exciting!
Essential Information
From: USA
Sounds like: Punk rock
Band members: Mike O – Guitar, James C – Guitar and Vocals, Mikey P- Bass, Matt C – Drums
Website: www.makedoandmend.me
Latest release: End Measured Mile (2011, 3Wise Records/Sony Music Australia)
You can catch Make Do And Mend on the following Counter Revolution dates:
SATURDAY 24 – BRISBANE, THE RIVERSTAGE
SUNDAY 25 – SYDNEY, BIG TOP LUNA PARK
FRIDAY 30  – MELBOURNE, FESTIVAL HALL
SUNDAY 2  – ADELAIDE, JUBILEE PAVILION, SHOWGROUNDS
MONDAY 3 – PERTH, CHALLENGE STADIUM