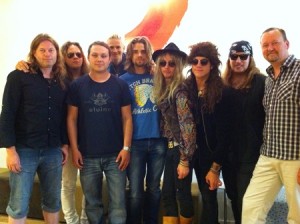 Gain has signed a record contract with H.E.A.T. The band broke through in the Swedish Eurovision Song Contest with the song "1000 miles" and is considered worldwide to be the new big band in the AOR genre. Classic Rock Magazine recently wrote the following about the band's appearance at the Download Festival:
 "A full-fledged homage to AOR that belies their youth, H.e.a.t are one of the weekend's unexpected highlights. So free of cynicism are they in their love of their heroes, and so thorough in their attention to detail that the likeable Swedes are totally lost in the moment, and that vibe radiates until it reaches everyone in the tent."
The band will enter the studio in November to record their third album which is scheduled for a release early next year.
Working with Gain has for a long time been one of our dream scenarios. We know that with H.E.A.T and Gain's complementary poles of excellence, as well as Gain's and Sony's muscles, we have the best conditions, to achieve our goals. We are more inspired than ever and will take the energy and time needed for the world to experience the best H.E.A.T album to date! Jimmy / H.E.A.T
H.E.A.T has been at the top of our wish list and it's now incredibly fun to work with the band. They've already laid a strong foundation at home and around the world. We are confident that together we will be able to lift the band to be the world leader in the AOR genre. Markus Tagaris / GAIN