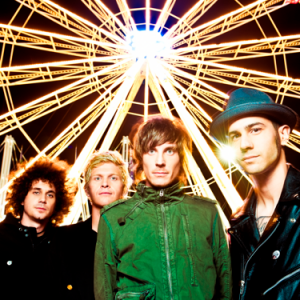 GYROSCOPE have earned themselves an unshakable reputation over four albums as one of the most dependable and breathtaking live acts this wide brown land has to offer. So, it is with this in mind that Gyroscope announce their CHOOSE YOUR OWN ADVENTURE TOUR, a novel concept and the bands only headline tour for 2011.  What does this mean exactly? Dare to read further and all will be revealed…
Come October and November Gyroscope will pack their impressive back catalogue into the van and embark on an exciting and unpredictable adventure. An adventure where fans dictate the next step, choosing the tour setlist via public vote. No limits, no boundaries, no holds barred. This is a tour for fans of Gyroscope, new or old.  The voting process will be conducted via that dependable town crier Facebook. To get involved fans need only 'like' Gyroscope's page atwww.facebook.com/gyroscopemusic to be updated on when the great song selection is to begin. Plenty of time for fans to re-learn the words to songs and perhaps familiarise themselves with any records they are not already intimate with.
The CHOOSE YOUR OWN ADVENTURE TOUR will have Gyroscope negotiate rural Western Australia for the first four shows in late October, followed by a short east coast headline stint in November. Rare licensed all ages shows are confirmed for Adelaide and Sydney. Gyroscope's only headline shows for the entirety of 2011 will be frenzied, frenetic affairs.
Following huge national tours on the Big Day Out and Groovin' the Moo festivals, Perth's much-loved quartet took a chunk of time off to allow the success of the Cohesion album and GOLD single Baby, I'm Gettin' Better to sink in. Now they are suffering itchy fingers and restless voices, eager to once again present their fierce live show for welcoming fans. Supports on all shows are still to be announced and the setlist selection is yet to happen; the road leading into this tour is enticing.
So get voting, suggest songs, show your friends and enjoy the shows. The CHOOSE YOUR OWN ADVENTURE TOUR is about Gyroscope, but most importantly it is about the fans. Tickets are on sale Thursday August 25th. With the promise of a truly diverse setlist on all shows, fans will be clambering over each other to secure tickets for this once in a lifetime Gyroscope tour.
STREET PRESS AUSTRALIA, BOMBSHELLZINE, NEW WORLD ARTISTS & CRUCIAL MUSIC PRESENT
GYROSCOPE THE CHOOSE YOUR OWN ADVENTURE TOUR OCTOBER AND NOVEMBER 2011
Tickets on sale Thursday August 25
THURSDAY OCTOBER 20
PRINCE OF WALES, BUNBURY WA
Heatseeker: www.heatseeker.com.au – 08 6210 2850 – Heatseeker Outlets
Venue Box Office: 08 9721 2016
FRIDAY OCTOBER 21
SETTLERS TAVERN, MARGARET RIVER WA
Heatseeker: www.heatseeker.com.au – 08 6210 2850 – Heatseeker Outlets
SATURDAY OCTOBER 22
STUDIO 146, ALBANY WA
Heatseeker: www.heatseeker.com.au – 08 6210 2850 – Heatseeker Outlets
SATURDAY OCTOBER 29
L'ATTITUDE 28, GERALDTON WA
Heatseeker: www.heatseeker.com.au – 08 6210 2850 – Heatseeker Outlets
Venue Box Office: 08 9965 3776
WEDNESDAY NOVEMBER 16
THE ZOO, BRISBANE QLD
Oztix: www.oztix.com.au – 1300 762 545 – Oztix outlets
THURSDAY NOVEMBER 17
THE GOV, ADELAIDE SA *Lic. All Ages*
Moshtix: www.moshtix.com.au – 1300 GET TIX – Moshtix Outlets
Venuetix: www.venuetix.com.au – 08 8225 8888
FRIDAY NOVEMBER 18
CORNER HOTEL, MELBOURNE VIC
Oztix: www.oztix.com.au – 1300 762 545 – Oztix outlets
Venue Box Office – www.cornerhotel.com – 03 9427 9198
THE FACTORY THEATRE, SYDNEY NSW *Lic. All Ages*
Oztix: www.oztix.com.au – 1300 762 545 – Oztix outlets
Ticketek: www.ticketek.com.au – 02 9550 3666
Venue Box Office: www.factorytheatre.com.au – 02 9550 3666
www.facebook.com/gyroscopemusic / www.twitter.com/gyroscopemusic