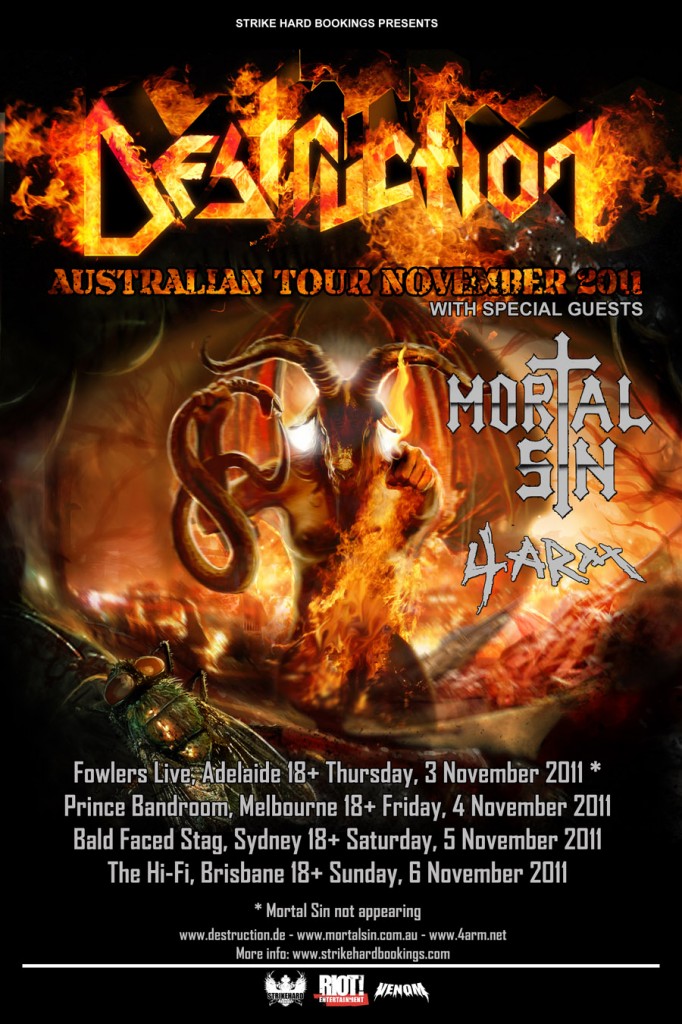 Strike Hard Bookings Presents – DESTRUCTION AUSTRALIAN TOUR 2011
with special guests
MORTAL SIN
4ARM
Destruction are legendary in thrash circles, and the best news of all is that they are back. Not only with a new album, but thrash fans all over the country will be warming up their necks for some serious head-banging at the news thatDestruction will be touring Australia this November. Joining them for the ride will be Australian thrash pioneers, Mortal Sin, and established Melbourne act, 4ARM.
For almost 30 years, the name Destruction has been almost synonymous with high energy thrash. The south German act has never veered from their ethos of never backing down from creating pure thrash. Now, the three-piece are back with another thrash metal gem, Day Of Reckoning, and will be unleashing it upon Australian audiences. Released earlier this year, the album shows the band at its most fierce, brutal and thrashy.
Says vocalist Schmier of the album, "If you think Destruction is an old band, this album will prove you wrong! The speed and energy combined with a basic, fresh and aggressive production will make this record an outstanding classic of our long discography."
Beginning way back in 1985, Mortal Sin, could probably be considered Australia's first thrash metal band. Their first album, Mayhemic Destruction, saw them gain much attention at home and abroad, while a quiet period during the 1990's saw them emerge again in 2004 for a tour with Anthrax and a European tour. Now in 2011, the band is set to release their newest epic, Psychology Of Death, on September 23.
Having just completed their third album, Submission For Liberty, 4ARM are chomping at the bit for its release. By joining this tour, fans are given the opportunity to experience some of the album's ferocity and supercharged riffage in a live setting, before it's 2012 release.
This triple header of thrash will be devastating metal fans around the country. So get on board and do not miss Destruction causing devastation and ruin in a town near you.
Tickets on sale 4th October @ 9am
Thursday, 3 November 2011 – Fowlers Live, Adelaide 18+ *

WITH: PISTENBROKE + A MURDER OF CROWS
Tickets available from Moshtix on 1300 438 849 or www.moshtix.com.au, and Venuetix on (08) 8225 8888 or www.venuetix.com.au
Friday, 4 November 2011 – The Prince Band Room, Melbourne 18+
WITH: IN MALICE'S WAKE
Saturday, 5 November 2011- Bald Faced Stag, Sydney 18+
WITH: KILLRAZOR
Tickets available from Moshtix 1300 438 849 www.moshtix.com.au and all Moshtix Outlets
Sunday, 6 November 2011- The Hifi, Brisbane 18+
* Mortal Sin not appearing