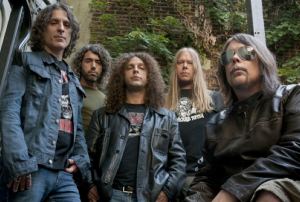 "I didn't think it was going to go past 6 months!  Back then I was just doing it as a labour of love, I loved it.  I never expected anyone to understand the mutant ramblings of a person that just loves psychedelic and hard rock music……"
For the second time in 2011, Monster Magnet will be hitting Australian shores.  This time however it's something a bit more special as the band will be playing their Dopes To Infinity album in it's entirety, in addition of course to some other classic songs.
As to why Dopes was chosen as the album, let Dave himself explain that: "When I wrote "Dopes" in 1995 I envisioned a hard-rock, tripped-out journey exploring the many sounds and styles of the "great psychedelic era of 1968-1974?. I carefully sequenced the album to take the listener on a "roller-coaster ride" of engaging words and music. I sang songs of love, hate, lust, joy and desperation in a style I hoped would fire the listener's imagination, bringing the everyday emotions that we all share to mythical heights. Thankfully, the fans and critics told me I succeeded. Now I'd like to bring that experience to the stage. "Dopes To Infinity": Live! In it's entirety. A complete trip from beginning to end. I can't wait!" –Dave Wyndorf. 27/5/11
Now with that context in mind read on for our interview with Dave Wyndorf himself!
Hey Dave, thanks for taking the time to chat.  So where do we find you today, are you guys out on tour, or you enjoying a bit of a break?
I just got back from Europe a few weeks ago and we are just about to be going into rehearsal for the Dopes thing and then we will be out again in 3 weeks.
So you are heading out to Australia for the second time this year, it seems you can't stay away at the moment haha!  How did you find the experience earlier in the year playing at Soundwave Festival?
It was awesome, you know it was like a crazy circus.  You get on a plane every day and with 70 bands on the bill, you're on a plane with all these bands and you get these crazy ridiculous Spinal Tap moments every three seconds.  It'll be like "hey you're sitting on my chair" and it's Rob Zombie telling the guy from Queens Of The Stone Age that he's sitting in his chair, it's really funny.  All the hotels are just filled up with rock bands and girls, it was awesome!
Do you have any particular favourite things you like about being in Australia?
Everything I've experienced in Australia I have liked. To me Australia is like an exotic place.  I come from New Jersey in the suburbs and stuff and the biggest animal we have here is a deer.  You've got giant fruit bats and possums and frogs and poisonous spiders so from just that stand point alone I'm going crazy. The people down there are really cool, there's like a big heritage of rock n roll, it goes back to the 50's and 60's with garage like bands and just all kinds of heavy rock.  I love it, it's just so different from where I live.
This time around you are going to be playing your classic Dopes To Infinity album in it's entirety, obvious question, what was it that made Dopes to Infinity stand out as the album to play in it's entirety?
Australia is the first country we will be playing it.  The reason why I chose that one is I like the idea of playing full works, the whole album.  I really like that idea for a lot of reasons and I want to be able to do that in the future. I figured if I was going to pick one to start with I would pick one in the middle, not our biggest selling record and not our lowest selling record. It was something that was critically acclaimed and been around way long enough to assume some kind of vintage status, so I picked Dopes.  If that goes well, I will just keep trying till they fail.
And why was Australia deemed worthy to hear this album played live, was it more a timing thing?
Yeah it was a timing thing, but I tell you man I just put it out to promoters in Australia and Europe at the same time.  It's not something I would approach America with for more than just a couple more shows, but Australia I remember we did great with Dopes there so I said we have to try them.  I wasn't sure given we had just played there, but I thought we would give it a shot anyway and sure enough they said yes, so I said c'mon let's go.
Now as far as playing the album, have you started rehearsals as yet, is it going to be something that you will play in the order of the actual CD itself?
Actually, we have, we've had 3 or 4 rehearsals and I would like to do the thing in sequence.  You know it was sequenced that way for a reason and when you advertise something like this I think people would expect to see it sequenced, I know I would.  When we started playing it, it sounds great, there's a variety of music.  It's really, really heavy, then it's total like 60's garage rock.  I'm totally psyched.  You know something, if people don't like it, I'll know, I'll know immediately, then I'll go to plan B!
What of the stage show that you will bring, is this likely to maybe feature anything special?
It's definitely going to be Dope centric in the visuals with the lights and slideshow there will be images selected for that kind of thing.  It's going to be way more psychedelic than it usually is, if that's possible.  I'd like the vibe to be Dope centric.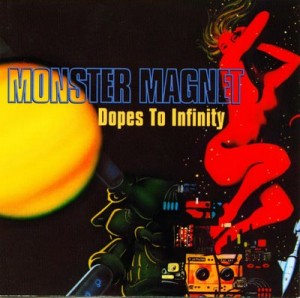 Thinking about it myself, have you guys given any thought to recording these Dopes shows for the prospect of a Monster Magnet live record?
Absolutely, it won't probably happen in Australia but it will definitely happen in Europe when we have time for a bit more preparation.  I think definitely if it sounds as good as I hope it's going to sound and it's sounding good already, then we definitely have to record this live.  Its like Dopes Infinity, but CRAZY Dopes To Infinity, I extended some parts, it's way more psychedelic, there's some Floyd stuff and it just sounds really cool.
Reflecting some 15 years on from when that album was first released, what are your thoughts on the songs now here in 2011?
Well that was the last record I wrote without thinking anything about the music business.  I always like variety of different musical styles, I love guitar music, I love 60s garage music, early 70's punk and all that stuff.  This record I remember saying I want to write a pretty psychedelic album but even the heavy stuff is going to be pretty.  There's not going to be any rrrrrahhhhh, I wanted it to be like a trippy album you could listen to without wanting to tell that guy to shut up singing!  I remember thinking if I did it well, everyone will love every song. I found out very quickly after the record came out my record company was like, "what is this, it's kind of hard for us to sell this record, it's all over the place".  So it's fun to practice it as I remember just smiling all the way through.  Interestingly enough, the next record I wrote which was Powertrip, that was written all bitter faced, I was like fuck you guys, what do I have to do put tits on this record to sell it, and it did sell!
Can you remember how the album was received back in the day, and how that influenced what you then did with the follow up album, Powertrip?
I remember at the end of Dopes going it's pretty, it's nice but I sang it too wimpy, the next ones got to be more emotional.  Somehow I've got to find a way to get more emotion out of these songs and I said to myself theres got to be more beefy rock on the next record.  That combined with the record company coming back and saying hey the records great but it didn't sell and I got mad.  So I said what do I have to write, a record about tits and fucking and that's exactly what I did!
How about your songwriting process and the way you go about writing songs, would you say this has changed significantly over the 15 years since Dopes?
You know I wish I could say it really changed a lot haha, but I am so in love with the same kind of music when I started writing Monster Magnet songs.  So I'm not writing crazily different music, but definitely the formality of writing has changed.  I don't spend as much time writing as I used to and I leave a lot of stuff in my head and just bring it to the band.  In the old days I think I did a whole version of Dopes on my four track at home.  Now I would just come to them with a couple of parts in my head and teach them.
Your last album Mastermind has been out for a while now, how do you feel this one was received by the Monster Magnet fans?
It did everything I wanted it too, it made a bunch of Monster Magnet people really, really happy. I'm totally used to the idea now as we move laterally through the music business.  I think we moved from point a to point b once in our career, we've only done one traditional thing and that was a hit record, everything else has been really crazy movement.  So our albums really seem to take off years after they come out.
What of the longevity of Monster Magnet, there have obviously been times when the status of the band may have been questioned, did you ever think the band would still be going strong some 20 years on?
Hell no, I didn't think it was going to go past 6 months!  Back then I was just doing it as a labour of love, I loved it.  I never expected anyone to understand the mutant ramblings of a person that just loves psychedelic and hard rock music.  I'm still amazed that people are getting into it.  If I was going to say I'm going to make a band that's going to go far, this would not be the band.
Have you noticed a change over the years of the demographic of fans you have coming to your show?
It has changed, when I first started it was really, really hardcore indie people and then it kind of spread out into a metal thing and a MTV thing which is basically a fringe of people that come in and out depending on if it's a hit or not.  Then it started to mutate into a really nice cross section of people, all of them are musical, they know all the words to the songs, they reference the parts, they know my references for rock bands and stuff.  I tour a lot and I look at every bands crowd, it's funny I don't watch the bands I watch the crowd, and our crowd is really cool.  I'm a lucky guy to have them!
Essential Information
From: USA
Band Members: Dave Wyndorf – Vocals, Ed Mundell – Guitar, Phil Caivano – Guitar, Jim Baglino – Bass, Bob Pantella – Drums
Websites: www.zodiaclung.com
Latest Release: Mastermind – 2010
Catch Monster Magnet on their 'Dopes To Infinity' Australian tour:
Perth  – Sunday September 11- Capitol
MOSHTIX – www.moshtix.com.au – Ph: 1300 438 849
78 RECORDS  – 914 Hay St, Perth – Ph: 08 9322 6384
Adelaide  – Tuesday September 13 – HQ Complex
TICKETMASTER – www.ticketmaster.com.au – Ph: 136 100
KRYPTON DISCS – 34 Jetty Rd, Glenelg – Ph: 08 8295 3044
Sydney  – Wednesday September 14 – Metro Theatre
TICKETEK – www.ticketek.com.au – Ph 132 849
UTOPIA – Basement, 511 Kent St, Sydney – Ph: 02 9571 6662
Melbourne – Friday September 16 – Palace Theatre
TICKETMASTER – www.ticketmaster.com.au – Ph: 136 100
Polyester Records –  387 Brunswick St, Fitzroy – Ph: 03 9419 5137
Brisbane – Saturday September 17- The Hi Fi
THE HI FI Brisbane – www.thehifi.com.au – Ph: 1300 843 443
Kill The Music – Level 1, 161-163 Elizabeth St, Brisbane – Ph: 07 3012 7751