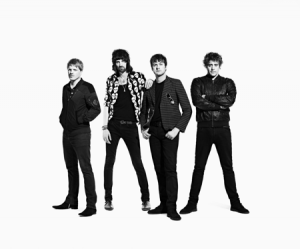 "We love it (Australia) and it is a place we feel like we are just turning the corner.  We have introduced ourselves and given a little handshake, now we are ready to have a few beers and get the party started you know….."
Kasabian.  Is the band that formed in 1999 in Leicester, England, now the biggest rock band in the UK right now?  Well, we will leave that to the likes of NME, Q and Mojo Magazines to argue out, but one thing is certain, the bands fourth album Velociraptor due out on September 19th, seems destined to capitalise on the momentum their 2009 release West Ryder Pauper Lunatic Asylumstarted.  With lead single Switchblade Smiles and new single Days Are Forgotten already creating considerable excitement for the new album, be prepared to hear lot's more of Kasabian here in Australia.
On October 5th, the band will be playing an exclusive gig in Australia as part of the Debit MasterCard Priceless Music Series at Peninsula, Melbourne Docklands.  This will be the band's only Australian performance.  Tickets to the exclusive gig to be held at Peninsula, Melbourne Docklands, will be extremely limited and will go on sale on 25 August at 9.00am AEST. Tickets can be purchased at www.mastercard.com.au/music with a Debit MasterCard only.
But fear not, it seems that in 2012 the band will return for a more extensive tour covering other parts of Australia.  On a rare days break in London from the bands hectic European festival tour, May The Rock Be With You chatted to bassist Chris Edwards and delved deep into the bands upcoming album, Velociraptor.
Hey Chris, thanks for taking the time to chat.  I see you are in the midst of a tour, where in the world is Kasabian right now as we speak?
Yes we are out on tour, actually we are in London at the minute before we go to Austria tomorrow.
New album Velociraptor is due out next month.  A couple of tracks have already surfaced being Switchblade Smile and Days Are Forgotten, I am assuming you have been playing a few new tracks live already…how has the crowd reaction been so far?
Obviously the albums not out yet and stuff so we've been doing festivals over the summer, mainly in Europe.  As we've been going along we've been introducing more new songs, the first one wasSwitchblade Smiles and then we put Velociraptor in there, then because it's just been released to radio, we introduced Days Are Forgotten into the set as well.  So you know, by the time we get around to later in the year, they're all getting introduced slowly one by one.
I have seen the video for the making of the Days Are Forgotten video clip which obviously we need to wait to see the final version, but I have to ask, who came up with the idea for those instruments?
Basically we just wanted the instruments to be as thin as possible as we still needed to play something.  Then what's going to happen is the instruments are all going to be replaced by soundwaves and stuff like that, on the naked camera it just looks like we are playing wire guitars, but when all the effects and stuff is put on top, when we are playing a chord the soundwave will come off it and the guitar will wobble with the soundwave and stuff like that.
It's good to see you all survived the explosions as well haha!
Haha yeah we stuck around for one of them, but we had already been playing for like 10 hours into the night, so we didn't see the wall exploding, but we stuck around for the Marshall exploding!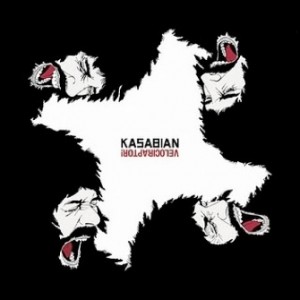 Ok, so back to talking about the new album, after the huge success of your last album West Ryder, with what kind of attitude did you go into the writing and recording sessions for the new one?
It was a positive one you know.  The West Ryder album opened up a lot of doors creatively and also a lot of doors in the industry as well.  A lot more people kind of stood up and took notice of Kasabian, so this album was written with the pretense of carrying on with that basically.  You know,West Ryder opened the door and this album we are just walking straight through it.  We've been accepted into a different league now we think, especially in the UK.  The Kasabian name kind of precedes the music.  You could go to anywhere in the world and ask someone do you know Coldplay and they will be like "yeah I know Coldplay", then you will be like, ok name 5 songs and they can't name 5 songs.  That's kind of the power of Coldplay before people even know them, nowadays Kasabian is getting a bit like that, people are talking about it before they've even heard it.  That's what I think the West Ryder album did, a lot of people went out and bought it and with this album a lot of people are saying I can't wait for the Kasabian album, the name is proceeding the music which is making us better in a way.
Would you say the new album is incredibly different musically to what Kasabian fans would be familiar?
Not really, I think the album is a lot more "user friendly" if you like. A lot more people are going to like this album, I hate to say it, but it's going to act like more of a commercial album.  The songs aren't more commercial, but I think they are more accessible to what a lot more people will like.  We've got a fanbase of Kasabian fans who love what we do and we have not strayed away from that but I think we are going to drag a lot more people in with the new songs because some of them are so beautiful, some of them euphoric, there's good radio tunes, there's good live tunes, so there's a really good mix of tunes that will bring a lot more fans in you know.
What of the origins of the new songs, did any actually originate from the sessions for West Ryder?
There's definitely one of them La Fée Verte which we've had in the bank for like two years.  We were going to put that on West Ryder but it didn't kind of fit, so we revisited that and re-recorded it and mixed it up a bit with the structures and stuff.  So that one has definitely been around for a while, but I can't think of any other ones.
When did you actually start the recording process, was that something you spent a significant amount of time on?  Where did you record the album?
Well we took about 6 months out.  I did all my bass parts, some of them at Serge's house as demo tracks, then when we came around to recording the bass properly we listened to the demo tracks and they were fine, so there was no point re-recording that.  So I basically did my bass tracks in a day.  Drum tracks were done in two days, we did some strings in a day.  So the actual recording process was very quick, but the actual start to finish with Serge writing it and getting all the recording and stuff done, it was probably maybe 4 or 5 months.  So it was quick for an album you know.
As far as the process of writing and recording for the new album, was there any significant changes to the processes you have employed on past releases?
Yes its pretty much exactly the same as the West Ryder album.  Serge would come along with a demo, whether it just be a guitar and a voice or whether it comes with sample drumbeats on, or some strings and then we kind of listen to it and throw ideas at it and Serge being the composer of the track and writer of the the track will kind of say yes or no and whether it will stick.  We all just throw ideas at it once he has written the initial track.  It's pretty much how we did West Ryder and the Velociraptor album.
Lyrically, were there any key themes or major influences on this album in particular?
I'm not sure really, but Serge explained it in an interview the other day that he just kind of wakes up with these ideas in his head and he gets it down and writes it down.  I actually asked him the other day, because I was curious.  I said Serge how many times do you write lyrics down for songs and then throw them out and then put the proper ones down and he said hundreds.  Some of the lyrics will come instantly and they will be perfect or other songs he will spend a hell of a lot of time working on them.  I know that he reads a lot, kind of strange poetry books about the Earl Of Sandwich and really weird kinds of people you know.  I think he's into reading about those really erratic and crazy kinds of people and gets inspiration from them.
I have read a few references from Serge about how heavy this new album is, how representative then are Switchblade Smile and Days Are Forgotten of the songs throughout the album and is it musically or lyrically heavy?
No I don't think it's that heavy musically, we've got Switchblade Smiles which is a heavy tune, there's Velociraptor which is a 2 minute 40 punk song and I think he's more taking about the lyrics being emotionally heavy, rather than massive guitars and big drumbeats.  He's more taking about lyrics.  I mean if you listen to the lyrics of Days Are Forgotten, they are really heavy you know, it's in your face kind of thing.
What inspired the album title (Velociraptor, named after a breed of dinosaur)?
Well Tom actually came up with it about a year ago and we were messing around and talking and he said if I had a band I would call it The Velociraptors.  Then he turned around and said that would be a cool name for an album.  You know it was all in our head for a few years and when it came around to writing and recording for the album, it kind of stuck.  We named a song Velociraptor and the lyrics from that were inspired by the name of the album and it just kind of stuck.  It's just a bad ass word and it's quite mean you know.
You are headed out to Australia in October for an exclusive one off performance, for those of us without a Debit Mastercard, can we expect another series of performances on the horizon?
Definitely, if we can come out next year and get on some festivals and stuff, then definitely. Australia is somewhere we have been 3 times now and Serge and Tom went over to do some promo and interviews and it's always a place that seems like its got a buzz about it for us.  So the more times we can come back, the better for us. We love the place, apart from getting there haha!  We always have a great time and you Australians are very similar to the British in your mentality, so we believe if we keep going over there and playing for the fans you will take us into your hearts like the people of England you know.  So yeah, we are definitely coming over next year to do a tour and stuff.
How aware are you of your fanbase here in Australia, obviously over here is somewhere that still has a lot of growth potential?
You know, there's always room for expansion, but we did a tour last time playing at some really nice venues with 3,000, 4,000 capacity and we were selling them out.  It was just like wow, can we do this and talking to the promoter over there and he was saying next time you come back we will be doing this and this.  For us to go over there and play to that amount of fans so far away from home is incredible, but there's still a lot of room for us to be even bigger over there.  There's still a lot of work to be done and places to play, so we will keep coming back.  We love it and it is a place we feel like we are just turning the corner.  We have introduced ourselves and given a little handshake, now we are ready to have a few beers and get the party started you know.
The first few times you have been out here, you have played the Big Day Out Festival haven't you, which has obviously been a good way to introduce the band to Australian audiences?
Yes, the first time we played we were on one of the smaller stages at kind of 2pm in the afternoon.  Then we went to the main stage and played the hottest time of the day and it was like 44 degrees and it was mental.  Hopefully we can come back and get a better slot after we have promoted ourselves a bit better!
What else does the rest of 2011 hold, no doubt lots of touring on the back of the new album?
Yes just kind of touring.  Next month is album release month for us.  We are off to Austria tomorrow, then some more festivals in Europe, then we come to Australia, we've got a gig in New York and then off for a 3 to 4 week tour around Europe and then also a 3 week arena tour of England. Then we've got Christmas off and out to Japan in January. So it's a busy, busy time, it's just going to be touring non stop.
Well Chris, thanks for your time doing this interview, look forward to catching you out here in Australia in October and all the best with the release of the new album!
Thank you, cheers mate!
Essential Information
From: UK
Band Members: Tom Meighan – Vocals, Sergio Pizzorno – Guitars, Chris Edwards – Bass, Ian Matthews – Drums
Websites: www.kasabian.co.uk
Latest Release: Velociraptor (September 16, 2011, Sony Music)