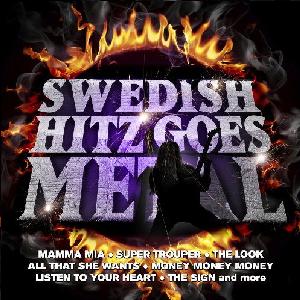 In 25 words or less: Metal versions of Roxette, Abba and Ace Of Base songs…you know you wanna!
Swedish Hitz Goes Metal…if the title isn't obvious enough for you, then let me explain what Swedish Hitz Goes Metal is exactly.  Well Swedish Hitz Goes Metal contains metal versions of songs from three of the biggest ever Swedish pop bands, namely Abba, Roxette and Ace Of Base.  I really can't explain it anymore simply than that!  The album is the brainchild of Tommy ReinXeed who hails from the North of Sweden.  Having released 4 studio albums with his own band ReinXeed, his huge passion of performing metal versions of his favourite songs has led to this release.
Containing 14 tracks (refer below to the track listing below), the album has certainly been produced and mixed mighty finely by Mr ReinXeed.  In a musical sense, the tracks bounce between straight ahead hard rock and a more traditional European style metal, with symphonic keys and shredding guitars in every song.  Vocally, I can't help liken Tommy ReinXeed to a tamer version of Justin Hawkins from The Darkness, but at times he more than matches those trademark Hawkins high notes.  As far as the song arrangements and interpretations themselves, well for the most part the songs remain faithful to the originals, albeit done in a metal and hard rock sense.  There are a few little curveballs here and there thrown in for good measure, particularly Roxette's Sleeping In My Car given the full Dragonforce styled metal treatment.
For anyone who is familiar with the likes of The Black Sweden, At Vance, Rock Sugar, Northern Kings who have similarly released metal versions of some of the biggest ever pop songs, then you will definitely find much enjoyment in Swedish Hitz Goes Metal.  Track it down and make sure you give your friends a little head trip at your next party!
Track listing:
1. Mamma Mia
2. The Look
3. Money Money Money
4. The Sign
5. Summer Night City
6. All That She Wants
7. Super Trouper
8. Joyride
9. Intermezzo No.1
10.Sleeping In My Car
11.The Winner Takes It All
12.Beautiful Life
13.Lay All Your Love On Me
14.Listen To Your Heart
Essential Information
Musical Style: Swedish pop gone metal
Released:  Out Now
Label:  Doolittle Group
Website: Official Facebook Page
Check it out if you like: The Black Sweden, Rock Sugar, Northern Kings, At Vance and Swedish Pop