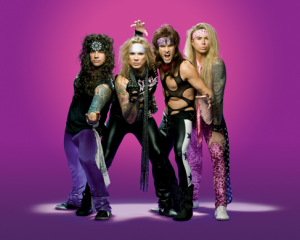 "We fuckin' rock and there's a lot of bands out there that rock as well but they don't look as sexy when they're rockin' as we do, so we couple the sexy with the rock."…."
How do you describe a band like Steel Panther, maybe in their own words? They proclaim themselves as "THE GREATEST HEAVY METAL BAND EVER" and could they be right? Of course they are! They're Steel Panther. They're also one of the most hyped bands coming for Soundwave Revolution, Steel Panther truly don't know what they've got themselves in for when they head Down Under, nor do the concert goers that have never seen this sheer force of metal before.
We got the chance to speak to drummer Stix Zadinia about Australia, the forthcoming new album, women, my now new favourite beer and of course what people can expect when they come to OZ and well, read on to see what Stix thinks Steel Panther will do when they play for the Aussie crowds…
Death to all but Metal!!
Now obviously you're FINALLY heading down to Australia for Soundwave Revolution and it's about fucking time.
Dude, I agree with you!
I've had the chance to see you three times and another two more in the next month will be happening but for those that haven't had the privilege to see you live, what can people expect?
I think people should definitely come with an extra pair of underwear, because once you see us you very well may crap yourself and or your vaginas and ball sacks may get injured and you may have to seek medical attention because frankly speaking and I hate to be this arrogant, oh you know what just call it confidence, we fuckin' rock and there's a lot of bands out there that rock as well but they don't look as sexy when they're rockin' as we do. So we couple the sexy with the rock.
So, as this is your first trip Down Under, let's play the 'what have you heard about'… game. What have you heard about our…Food?
Not much, I hear a lot about the beer.
Ahh that was the next one…Beer?
I hear a lot about the beer and you know what, I've gotta tell ya, ever since I was 13 or 14 I have gravitated towards Fosters and when I know that I'm going out drinking I will kick it off with an oil can of Fosters and I'm not bullshitting you, and I love Australian beer. You want to know a little side piece of Trivia, have you heard of Hahn Super Dry? Well I was in a commercial recently for Hahn Super Dry. Have you seen the new ad? I don't know if it's out, but it's only airing in Australia, where the beer goes through the fuckin' factory, I'm the drummer. Now that's awesome! I love, love Australian beer and you know what? Why don't you tell me briefly about Australian food, is it any good?
It is good and it's some of the best I've ever eaten and it's only because I live here but, I have no problem with it.
I like Outback Steakhouse.
We've only got a couple of those, would you believe it's not even Australian?
What is it?
American
Fuck. They fooled me. I want real Australian food man…
All right, Vegemite
Oh no I don't want that.
Animals?
Koalas and kangaroos, I think they're really cool marsupials, we don't get a lot of those over here and I definitely don't want to piss off a kangaroo cause I understand they kick fuckin' hard.
Just send Satchel out there, he'd love that.
I know. I'm going to send Satchel on a walk about.
Women?
I've heard your women are fuckin' hot actually and I've heard a lot of them have big boobs and natural boobs which I hope is true as I'm a big fan of the natural boob and blonde hair attached to a hot chick with a sweet ass body.
Crowds?
You know what? I haven't heard much about the Australian crowds, not saying anything bad but mostly when I hear about Australia, I hear about the Great Barrier Reef, I hear about Kangaroos, walkabouts and beer. I haven't really heard about the crowds, I mean what should you tell me about the crowds that I should know or expect.
Well for you guys, you guys are so big down here that it's ridiculous.
You know what? That's fuckin' freaky to me, I appreciate those words, those are very kind words. I gotta tell you, our record wasn't officially released out there and the fact that we're on the main stage and I don't even know what time we play, it may be at fuckin' 9am but that fact, the main stage says to me that Australia loves Heavy Metal and if we're the band to represent metal for you guys out here then we're fuckin' both honoured and we're excited.
For real, people dig Steel Panther out there?
Oh yeah man, it's not even a novelty, like they actually love the stuff, it's caught on.
Oh, that's fuckin' so… I ain't bullshitting, I am so stoked to come out there and I don't know if you're going to ask me later, but we've got a new record coming out this year at some point and for that to go and to actually come and support the record on our own and tour out there would be really great.
We hope you can! So let's just jump to that, when can we expect it?
Well hopefully we'll literally get a release date this week and I'm not just saying that just for purposes of interview, we have a meeting with A&R and our manager this week. We've recorded 15 songs and once we get the approval on the tunes, once we get a release date, when we get that and everything goes into gear with fuckin' marketing and all that stuff, I'm shooting for and I've got my fingers crossed for September / October.
Any prospective song titles you can tell us about to whet our appetites?
Um, yeah I'll give you a couple; we have a song called Tomorrow Night which is a song about tomorrow night when an awesome party that's tomorrow but you've got nothing going on today. We've got a song called Super Sonic Sex Machine got a song called Just like Tiger Woods we've got a song and I'm trying to think off the top of my head, oh If You Really, Really, Really, Really Love Me and Why Can't You Trust Me? oh and another song called Seventeen Girls In a Row oh and now they're just flowing into my head, there's another song it's a piano ballad, it's our first piano ballad and it's entitled Wienie Ride.
Sounds like a number one hit ha ha
I'm telling you, when you hear it you're going to freak out, it's really good.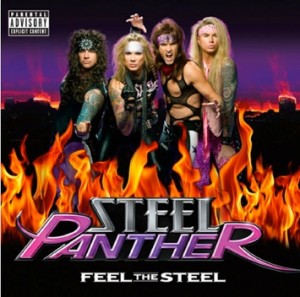 You've jammed on stage with more celebrities / rock stars that I can count, which stands out as one of the best that blew you away to be playing with?
That's a tough question, well I've gotta say, just on raw talent, you know Pink got up one night and she sings her fuckin' tits off, she is the real fuckin' deal, that was a while ago. Then not more than a month ago we had Sebastian Bach get up on stage with us and Sebastian has jammed with us a few times but this past time he kicked fuckin' ass, we did Youth Gone Wild 18 and Life, Don't Stop Believin, Sweet Child o' Mine and one other song I can't remember. I know we did five, you can see on YouTube. But he was fuckin' great man, I gotta say.
Can we expect any guests at the shows down here?
You know what, that's a fine question, we never plan that shit. One thing I could foresee is that Scott Ian played guitar on our debut record and I would love and he did it at Download, but I would love it for Scotty to come up and jam Asian Hooker with us in Australia and I think the crowd would go nuts and it's always fun jamming with Scott cause he fuckin' rules.
Is it true that if Michael Starr and David Lee Roth ever share the same stage at the same time that the universe will implode?
That is true, it's been scientifically proven, there are physicists both on your comment and ours that have come together and they've done all the calculations and they have come to conclusion that by no means should Michael Starr and David Lee Roth be on the same stage surface at the same time. If there is any sort of touching of the same stage surface just put your head down and just fuckin' pray to whatever you pray to cause shit is going to go haywire.
Let's hope it doesn't happen…
You know, I hope it doesn't happen. I think this is the first time that Michael Starr and David Lee Roth have ever shared the stage on a festival but let's just hope they don't end up on it at the same time for said reasons.
Now you do play covers which is kind of how you kicked it off, so what's your favourite one to play live?
Hmm… another fine question. I would say either, speaking of David Lee Roth, I would either say Running With The Devil cause its just a killer song, but I also, you know, Livin On A Prayer and Pour Some Sugar On Me but not because I enjoy playing those songs in particular, but because those seem to be vaginal lubricators and ladies seem to just fuckin' take their clothes off when we play those songs, for some reason those two songs in particular make the shows go by really, really nicely.
So you should just play those five times each a night?
If you do, you will definitely have at least 4 or 5 girls completely nude and a bunch of tops off and some with just pants off, but those songs, I don't know what it is but chicks like to get naked to those. They also like to get naked to a couple of our songs, Community Property is a big one where they'll take their clothes off and make out with each other and suck each others tits. Can you print that?
Yeah
Oh cool.
On the other side of that what's the song you're most sick of playing?
God damn it, why you gotta ask me that question? I don't know, we try to change it up, we have a couple of staples that we try to play every show but we try to throw other shit in there. What am I sick of playing?… I'm sick of playing Livin' On A Prayer and Pour Some Sugar On Me.
Ha ha ha how did I know you were going to say that?
Ha ha how about that?!
When we at May the Rock be with You saw you a few years ago a matter of two weeks apart in LA and Vegas, there were only three songs that were the same in the set, we thought it was amazing.
Like I said man, we have to do that for our sanity, because if we played all the same songs every show, firstly people would stop coming and secondly we would go fuckin' ape shit as you can only do the same thing so much. You know we try, we have about 70 songs that we choose from and on any given night and sometimes we'll play songs that we've never even played, based on maybe someone comes up and says 'let's play this' and we'll try it, like we don't normally do 18 and Life we've never done it. Sebastian Bach called it out and Satchel started playing it and we just happened to muddle our way through it ha ha.
Obviously it sounded amazing.
It did, it was fucking killer, I think I fucked up one part but I don't think anyone else knew but the crowd and the band.
What do you think it is that has made Steel Panther the beast that it's now become?
I think its our no apology attitude and our fuckin' desire to coat the world in heavy metal and fuck everything else. I mean, people are ready to party and we provide a safe spot to just fuckin' act like a fuckin' clown and we welcome it you know cause the way that everything's going, we're not concerned with politics, we're not concerned with taxes, we don't give a fuck about anything but partying and rockin' and I think that's what people are looking for ya know?
And lastly, have you got a message for your Australian fans?
Just hold on to your sacks and if you're a girl just cup your vagina with both hands because we're coming to fuck your faces with our music and we can not wait to get out there and fuckin' party with you guys.
Thanks Stix, it's been a pleasure.
Yeah thanks man, I appreciate it.
Essential Information
From: USA
Band Members: Michael Starr – Lead Vocals, Satchel – Lead Guitar, Lexxi Foxx – Bass Guitar, Stix Zadinia – Drums
Websites: www.steelpantherrocks.com
Latest Release: Feel The Steel –  (2009, Universal/Republic)